What To Wear If You're Invited To A Baby Shower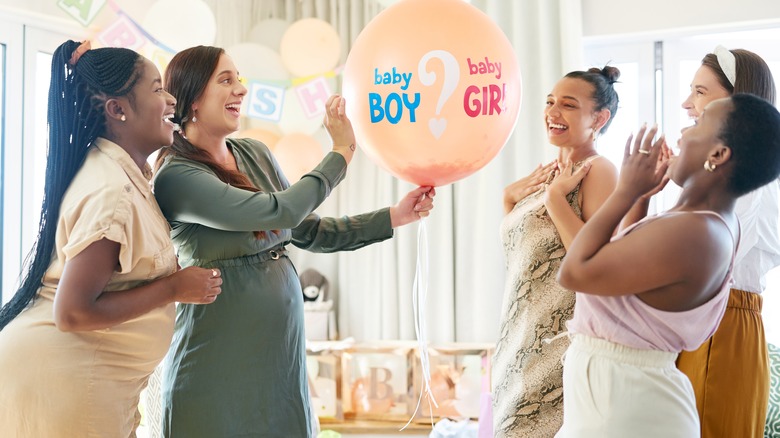 PeopleImages.com - Yuri A/Shutterstock
Just when you think you have finally nailed your bridal shower look, your bachelorette outfits, and even your wedding guest style, your first friend gets pregnant and you have to start from square one. If it is your first rodeo, in short, a baby shower is a way to celebrate the mom-to-be, with family or friends hosting the event as a way to get all of her loved ones together to celebrate the momentous occasion. According to Parents, most baby showers are women-only, but lately, more and more couples are opting for a co-ed shower. But no matter what kind of shower you are attending, you are likely invited because you are considered a close friend or family member, so you want to make sure you dress the part.
According to The Bump, a baby shower is not quite as fancy as a wedding shower, but more so than a birthday party. If this leaves you questioning all your fashion choices, you're not alone. Entering the era of baby showers and kids birthday parties can be daunting, but as you start to get invited to these events, it's smart to have a few good options in your closet. Here's what to wear if you are recently invited to a baby shower.
Your outfit should reflect the venue where the party is hosted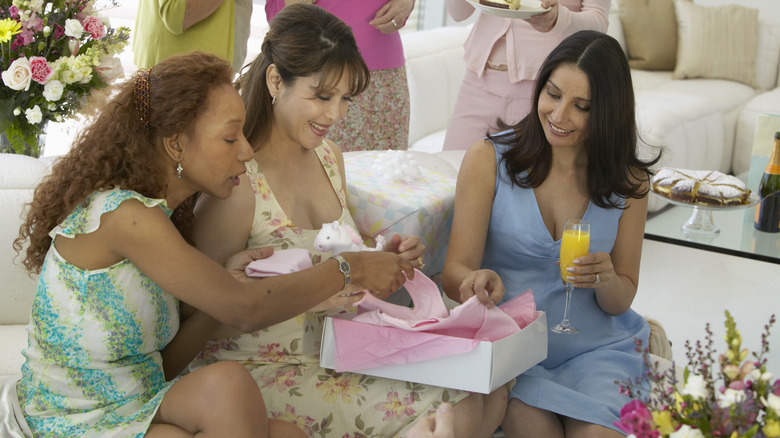 Barry Austin/Getty Images
The first thing to consider when looking for an outfit for a baby shower is the venue. According to The Bump, baby showers can be held at a variety of locations, from the host's backyard to a swanky country club. If the shower is outdoors, Mom Loves Best recommends a flowy dress or light cotton pants, both paired with flats as heels are usually a risky option outdoors. If the host is celebrating her baby-to-be in her own home, consider a nice pair of jeans and a floral top or a comfortable romper. A lot of baby showers also incorporate games, so you don't want to be wearing something that is too tight or uncomfortable when moving around.
If the baby shower is being held at a venue, it can be a bit trickier to understand the dress code. The Bump recommends looking at the invitation (if it was sent via regular mail and looks fancy, the dress code is likely fancier) and stalking the venue online to see what others have worn there in the past. You also want to consider if the shower is gender-focused and if so, if the host wants guests to wear the pink or blue or to keep things gender-neutral. If all else fails, pick something that is one step dressier than you considered as it's always better to be overdressed than underdressed.
The best places to shop for baby shower outfits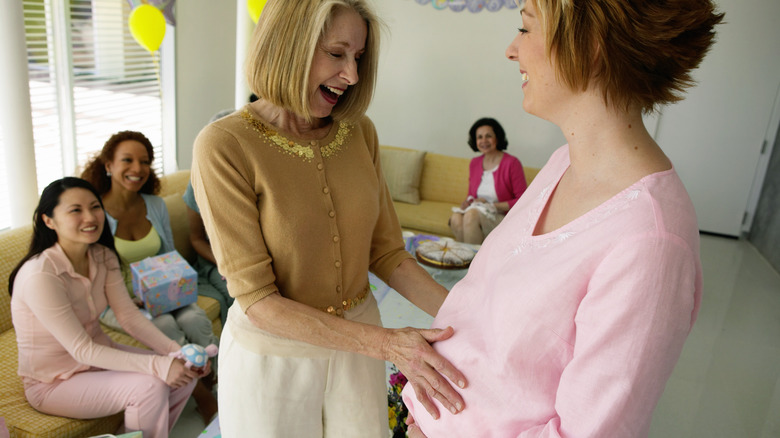 Barry Austin/Getty Images
Move your wedding attire to the side to make room for a new era of events: the baby showers. These events can be tricky, as there are many ways to celebrate a new mom and dad-to-be. Town & Country recommends adding a few beautiful and tasteful dresses to your wardrobe, specifically The Lily Dress from Hill House Home, which is sophisticated and trendy all at once, or this A-line midi dress from Staud in a hot pink or purple color.
If you are dressing on a budget, Marie Claire recommends this floral dress from H&M, which adds a touch of whimsy with the puff sleeves (it's even more ideal if the parents-to-be are having a girl), or if you are an all-black type of dresser, this tiered mini dress is perfect for any type of shower, whether it's held at a home or a restaurant. If none of these strike your fancy, The Bump recommends shopping at places like J. Crew, ASOS, ModCloth, or even renting something from Rent the Runway.