This Viral Sunscreen Has A 20K Person Waitlist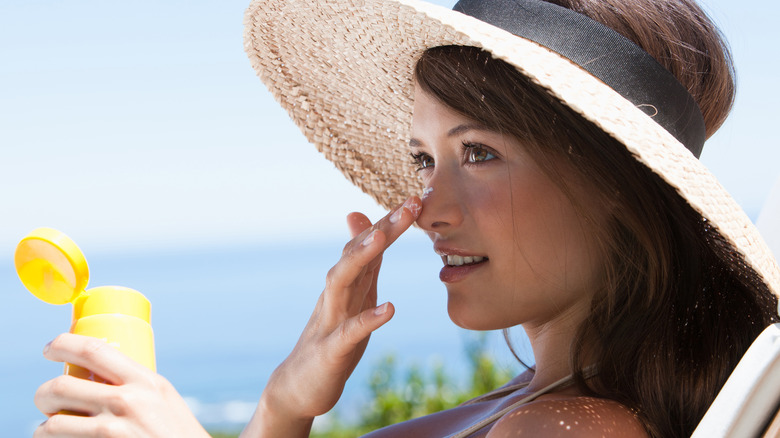 Tom Merton/Getty Images
It's no secret that Americans are passionate about sun protection. We slather on SPF 50, wear wide-brimmed hats, and avoid sun exposure during peak hours like the plague. So when a sunscreen with seemingly magical properties comes along, with a 20K person waitlist, it's no surprise that people are clamoring to get their hands on it.
The American Academy of Dermatology says that wearing sunscreens can prevent skin cancer. According to the AAD, "Anyone can get skin cancer, regardless of age, gender, or skin tone. In fact, it is estimated that one in five Americans will develop skin cancer in their lifetime." Using sun protection is so important that experts say you should be wearing sunscreen indoors! Every sunscreen indicates an SPF (Sun Protection Factor), indicating the protection the product offers when exposed to the sun's UV radiation.
But you should think twice before buying certain sunscreens because a 2021 study shows some sunscreens contain the dangerous chemical benzene. In 2021, Bloomberg reported almost a third of popular sunscreens contained harmful levels of benzene, which significantly increases the risk of leukemia. But one sunscreen doesn't contain benzene, and users are passionate about it.
Find out more about the viral sunscreen with a 20K person waitlist because it's so popular.
Naturium Dew-Glow Moisturizer SPF 50 has a cult following
Naturium Dew-Glow Moisturizer SPF 50 has an almost cult following, with a waitlist of 20K people! The Naturium Dew-Glow Moisturizer SPF 50 is formulated with organic and chemical sunscreen filters that apply invisibly on all skin tones to provide broad spectrum SPF 50 PA++++ protection while leaving an invisible but dewy finish. In other words, it's the perfect everyday sunscreen for those who want to protect their skin without looking like they're wearing a greasy mask. According to the Naturium website, the sunscreen works on dry skin, combination skin, aging skin, and combination skin. No wonder the sunscreen waitlist is so long!
What sets Naturium apart from other sunscreens on the market is its ability to provide SPF 50 protection without being too heavy. Most sunscreens contain chemical filters that leave a residue on the skin that can be hard to rub in. In addition to being an effective sunscreen, users love Naturium for its light-as-air formula that leaves skin looking glowy and dewy (but not greasy). It's perfect for everyday use as a primer before applying foundation, or even use Naturium sunscreen to replace your foundation.
Why Naturium Dew Glow Moisturizer SPF 50 is exceptional.
Naturium's founder Susan Yara talked to Byrdie about why Naturium Dew Glow Moisturizer SPF 50 is so exceptional. Yara told Byrdie the sunscreen took two years to develop because she wanted it to work on all skin tones, to have SPF 50, and she wanted users to love it enough to use it every day. "We got the highest rating possible, PA++++," Yara explained. "This rating shows how much protection you get from UVA rays, which are known to cause premature aging and can get through windows." The outlet reported that the PA rating is not required in the United States for sunscreen protection.
It will be worth the wait if you're one of the 20,000 people waiting to get your hands on Naturium Dew-Glow Moisturizer SPF 50. Fierce customers love Naturium sunscreen! One customer wrote: "This is the SPF product I have been searching for! For a long time, I've known that I should be wearing sunscreen daily as part of my skincare routine, and I haven't found a product that I liked enough to actually use. With Naturium, that is no longer the case! ... I legit forget that I am wearing sunscreen and am so grateful for this formula!" Beauty bestie Sarah Palmyra posted her review on Instagram, and with so many glowing reviews run, it's clearly worth giving Naturium a shot — if you ever get to the end of the waiting list.