How To Pull Off The Trendy Wolf Cut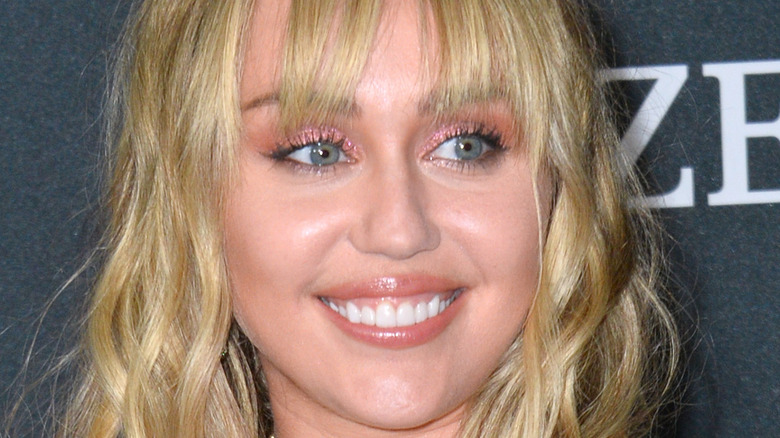 Featureflash Photo Agency/Shutterstock
Much to your mother's dismay, the mullet — or at a variation of it — seems to be back in style. The wolf cut has become one of the trendiest hairstyles of the year. If you're wondering what's the difference between a wolf cut and a mullet, it's not too hard to tell. The layers of a wolf cut differentiate it from the more traditional mullets you have seen on the likes of Billy Ray Cyrus circa 1992.
Interestingly enough, his daughter Miley Cyrus seemed to usher in the next wave of the mullet trend with her iconic wolf cut. Celebrities have rocked the wolf cut trend, leading to its rise in popularity on social media platforms. The wolf cut has taken TikTok by storm, with fans telling The List that it's one of the TikTok hair trends they want to try.
This trendy yet rebellious haircut offers a more androgynous look that highlights you hair's textures. If you're wanting to shake up the status quo for your hair routine, the wolf cut might be for you.
The best kinds of hair textures for the wolf cut
Before asking your stylist to chop away at those front pieces of hair to achieve the courageous short-in-the-front, long-in-the-back shag, you should consider whether the wolf cut will be a fit for your hair type and texture. While this haircut gives off the vibes that you don't bother putting much time into your everyday hair styling routine, the wolf cut may require more maintenance depending on your hair type.
The voluminous and relaxed look works best on hair that gives stylists room to play around with layers. Thicker hair that is prone to natural curls or waves have an advantage when it comes to the wolf cut, hairstylist Brittany Johnson of Mayvenn told Oprah Daily.
Those with finer hair that tends to stay straight may find themselves spending more time on styling their wolf cut to achieve that signature messy look. "Straight hair will likely require a bit more styling time to create movement or volume at home," Johnson said.
Making the most of a wolf cut
The wolf cut does not require much upkeep compared to other hairstyles. Your biggest goal in taking care of and styling a wolf cut will be to prevent frizz, according to MasterClass. Since the hair is longer in the back, you will want to ensure you have a solid routine of brushing and detangling your hair. It may sound self-explanatory, but small habits make all the difference.
If your hair is prone to drying out, consider using a leave-in conditioner to prevent damage when styling your wolf cut. Be sure to trim your ends on a consistent basis, hitting up the salon about every six to eight weeks to keep up those layers.
To capture the iconic tousled look of the wolf cut, you will likely need to invest in hair products that play up your hair's texture. Products made for curly hair that prevent frizz can be used to tackle that voluminous look. "My favorite product to tame any frizz at home is the Matrix Total Results Miracle Creator Multi-Benefit Treatment Spray," hairstylist Sharon Spellman told L'oreal's Hair.com.