Tips On How To Host A Jack And Jill Party Before A Wedding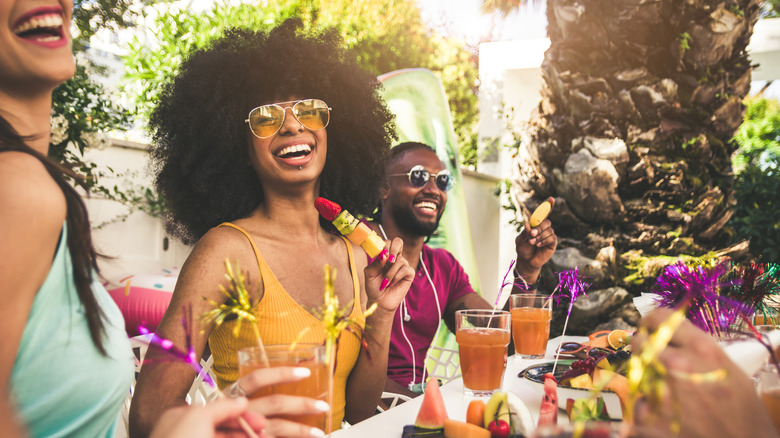 DavideAngelini/Shutterstock
Wedding trends are forever changing and evolving. For sample, those who got married in 2016 likely had an oversized bouquet, a hanging centerpiece, and maybe even a two-piece wedding dress, per Southbound Bride. Meanwhile, if you said "I do" in 2022, you may have sent out virtual save-the-dates, had fairy lights as part of your decor, and worn a little white dress instead of a gown. However, one thing that seems to have stayed the same for a while is the pre-wedding events.
While many of the pre-ceremony traditions are still alive and well, they do look a bit different. For instance, Jack and Jill parties, sometimes referred to as stag and doe parties, are a Canadian trend that plays a big role in the pre-wedding lineup. In short, a Jack and Jill party is basically a coed wedding shower to which you invite all your friends and family to celebrate before the wedding. Brides may choose to have this in lieu of a bridal shower so that the groom and the groomsmen can also be present. While this is a normal event for our northern neighbors, Americans may still be a bit hesitant to adopt the practice.
The first step is to decide who is hosting the party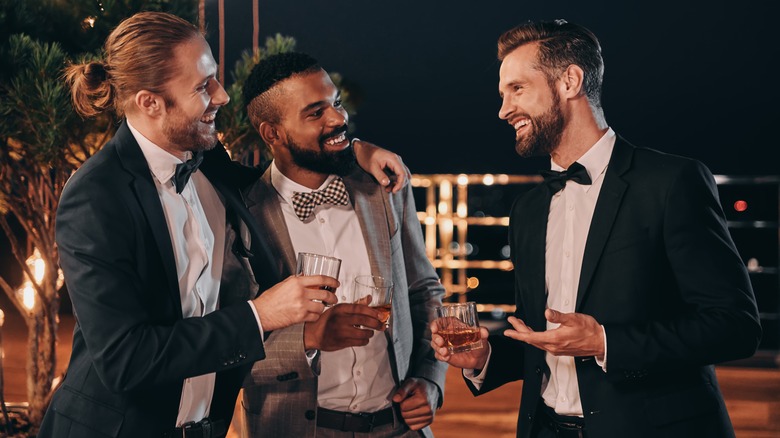 G-Stock Studio/Shutterstock
There are two types of Jack and Jill parties that couples may choose to have. The more traditional version is a fundraising event for which guests pay a fee to enter and the couple uses those funds to pay for their wedding. If you are hoping to throw this type of party, it is customary for the bride and groom to handle paying for the event on their own. Many couples choose this type of party when they lack the financial help they need to cover the costs of their big day. And while a fundraising Jack and Jill party is a good way to collect a fair amount of cash for the wedding, it's still important to host a nice party for your family and friends.
The other Jack and Jill party type is a co-ed wedding shower, sans the entry fee. This type of party is more typical here in the States and is usually thrown by the maid-of-honor, wedding party, or one/several of the couple's family members. The engaged couple is still given gifts to help them in their new life together, but the occasion is more about getting together with loved ones of both genders and tends to be an intimate affair.
You will need to figure out a theme and overall vibe for the event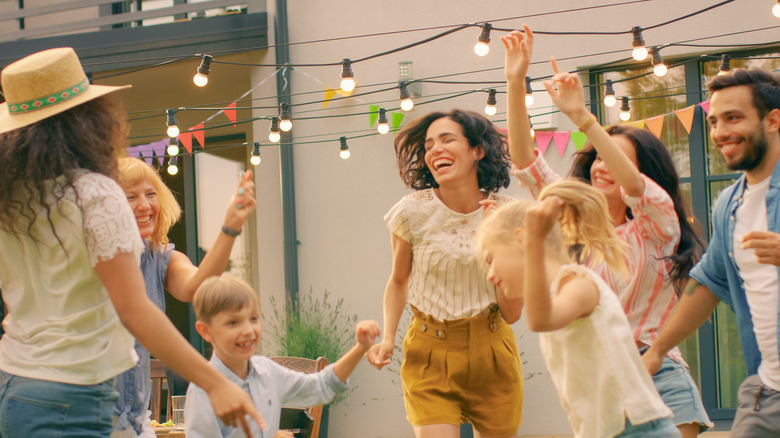 Gorodenkoff/Shutterstock
Whether you keep the party small and intimate or host a major event, you still want it to be a party your friends enjoy. One of the best parts about hosting a Jack and Jill party is that the options for the event are vast. You can have a formal dinner, a backyard BBQ, or even a game-focused outing with your close friends. The most important thing to remember is that this event is for both men and women, so make sure you choose something everyone will love.
If you are charging a fee for entry, Canadian Living recommends a theme that coincides with another holiday. Guests may already be looking for plans on a more minor holiday like Halloween or St. Patrick's Day and will be more able and willing to attend yours on that day, even with the fee attached. This also makes decorating and food choices much easier to figure out.
Invitation etiquette and who needs to be invited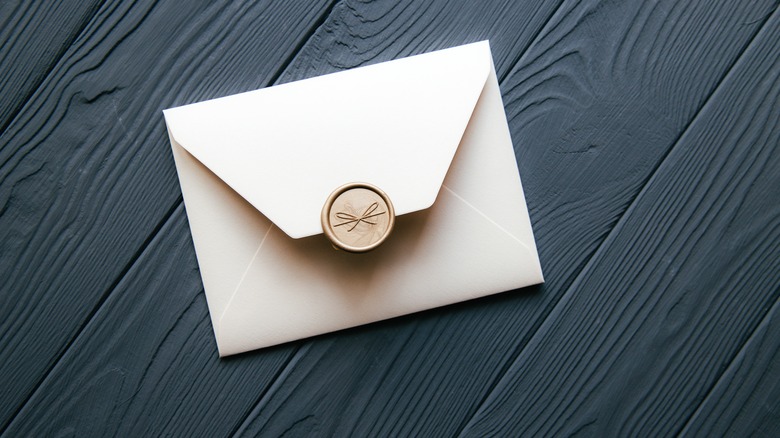 Ganzyk/Shutterstock
Since Jack and Jill parties are still a somewhat new phenomenon in some parts of the world, you may be wondering who to add to your invite list. Bridal showers are often limited to the bride's closest female friends and family members, but when the party becomes co-ed, that changes. Generally speaking, a Jack and Jill party should be smaller than your engagement party and the guest list should sit at about 30 people or fewer. You can start by making a list of your closest friends and their plus-ones and going from there.
On the other hand, while Americans often keep these parties intimate, if you want to do a true Jack and Jill style party, you might want to open the event up to more people, even those who have already said they can't make the wedding. The reason for this? The primary purpose of Jack and Jill parties isn't just a way to celebrate, it's also a way to raise money. So, the more people invited, the more money you can expect to raise. No matter which type of party you are hoping to throw, make sure it is clear on the invitation that the party is co-ed and that a fee will be charged, if going that route.
How to ask your friends and family to pay for entry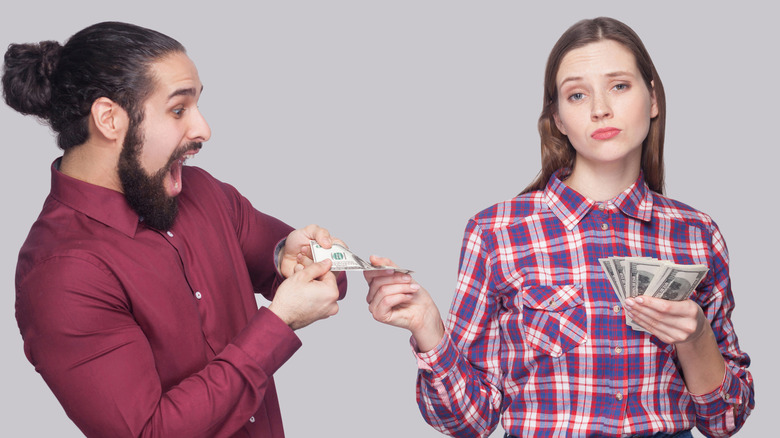 Khosrork/Getty Images
It's no secret that weddings are wildly expensive. To make matters worse, in a survey by online wedding registry and planner Zola (via Fox 9), 37% of couples said the entire cost of the wedding was on their shoulders. This can be a huge burden on a couple who wants to celebrate their love with a beautiful ceremony but who lacks the funds to make their dreams a reality. A Jack and Jill party can be a great way to help alleviate the financial strain a couple may be feeling, but you need to do it right.
Jack and Jill parties held for fundraising purposes are incredibly popular in Canada, according to The Atlantic. In fact, hosting a huge event before the party and charging admission has become the norm for many smaller towns in the country. Couples who host these parties have been known to raise thousands of dollars for their wedding, and Americans are taking note. If you do go this route for your own wedding, you should consider charging a smaller fee at the door of the event — somewhere between $15 and $25 seems reasonable — and letting guests know the fee ahead of time. As long as you keep communication open with your guests, you are bound to have a great time celebrating and raising wedding money.
What to expect on the day of the party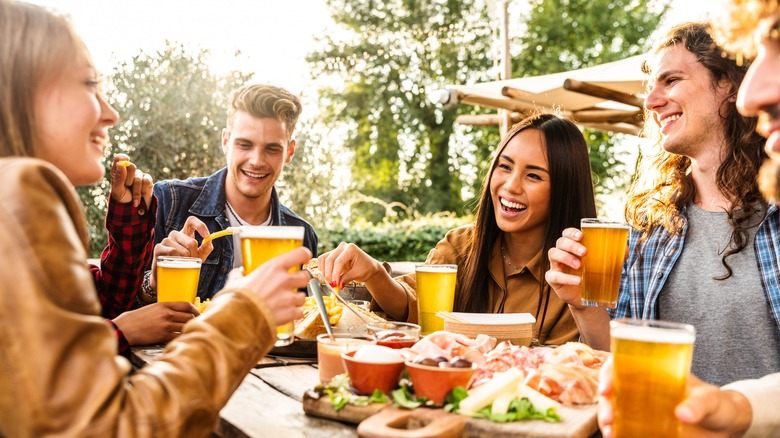 DavideAngelini/Shutterstock
Once the day finally comes, you'll likely be filled with excitement about celebrating your spouse-to-be with the people you love. If you are hosting a traditional fundraising-style Jack and Jill party, the best piece of advice you can get is to not expect too much. At the end of the day, the party is meant to celebrate your love, and while you may be hoping for a huge influx of cash, couples may not raise much after factoring in party expenses.
No matter what, it's important to be a gracious host on the day of the event. Most of your guests will be unfamiliar with a Jack and Jill party, so be sure to remain open and friendly, greeting each guest as they walk in to keep things light and comfortable. This party can act as a first impression on your wedding day, so make sure you stay true to yourself and above all, have fun!