How To Decorate For A Boy's Baby Shower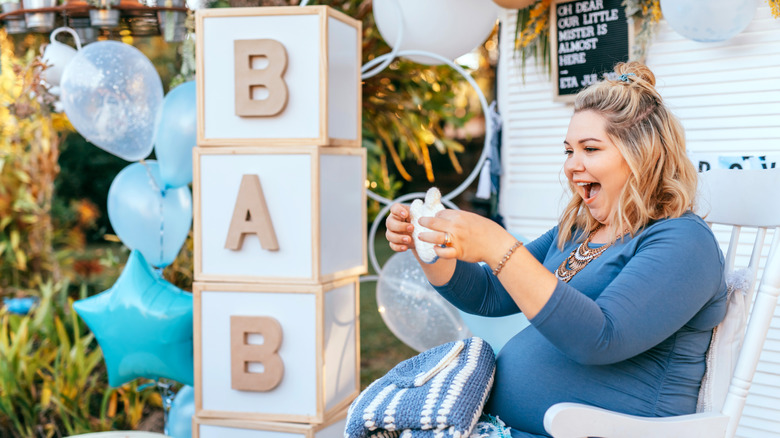 Natalie Maro/Shutterstock
We may receive a commission on purchases made from links.
A baby shower provides the perfect opportunity for friends and family of the parents-to-be to come together and prepare for a new addition to the family. Typically thrown by a close friend or relative, this party functions as both a celebration and a gift exchange, with the addition of party games and food.
If you're planning a baby shower for the prospective parents in your life, then you've definitely got quite a few things to consider. Essential items on the baby shower planning list include location, date, guest list, and, of course, decorations. The expected gender of the anticipated baby can influence how you choose to decorate a baby shower, as blue and pink are heavily associated with boys and girls.
You don't have to stick to these gendered colors for your baby shower decorations, though, as there is so much room for customization within your color scheme, theme, and decor items. Just as in non-gendered nursery decor, you can always go for a gender neutral baby shower. However, if you're wanting to decorate a baby shower specifically for an expected baby boy, read on to for some great tips.
Pick a color scheme and theme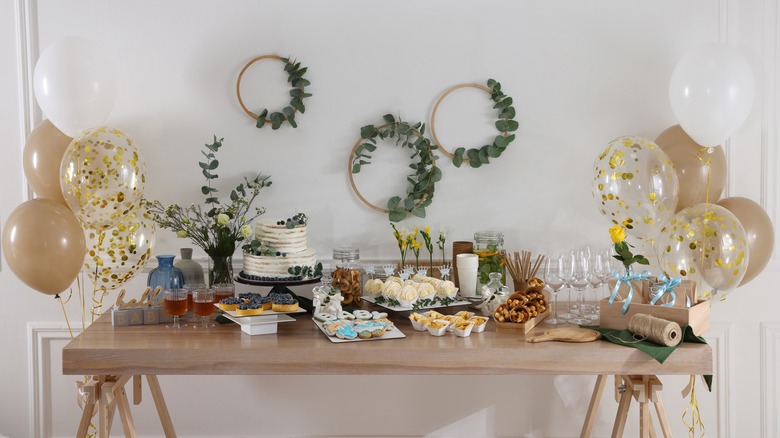 New Africa/Shutterstock
If you're trying to figure out where to start with your baby shower decorations, picking a color scheme and theme is a great jumping-off point. Of course, not all baby showers have themes, but they can definitely be helpful when deciding on decor.
There are so many options to choose from when it comes to party designs. You can go with a popular franchise theme, such as "Star Wars" or "Harry Potter," or opt for something cutesy and fun like woodland, jungle, circus, or dinosaurs, for example. If you're going with a specific motif, then that will often determine your color scheme, but you can always bypass the theme and go for a standalone color combination.
Blue is the most obvious color choice for a boy's baby shower, and you can definitely customize it by pairing it with other colors, such as grey or orange. In fact, many baby shower color schemes go beyond classic blue, opting instead for yellow and white, green and gold, or black and white.
Cover the baby show decor basics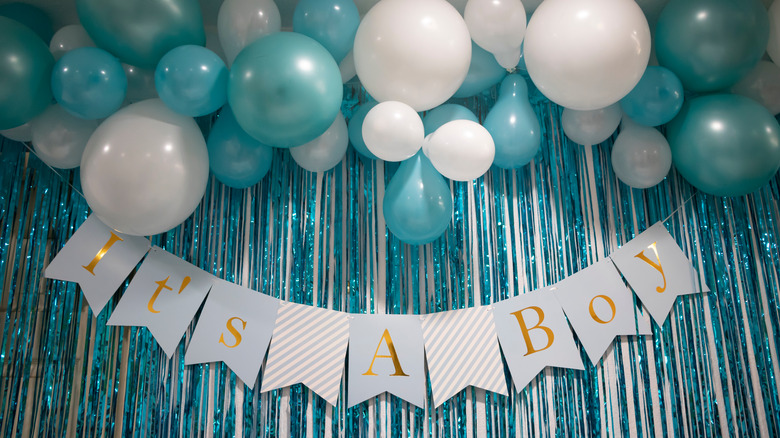 PradaBrown/Shutterstock
Once you've decided on a theme and color scheme, you can move on to nailing down the specific decor items you want to include for the boy's baby shower you're throwing.
To start, think about basic party decorations, such as balloons, banners, and table centerpieces. Things like plates, table clothes, and cups are other common party decorations that are easy to tailor to your specific color scheme or theme. Depending on your selected theme, you can often find specific decor kits that include basic party items, such as this jungle-themed bundle from Amazon.
More specific baby shower decor items include gift table decorations, guest of honor chairs for the parents-to-be, and themed baby shower games. Themed snacks and desserts are also a great way to incorporate your theme.
Any other decor your choose beyond this point will likely relate to your specific theme, as you might want to add some particular touches to round out the overall design. For example, this table-top popcorn machine from Amazon would be a great addition to a circus-centered baby shower. Similarly, these golden animal figurines from Walmart could add small, finishing touches to a green and gold jungle-theme party.