Effective Eye Cream Should Have These Two Ingredients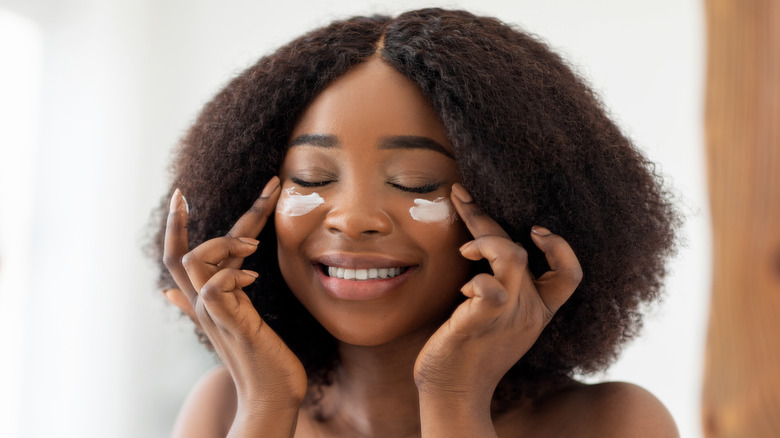 Prostock-studio/Getty Images
Whenever we're feeling tired or fatigued, the delicate skin beneath our eyes seems to be the first place that tiredness shows (via Healthline.) Although there are plenty of makeup routines for your under-eye area, makeup is only a temporary fix to skincare issues. Yes, makeup can be useful when you're in a pinch, but it's more beneficial in the long run to target the blemishes themselves with a product meant to reduce the appearance of fine lines, bags, and dark circles.
Many people turn to eye creams because, as BeautyMint explains, they often promise to rejuvenate the eye area and restore the delicate skin to its youthful, blemish-free appearance. But, like any other product, there are some eye creams that work better than others — and their effectiveness might come down to whether or not they contain two key ingredients. But, what exactly are these magic eye cream ingredients, and how do they work? 
Retinoids help to reduce the appearance of fine lines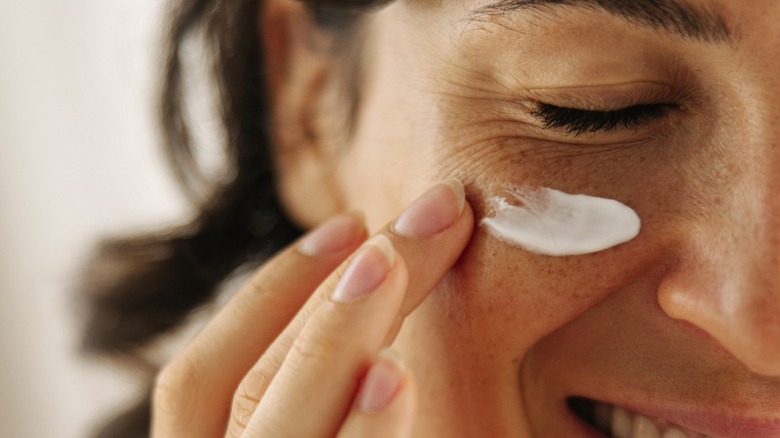 Look Studio/Shutterstock
Have you ever stood in front of the bathroom mirror after weeks of trying an eye cream and wondered "why can't I see a difference?" Sure, the eye cream makes your skin feel cold and tingly, and you hope that means it's working, but you're just not seeing the results the label claims you should. Lackluster results can be disheartening when you try product after product with similar outcomes. You may be ready to banish eye creams from your skincare routine. But don't do that just yet. It's not the case that all eye creams don't work — you just need to know which ingredients are worth your time. 
Two clinical dermatologists weighed in on the efficacy of eye creams in an interview with the New York Times. Dr. Sara Perkins of Yale University and Dr. Zakia Rahmann of Stanford University both indicate eye creams as being effective, but they urge eye cream users to look for two ingredients in their next bottle: retinoids and vitamin C.
In a 12-week study, participants were given a retinoid eye cream to apply nightly. At the end of the twelve weeks, participants experienced dramatic improvements in puffy eye bags, fine lines, and dark circles, all without suffering from irritation.
Vitamin C is vital for skin health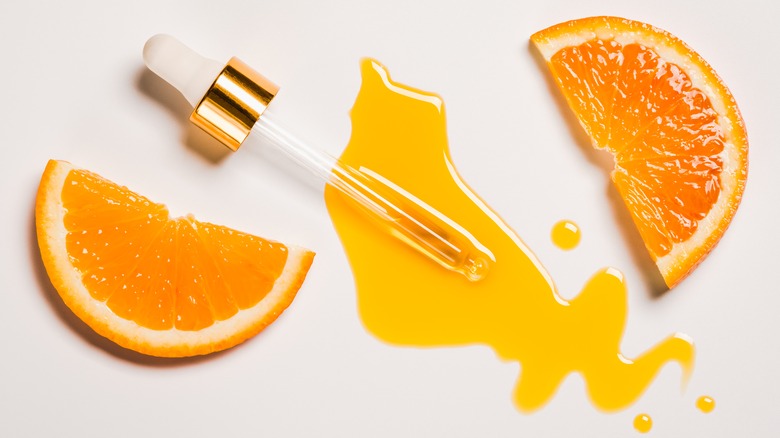 leonori/Shutterstock
It turns out that vitamin C has plenty more benefits than just helping us fight away a runny nose and a bad cough. It's also beneficial to our skin's health. For an eye cream that actually works, it's important that it contains vitamin C.
Introducing vitamin C to your skincare routine can help you achieve the youthful, healthy skin you want. According to the National Library of Medicine, the topical application of vitamin C aids in the production of collagen, which makes your skin firmer and promotes faster healing. Vitamin C also gives you an extra boost of antioxidants which you need to fight off UV radiation that can damage your skin.
All of these benefits make vitamin C the perfect ingredient for eye creams, especially if you want to get rid of dark circles. VeryWellHealth suggests using an eye cream with vitamin C because it promotes stronger skin underneath your eyes which, in turn, can reduce the appearance of those dreaded dark rings.