Brides Are Experimenting With More Than Just Fashion These Days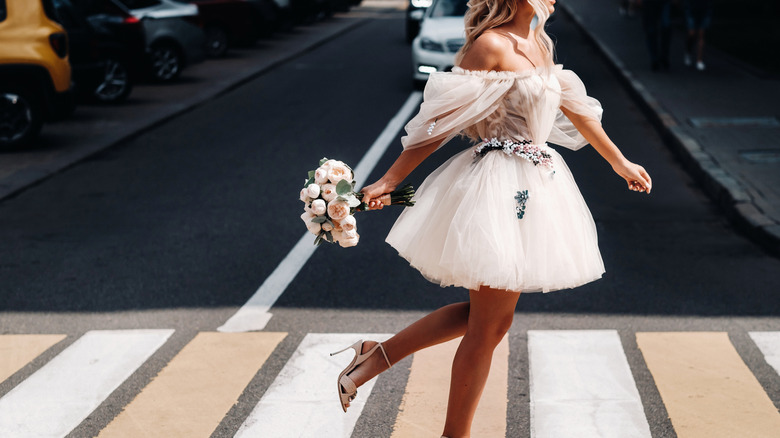 Lobachad/Shutterstock
Whether you are the first of your friends to tie the knot or have attended more weddings than you can count, you are likely searching for ways to make your big day unique. There are endless ways to make your wedding feel different from others, whether that means exchanging non-traditional vows, switching up the ceremony music to something more lively, or entering your reception with a choreographed dance. Some couples even go as far as to have an un-wedding.
Still, one of the biggest ways brides keep things exciting is by changing up their dress after the ceremony. According to Brides, many women choose to change into something more fun and flirty before entering the reception, signifying that it is officially party time. Others opt to keep the same dress but change it up by shortening it on the spot, adding fun sneakers, or removing more modest elements that were worn during the ceremony. Unfortunately, though, while still a popular trend, a dress change is no longer a shock to wedding guests. If you are really looking to wow on your big day, PopSugar says the new trend is all about the hair.
Modern brides are making a drastic change to their look during their wedding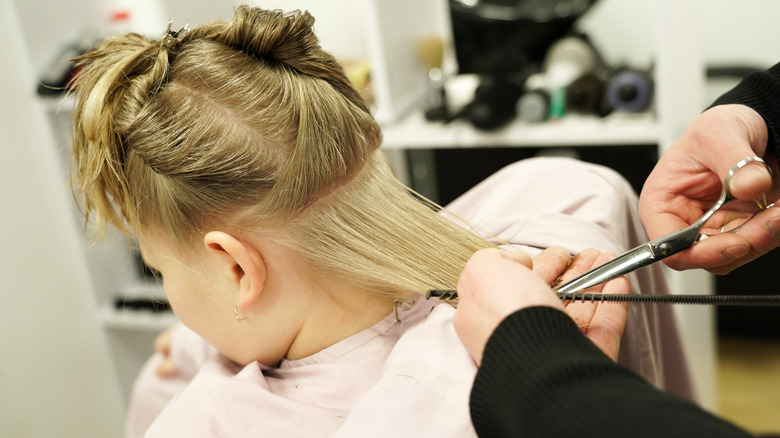 Boreiko/Shutterstock
We are all familiar with the idea of switching from a ball gown to a shorter wedding dress during the reception. However, today's brides have found something else to shorten after they say "I do." According to PopSugar, tons of brides are chopping off their long locks to a short bob style before making their grand entrance into the reception space. If you are wondering where this trend came from, you can thank social media, specifically TikTok. Brides all over the platform are showing videos of themselves chopping off their long styled hair — and others are taking note.
One such bride told Yahoo! Life that she feels more herself with short hair, but grew it out so she could attain her desired wedding day look. Cutting it off mid-ceremony allowed her to have that look and feel like her true self on her big day. If you are loving this trend idea and want to do it yourself, make sure you plan ahead. Yahoo! recommends carving out a specific time between the ceremony and reception to dedicate to the hair cut, ideally during cocktail hour. If you are feeling anxious but still want to make the change, consider doing the chop closer to the end of the night. This way, you still get that fun, surprising haircut, but won't have too many photos without your long locks.