Model Natalia Bryant Spills Her Secrets About Getting Longer Lashes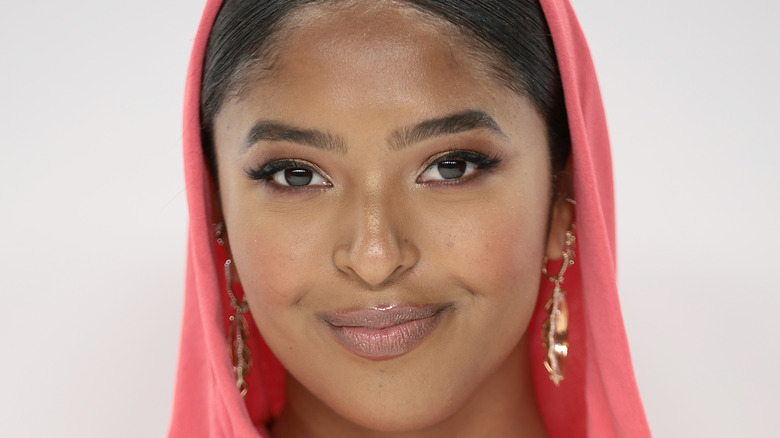 Dimitrios Kambouris/Getty Images
We may receive a commission on purchases made from links.
Natalia Bryant, the oldest daughter of Kobe and Vannesa Bryant, is known for many things from being a talented volleyball player to being an IMG model (per Teen Vogue). Natalia also balances her modeling career with her education, studying film at the University of Southern California.
Since the tragic death of her father, Kobe, and sister, Gianna, however, Natalia took a break from playing volleyball. Natalia had plans to play volleyball at USC, telling Teen Vogue, "I played club volleyball with the intention of becoming a D1 athlete." She added, "I love the sport. I quit volleyball after the accident because I was so . . . a lot was going on at that time. I knew I didn't . . . love volleyball as much as they love basketball. I'm okay with that."
In a video for Vogue's Beauty Secrets, Natalia showed the necklaces she wears to commemorate her late father and sister. One of the necklaces says "Slim," which was the nickname Kobe would call her. In the video, she also demonstrated her daily routine which consists of a naturally effortless look that gives a dewy glow and doesn't upset her sensitive skin. She uses the Chanel Liquid Skin Tint and the Lancome Teint Idole Ultra-Wear All-Over Concealer for subtle coverage that evens her skin tone out. The result is the highly-coveted fresh face that models like Natalia Bryant are known for.
Working with your natural lashes is key for lush, long lashes
Natalia Bryant told Vogue's Beauty Secrets that her secret to long lashes is keeping them natural and staying away from lash extensions. While that might sound counterintuitive, Bryant explains, "My advice, if you want to get better lashes and strong eyelashes and keep your eyelashes, just probably refrain from extensions."
According to Marie Claire, lash extensions can make you more susceptible to eye infections. Dr. Alberto Distefano, an ophthalmologist at Boston University said, "Bacteria can build up under or on the glue and on the lashes themselves when worn for an extended period of time. With the lashes in place, it's difficult to clean around the eyes, allowing bacteria to build up." Additionally, wearing extensions "that are too long or too thick" can put excess weight on your natural lashes and weaken them, as lash expert Andra Marin noted. This can lead to your eyelashes shedding excessively.
"During quarantine, I thought it was a great idea to get lash extensions, you know, like what else am I gonna do? Not the best idea because over time, they just started ripping off my eyelashes one by one," Bryant elaborated. Luckily, Bryant was able to grow her lashes back by using Velour Lashes Long & Strong Lash Serum. Bryant applies the lash growth serum every time she does her skincare routine, which helps her lashes stay long and strong.
The secret to luscious lashes is in the mascara application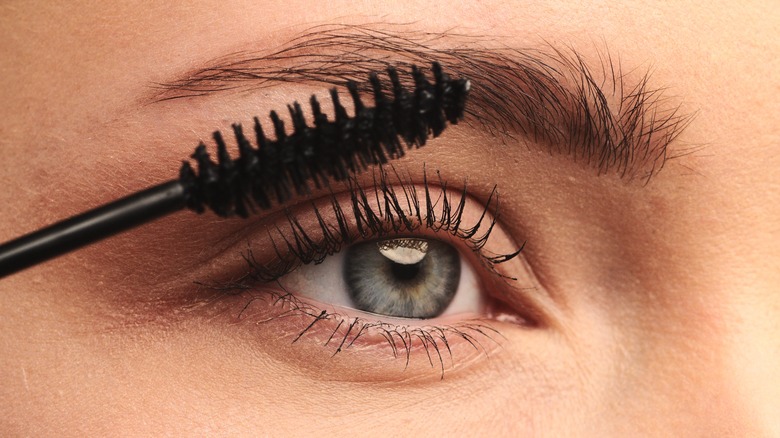 VALUA VITALY/Shutterstock
To enhance her eyelashes when she does a "no-makeup" makeup look, Natalia Bryant swears by the Benefit Cosmetics Badgal BANG! Volumizing Waterproof Mascara (per Vogue). The mascara received an impressive 4.5 star rating from Byrdie writer Emily Algar, who cited the comb-like bristles that define the lashes and prevent clumps, the light-as-air feel, and the long-lasting staying power. It's a mascara for those who love the look of long, clean lashes that look like your lashes but better.
Before she applies the mascara, Bryant makes sure to curl her eyelashes. Her trick to keeping the lashes defined, and never clumpy, is to only place the applicator on the tips of her eyelashes. She avoids the base of her eyelashes as she feels like that can result in a clumpier, weighed-down effect on the lashes. "I'd rather put on mascara on the lengthy part of my eyelashes, rather than the base because I feel like when I put it on the base, it just makes them feel clunky," Bryant explained. 
Kelli J. Bartlett, the artistic director of Glamsquad, seems to agree, advising Today that applying the product on the tips of your eyelashes, and avoiding the base can result in a clump-free finish. With Natalia Bryant's mascara tips, you too can get longer lashes without having to get lash extensions.