How To Host A Virtual Secret Santa Party
amenic181/Shutterstock
Gift giving is a conventional practice of the holiday season, but sometimes it's fun to look beyond the norm and mix up your family traditions. Maybe you don't have close family and want to celebrate the spirit of giving with friends or co-workers. Enter Secret Santa. This popular holiday game is often played at holiday parties, where the object is for every participant to leave with a gift — and hopefully, it's one they actually want. According to Elfster, participants draw a random name to become that person's Secret Santa. It's then up to the gift-giver to select a gift their recipient will enjoy, and during the gathering, gifts are opened and recipients have fun guessing who their Secret Santa is.
Of course, these rules can and have been adapted to suit the modern age, when many are still worried about catching COVID-19 at holiday gatherings. That's right. You can now play Secret Santa online with friends or strangers from around the world. Here's how.
Invite your community to participate online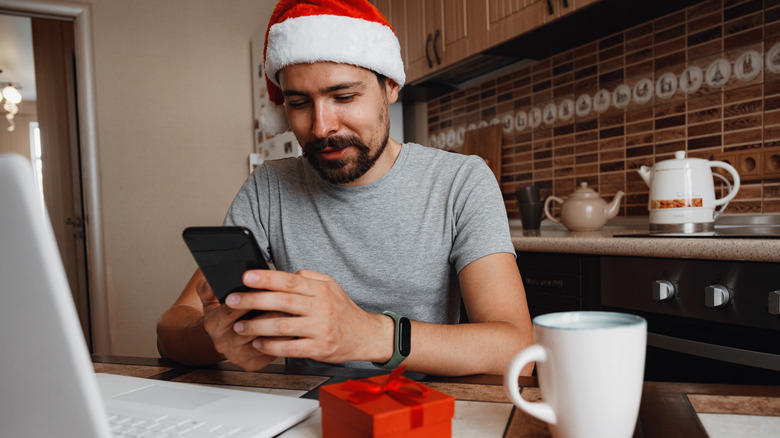 U__Photo/Shutterstock
Planning your virtual Secret Santa party should begin with picking a time and date, determining who you want to participate, and sending out invitations. Organizing a virtual Secret Santa game enables participants to get in on the act from anywhere in the world, so feel free to invite distant relatives, friends you haven't seen in ages, or people you've only interacted with on social media. Geography no longer matters, but you will need at least three participants. The more, the merrier!
There are several Secret Santa online tools that allow you to organize and execute your party online, including a free one titled SecretSanta.com from Elfster. These tools keep track of guests, wishlists, and matches so you don't have to. When you invite them, users receive an email invite and can be given a Secret Santa name to help keep gift-giving mysterious. They'll have the option to RSVP, register to participate, and submit a gift wishlist to be shared with their Secret Santa. 
Setting a budget is key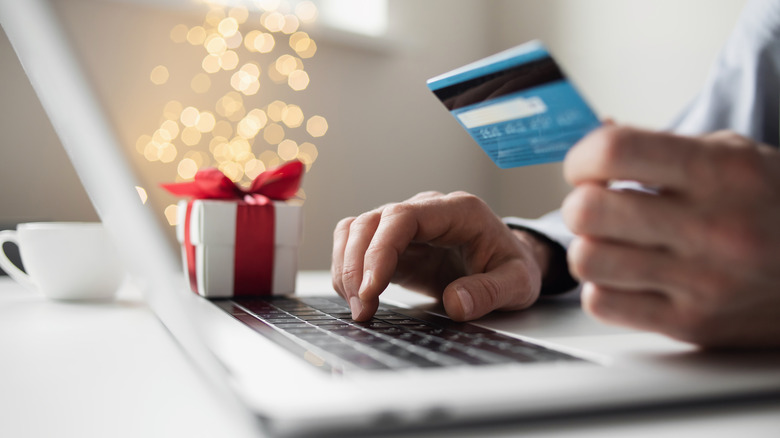 Kite_rin/Shutterstock
Whether you play Secret Santa at an in-person gathering or virtual party, setting a budget is expected. Online tools such as SecretSanta.com or SecretSantaOrganizer.com will allow you to set a spending limit when you're organizing your online event. For example, $10 gifts are common, but games between close family or friends might be worth a higher limit. You can also choose a specific theme for party guests to follow. Selecting a theme such as music, fashion, eco-friendly, or movies might even help those who struggle with creating a wishlist or choosing a gift for their recipients.
So, how will everyone receive their gifts? They're mailed, of course. Gifts can be purchased from online retailers and shipped directly to recipients, or participants have the option of wrapping and mailing presents themselves. Make sure you plan your virtual party allowing for enough time for gifts to arrive through the mail.
Keep everyone's geography in mind when planning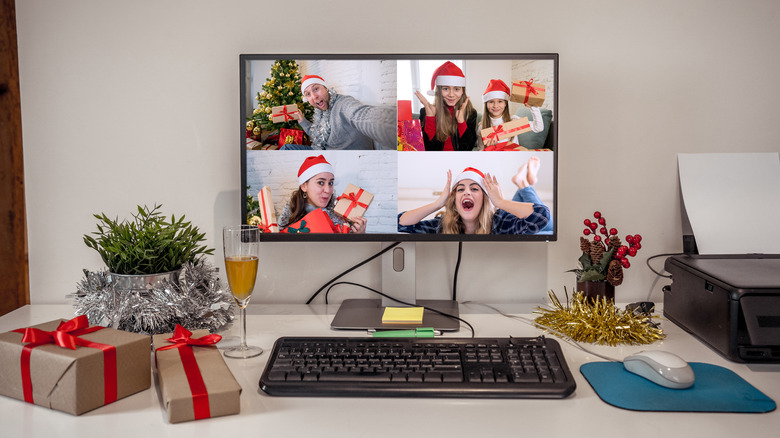 SB Arts Media/Shutterstock
If you're hosting a virtual party, keep in mind everyone's time zones when planning your party's time and date. Global parties are all kinds of fun, but they can be complicated to organize for this very reason. If half of your participants live in the Eastern time zone, a few live in the Central time zone, and others live on Greenwich Mean Time, at least one person will probably have to interrupt their sleep to participate. While it might not be easy to coordinate so that everyone is happy, you can at least plan a time with the majority in mind. 
Another factor to consider is the shipping time for participants in other countries. For example, according to Short-Facts, shipping from the United States to the United Kingdom averages 6 to 10 business days, depending on the carrier and weight of the parcel. Make sure you add extra time to allow participants to receive their packages. In other words, don't wait too long to plan your event.
Enjoy pre-party communications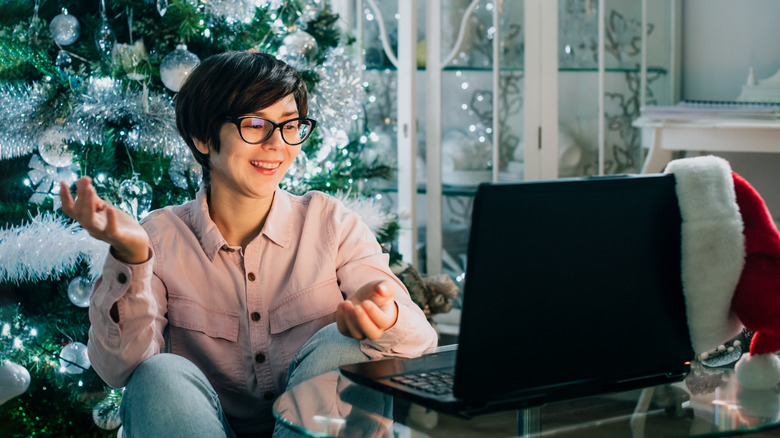 Okrasyuk/Getty Images
One benefit of organizing a virtual Secret Santa party is that you and your community can enjoy additional activities leading up to the party itself. Additional participants can be added at any time and a message board can allow your group to exchange notes, participate in polls, start guessing who their Secret Santa buddies are, and make new connections with other members unfamiliar to them. 
As the organizer, make sure you set guidelines for your game and activities. Not a fan of profanity on the message boards? Make sure that's discouraged in the rules and terms. Secrecy is an essential element of the Secret Santa game, so be sure to note anonymity where appropriate as a rule, too. Most of all, have fun! As the organizer, you can even send periodic newsletters counting down the days until your virtual event. This can also help discourage your guests from backing out last minute because they forgot to add the exchange to their calendars.
Exchange your gifts online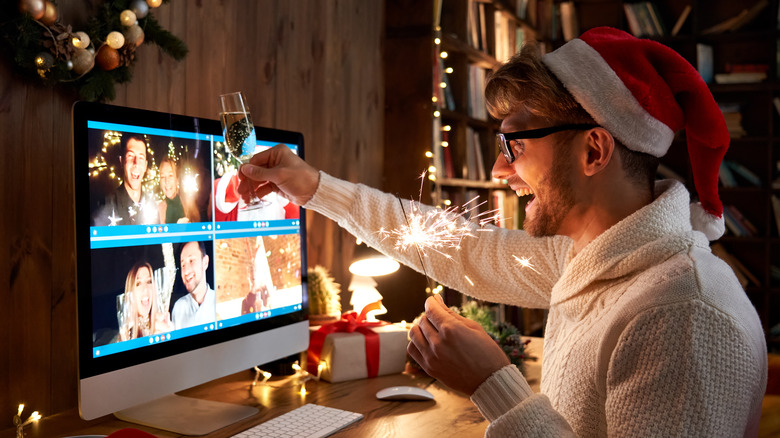 Ground Picture/Shutterstock
Your online Secret Santa party doesn't have to be limited just because it's done remotely. Whether you choose a meeting tool such as Zoom or Microsoft Teams for a video gathering or book a fully hosted virtual holiday party from a company that specializes in such events, you can enjoy more than an on-camera gift exchange with others. Grab your drink of choice and get ready to mingle. You can still play additional holiday-themed games such as charades and enjoy catching up with old and new friends. 
Of course, your Secret Santa game is the highlight of your party, and everyone should be given a chance to open their gifts and guess who their Secret Santa is. Elf around and have fun with it. By the end of your party, memories will have been made, and your guests will probably have one question — when's the next virtual party?