Omicron Booster For Kids Under 5 Inches Closer To Potential FDA Approval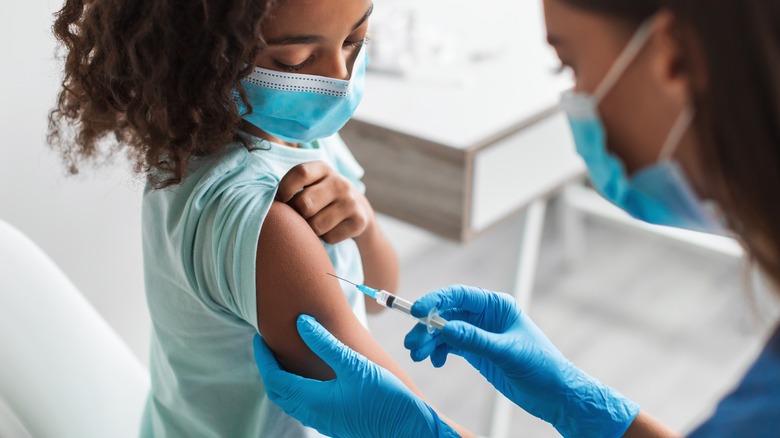 Prostock-studio/Shutterstock
As cases of respiratory syncytial virus (RSV) rise in children, according to Yale Medicine, medical experts are warning the public about the possibility of a "tripledemic." RSV, the flu, and COVID-19 in children can impact the nation's health for the worse. They are all different respiratory viruses with similar symptoms. Disinfecting surfaces, frequent handwashing, and improving air quality are steps individuals can take to reduce infection and spread.
The Centers for Disease Control and Prevention recommends the COVID-19 vaccine for individuals as young as six months, with boosters available starting at the age of five. Vaccination can reduce the chances of hospitalization and the severity of the virus. COVID-19 vaccines are also safe to receive on the same day as the flu vaccine. Doses for children are specialized based on their age on the day of receiving the shot. Pfizer is also taking steps to help children under five years old in their fight against the coronavirus.
The updated omicron booster for kids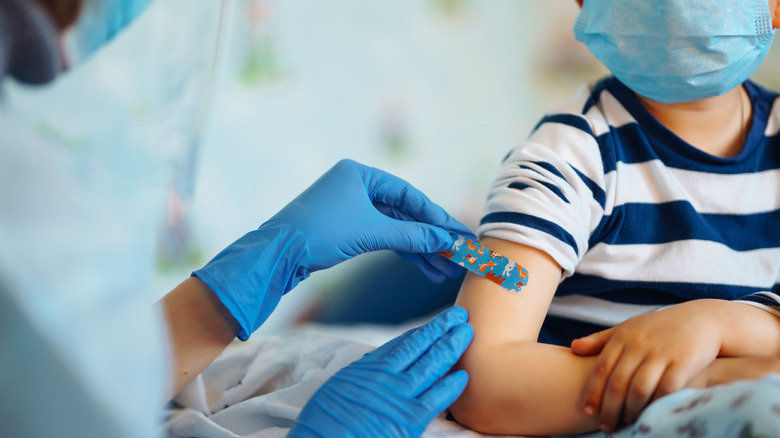 maxbelchenko/Shutterstock
Pfizer has petitioned the FDA for approval of its updated omicron booster, according to U.S. News. Children six months to four years old are eligible to receive three micro-doses of the Pfizer COVID-19 vaccine. This updated booster would replace the last of those three shots. Instead of acting as an omicron booster, the updated vaccine will be a part of children's initial immunizations against the coronavirus.
In a study reported by the FDA, the effectiveness of the smaller Pfizer COVID-19 vaccine doses in children under five was comparable to the immune response of adults who received full doses. Children under the age of two also reported fewer side effects than children between the ages of two and four. The FDA evaluated and analyzed the safety, effectiveness, and manufacturing of these vaccines before they released recommendations to the public. The FDA's approval for Pfizer's updated bivalent COVID booster in young children would come after proper vetting so doctors and parents can feel confident about it being administered.