How Waterless Beauty Became A Sustainability Trend In 2022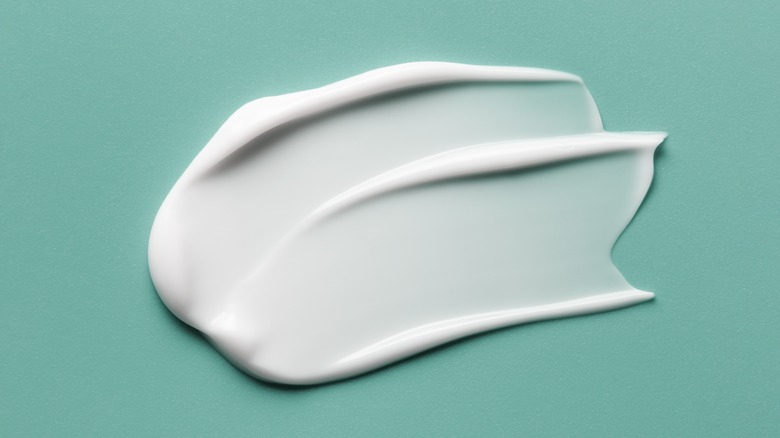 Kat Ka/Shutterstock
In recent years, greener products have become a trend in the beauty industry, and for good reason. The beauty industry creates over 120 billion packaging units annually, with the U.S. producing about 7.9 billion units in 2018 alone, reports the Plastic Pollution Coalition. Plastic finds its way into landfills and water streams, says the WWF, after being littered, tossed into the trash can, or blown away by the wind.
Now, the beauty industry is facing another environmental reckoning: the amount of water it wastes. The International Natural and Organic Cosmetics Association states that an individual beauty product's amount of water ranges from 60% to 85%. Meanwhile, products meant to be rinsed off, such as shampoo, cleansers, and shower gel, can contain up to 95% water. With billions of people facing water stress and scarcity, according to the Council on Foreign Relations, the beauty industry must find ways to alleviate this issue.
What is waterless beauty?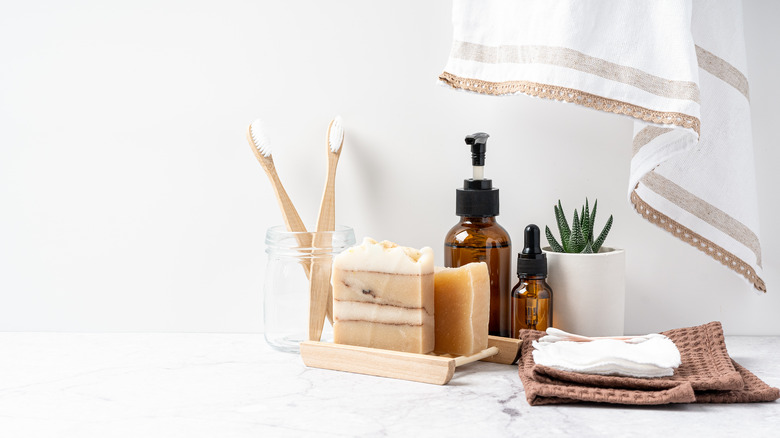 Ostanina Anna/Shutterstock
Waterless beauty is becoming more prominent within the industry, but what exactly is it? SixFive Beauty Group, a cosmetics and care product developer, describes waterless beauty as products that use active ingredients or botanical oils rather than water. According to Forbes, the invention started in South Korea.
The absence of water from your skincare products is actually good for your skin. With such high concentrations of water, your products may be diluted, thus rendered ineffective (via Fashionista). Water can also draw bacteria towards your products, making waterless items a potentially healthier option.
Beyond the obvious benefits to the environment, waterless beauty comes with even more pros. Since water requires the use of chemical preservatives, waterless beauty lacks those ingredients, making it especially helpful for people with more sensitive skin (via Esmi Skin). The active ingredients are also more potent without water, particularly in powder cleansers, which are suitable for all skin types.
Waterless beauty products to try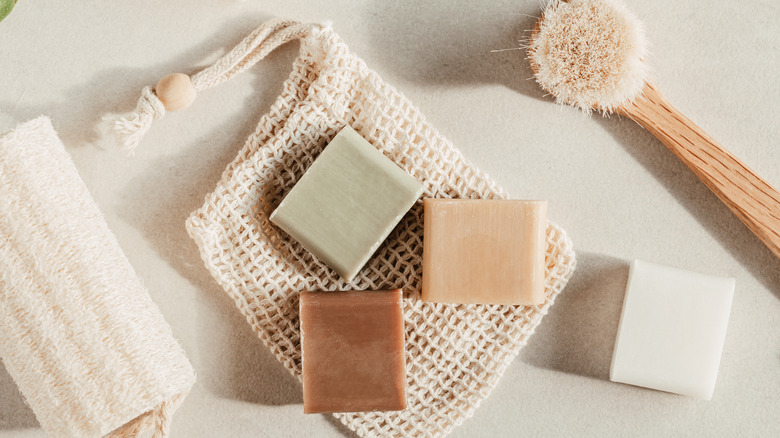 Netrun78/Shutterstock
Beauty brands such as Lush are familiar with waterless products. Its shampoo bars are water-free and last up to 80 washes. Its best-selling bar is the New bar, which contains rosemary, clove, nettle, and cinnamon to cleanse and stimulate the scalp.
Using butter-based creams rather than water-based moisturizers helps to lock in moisture without harming the environment. Conscious Skincare's Enrich Night Vegan Face Cream contains shea and cocoa butter, as well as lavender and frankincense oil, to create a soothing and rich cream.
Many people prefer cleansers or body washes because bar soap tends to dry out the skin, but The Yellow Bird creates waterless natural soaps that moisturize as well as cleanse. Its best-selling soap, the Activated Charcoal, Lemongrass, & Lavender bar, treats acne and irritated skin on both the face and body, using shea butter, sunflower oil, and olive oil to help the skin retain moisture.
As the issue of water scarcity gains ground, the beauty industry will hopefully continue to take action to create more environment-friendly products — that are better for consumers, too!