Everything You Need To Know About Blending Contrasting Colored Eyeshadow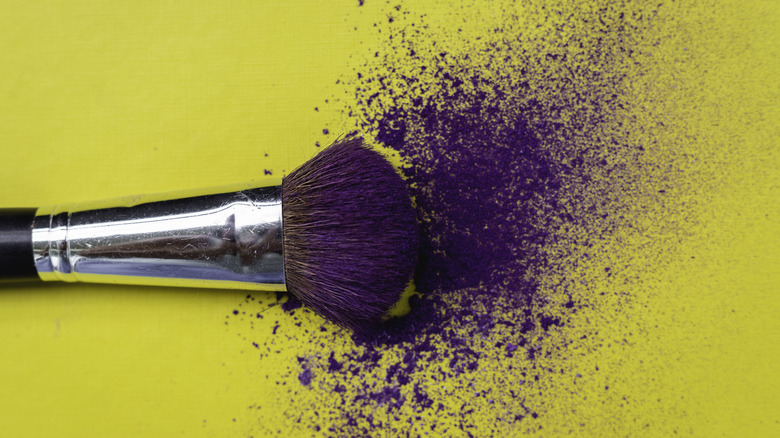 Laura Rosina/Getty Images
Each new season brings with it all kinds of trends, especially in the beauty world. Different techniques and color schemes become all the rage, offering fun new ways to try out different looks. According to Cosmopolitan, this winter season, trends like bold blush and graphic eyeliner are emerging, which allow for more splashes of color in your current palettes. Likewise, blue eyeshadow is in this season too, which is eerily reminiscent of the early 2000s when electric blues and contrasting colors were a big hit. 
As the saying goes, history tends to repeat itself, and the makeup trends that completely took over in 2022 were no exception. If you're looking to show off your skill and style with eyeshadow, use contrasting colors together — but only if you know the correct technique. Mixing contrasting colors, also known as "complementary" colors (via Lifewire), can be tricky, but with a few easy tips, you can learn how to blend colored eyeshadows like a pro. 
Get familiar with the color wheel first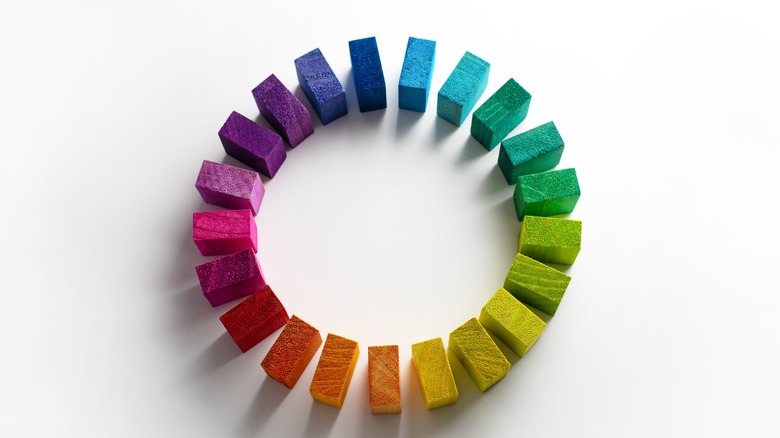 optimarc/Shutterstock
Before you dive right into creating bold eyeshadow looks, you'll want to learn a bit more about color theory and how the shades in your makeup bag go together. One of the easiest ways to do this is by using the color wheel, tools for which can be found on sites like Canva and Adobe. The color wheel was created by Isaac Newton in 1666. Color theory uses the wheel to figure out which colors look good together.
Canva notes "color harmony" is created when two colors that look nice together are paired up, and this includes sets of contrasting colors. Complementary colors are located opposite each other on the color wheel, and when put together, they create a bright and eye-catching look. In terms of makeup, this can work if you're doing a bright summertime look or if you want to make a statement during a night out. 
Contrasting colors will really pop when used together because of their placement on the color wheel. Hone your makeup skills as you learn how to properly blend them. 
Use an additional shade to create depth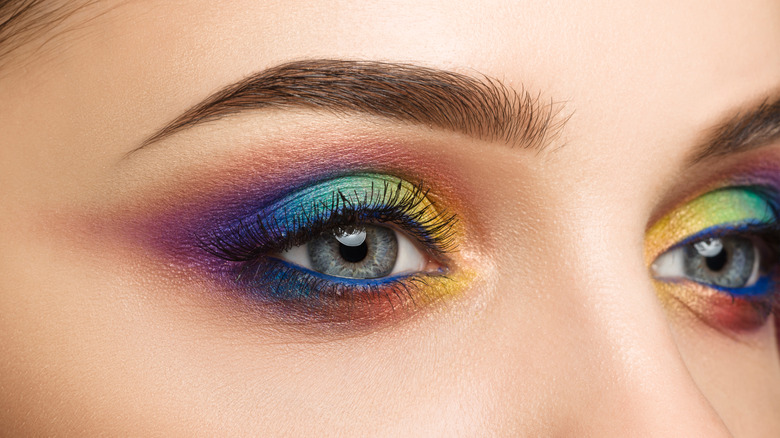 Dutko/Getty Images
Once you've mastered the art of color theory and have picked two contrasting eyeshadow shades, it's time to focus on technique. Rather than simply applying each color and blending them together, as beauty guru Alexandra Anele explained in a YouTube video, choose a transition shade because otherwise, the colors can get "muddy" and won't blend together as well. The whole point is to show off two contrasting shades, so you want to ensure they pop as brightly as possible. 
According to L'Oreal, using a transition shade also helps to create a clean gradient look that ties your eyeshadow shades together — contrasting or otherwise. To apply and properly blend all three shades together, they recommend picking a color that is an in-between shade of the two contrasting colors you're blending. In her video, Anele chooses a magenta-pink shade as the transition color between a bright blue and bright orange, because it creates a nice gradient effect. 
If you are new to using contrasting colors, referencing the color wheel to make sure they will work together can be a great tool to help you achieve the bold and beautiful look you're going for.