How To Make Your 5-Minute Makeup Routine Count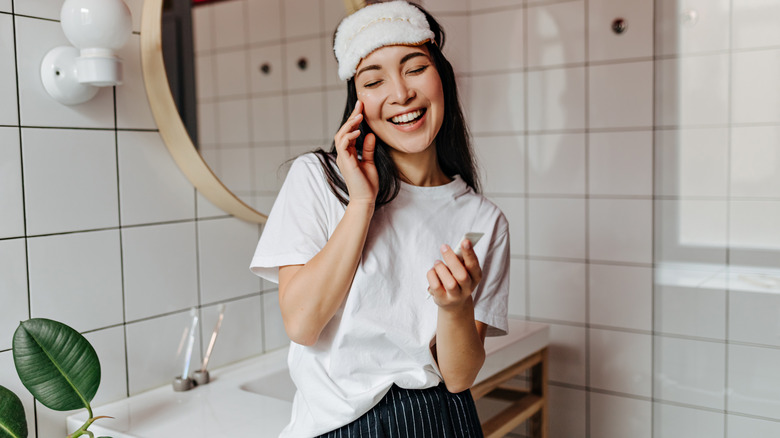 Look Studio/Shutterstock
It seems like we're constantly being inundated with new beauty trends that are supposedly going to change our lives. In 2022, bold eye shadow and blush were among the makeup trends that completely took over, along with full eyebrows and Y2K-era lip gloss. The clean-girl beauty trend also went viral on TikTok, providing easy tips for understated glam. And, as we look toward 2023, makeup minimalism continues to build momentum, especially with so many celebs creating beauty brands centered around skincare (via PopSugar). 
Elsewhere, according to L'Oréal Paris, skinimalism is our chance to embrace imperfection, rather than trying to conceal skin's natural textures as we've always been encouraged to do. Makeup can play a range of roles in your life from highlighting your bone structure to simply helping you feel ready for the day, or even providing an artistic space to get back in touch with yourself. With our beauty routines slowly but surely transforming post-pandemic, the pressure to look perfect may feel less powerful than before — whether you're working from home and just sticking to a restorative skincare routine, or embracing your natural beauty wherever you go.
In fact, Megan Fox's makeup artist Tobi Henney shared that the secret to looking good after 30 revolves around adopting a less is more approach, in an interview with Who What Wear. This idea really works for any age, though, and you may be surprised by just how quickly you can prep for the day ahead as a result. 
Sticking with the basics is key to getting ready quickly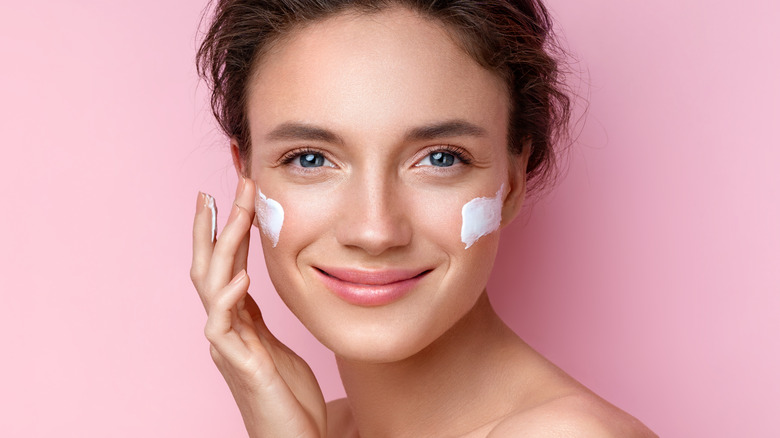 RomarioIen/Shutterstock
First off, British Vogue advises applying your skincare products in the correct order, aka from your lightest product to your heaviest. This means washing your face, applying serum or eye cream if you use these products on a daily basis, any acne treatment you may need, moisturizer, and finally sunscreen. Keeping your makeup looking fresh is one of the hardest parts of a daily routine, so starting with your skincare is a must.
Once that's all sorted, L'Oréal Paris suggests the first product you should apply for quick morning makeup is a creamy primer, which will prep your face for whatever comes next while adding extra moisture. Next is whatever foundation or smoothing formula you prefer — L'Oréal recommends applying it with a makeup sponge for a sleek finish. Makeup artist Tobi Henney actually suggested keeping things light with a BB or CC cream instead of foundation (via Who What Wear). 
You could even mix your concealer or BB Cream with your moisturizer before applying like Jonathan Van Ness does (via Gritty Pretty). Henney also emphasizes that you don't need to cover your whole face with foundation to obtain a clean look either; you can focus instead on helping problem areas, dark circles, or redness match the rest of your face. Likewise, the gentle skin in your under-eye area also needs plenty of moisture to help your makeup achieve a smooth finish. 
Keep in mind that less can really be so much more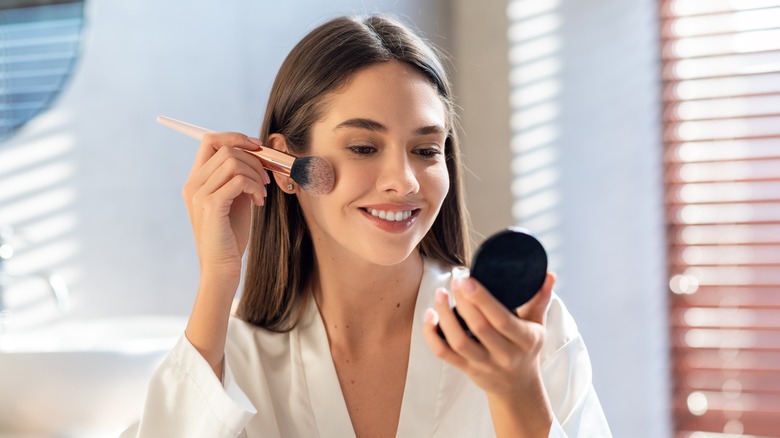 Prostock-studio/Shutterstock
The next step in your effortless 5-minute glow-up is, of course, a highlighter. L'Oréal Paris recommends using a highlighter, bronzer, and blush to contour in a three shape going from above your eyebrows to below your cheekbones, and finishing along your jawline. But for those of us just hoping to achieve a natural dewy look, a highlighter applied on the cheekbones and a subtle blush on the apple of the cheeks will do. 
Makeup artist Tobi Henney sees blush as the key to a youthful look, standing by liquid and cream formulas for easy, non-cakey application, per Who What Wear. Keeping things fresh and simple as we age is the ultimate goal, and she recommends sticking to natural shades for any eye shadow, bronzer, or contouring you might use on a daily basis. Both L'Oréal and Henney advise that a slick of mascara and eye-catching lipstick are the best finishers, whether you're venturing out into the world or just attending Zoom meetings. 
According to No7 Beauty Experts (via Kiss95.1), the clean-girl beauty trend follows this same, basic process, simply adding an exfoliator during the face-washing step and a clear brow gel at the end to hold everything in place. Ultimately, a simple makeup routine doesn't have to look rushed, and you can add or subtract steps to perfectly match your mood for the day ahead.