How Prince Harry Reacted When Asked Whether He's Choosing Money Over Family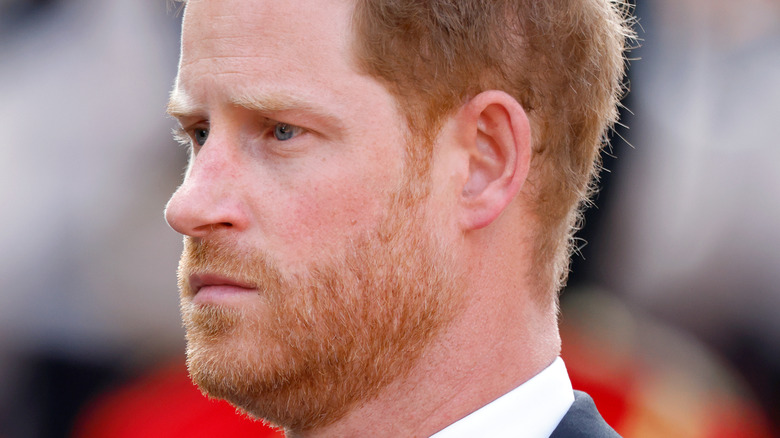 Max Mumby/indigo/Getty Images
Unsurprisingly, when it was announced that the Duke and Duchess of Sussex would be honored for their work fighting against institutional racism in the British monarchy, royalists were up in arms. In fact, certain commentators claimed Meghan Markle and Prince Harry's latest award insulted King Charles, reasoning that it's "another slight" against the prince's family that has no basis in fact, as Rupert Bell, the royal correspondent for "TalkTV" opined on his show (via Twitter).
As Bell sees it, "They're bashing down the monarchy ... yet they are getting the award for an institution they don't want to be a part of and want to divorce themselves ... yet here they are getting an award for everything that feels bad about their agenda since they left the royal family." Likewise, a furious Piers Morgan described Harry and Meghan's latest honor as "outrageous." The Sussexes' most virulent critic made his feelings known during an appearance on "Fox & Friends." 
When host Ainsley Earhardt broached the subject, the former "Good Morning Britain" host railed, "I think it's absolutely disgusting," decrying the celebrity couple as "two little grifters." Although being rewarded for their work was obviously a momentous occasion for Meghan and Harry, their big night was derailed by a pointed question from one of the reporters in attendance. 
The Duke of Sussex brushed off the reporter's remark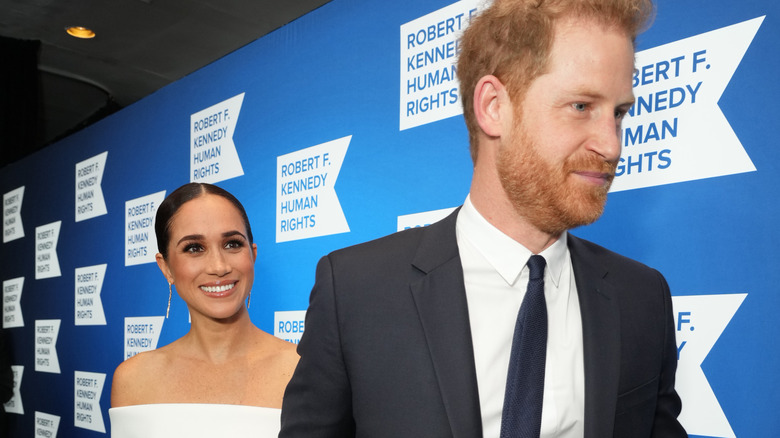 Kevin Mazur/Getty Images
Prince Harry didn't appreciate being accused of putting his money ahead of his family. As the Daily Mail reported, the Duke and Duchess of Sussex were posing for photos on their way into the glitzy New York gala at which the couple was awarded the Ripple of Hope Award, from the Robert F Kennedy Human Rights (RFKHR) organization, when they were subjected to a "grilling" from the gathered journalists. 
Neither responded to the accusation, or indeed anything else that was barked at them, but the prince said "so many questions" as they walked off (via YouTube). That awkward moment aside, Meghan and Harry had an impressive showing on the night. BBC News confirms they unveiled the Archewell Foundation Award for Gender Equity in Student Film, sharing in a statement: "The values of RFK Foundation and the Archewell Foundation are aligned in our shared belief of courage over fear, and love over hate." 
Elsewhere, Harry quipped that the couple doesn't usually get to enjoy nights out anymore because of how busy their home lives are with two young children. "I just thought we were just going on a date night, so I found it quite weird that we're sharing the room with 1,500 people," he jokingly admitted to RFKHR President Kerry Kennedy. The prince added, "But it's nice to share date night with all of you, so thank you for coming."