The Subtle Way Meghan Markle Honored Princess Diana Ahead Of Netflix Doc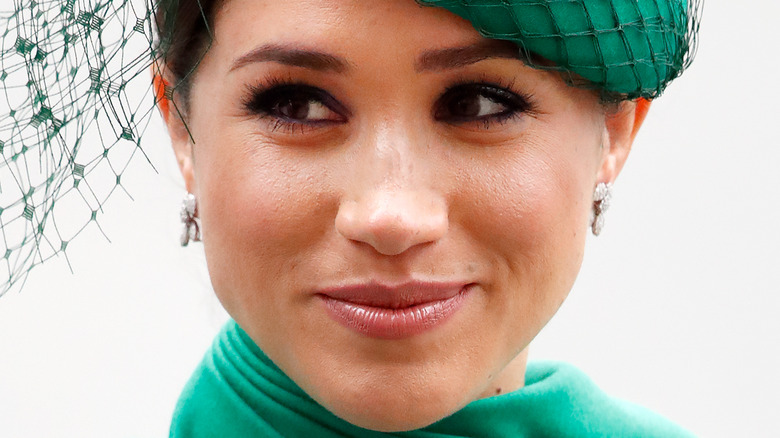 Max Mumby/indigo/Getty Images
Just ahead of their Netflix docuseries, Prince Harry and Meghan Markle made a glamourous appearance at the Ripple of Hope Gala as recipients of the 2022 Robert F. Kennedy Ripple of Hope Award. Other honorees included President Volodymyr Zelensky of Ukraine and late NBA star Bill Russell.
Some royal commentators view Harry and Meghan's award as an insult to King Charles III. However, Kerry Kennedy, niece of former President John F. Kennedy, was confident in her choice. "They went to the oldest institution in UK history and told them what they were doing was wrong, that they couldn't have structural racism within the institution, that they could not maintain a misunderstanding about mental health," Kennedy explained (via Insider).
At the event, Meghan was candid about the reasons she discussed her mental health challenges with Oprah. "I made the decision to just say 'if my experience can help someone else not feel the same way or to know that there's hope, then it's worth every second of whatever comes with it,'" the duchess explained (via The Telegraph). Meghan's mother-in-law, the late Princess Diana, felt similarly. During the 1990s, Diana opened up about her struggle with bulimia in multiple interviews. According to Time, the princess' frank approach boosted awareness and caused a notable increase in treatment rates. Besides her willingness to get personal about mental health, there was another subtle way Meghan honored Diana.
Meghan wore Princess Diana's aquamarine ring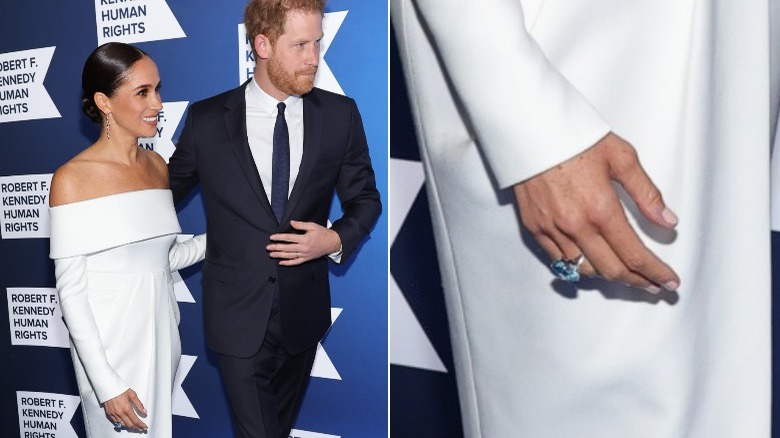 Mike Coppola/Getty Images
At the Ripple of Hope Gala, Meghan Markle stepped out in a shouldering-baring, white Louis Vuitton gown. Designed by Nicolas Ghesquière, Vogue noted that the bespoke dress was reminiscent of the duchess' wedding dress. Just like on her big day, Meghan accessorized with an aquamarine ring that belonged to the late Princess Diana. According to the Daily Mail, the ring is valued at $90,000 and was custom-made by British jeweler Asprey. In 1996, Diana wore the ring on her left hand, swapping out her sapphire engagement ring, which was later inherited by Kate Middleton.
"The striking aquamarine emerald-cut cocktail ring features an aquamarine flanked by small solitaire diamonds – the eye-catching aquamarine was given to Princess Diana by her friend, Lucia Flecha de Lima," jeweler Maxwell Stone told Express. He added that the pale blue gem symbolizes "sympathy, trust, and friendship." Meghan's engagement ring also honors Princess Diana. Speaking to the BBC in 2017, Prince Harry explained, "The main stone itself I sourced from Botswana, and the little diamonds either side are from my mother's jewelry collection to make sure that she's with us on this crazy journey together."
Over the years, Meghan has been spotted wearing other pieces from her mother-in-law's collection, including butterfly earrings, and a gold Cartier Tank watch. The duchess also wears a diamond bracelet, which is thought to be the source of the two smaller diamonds in her engagement ring, per Town & Country.
Princess Diana wanted her future daughter-in-laws to enjoy her jewelry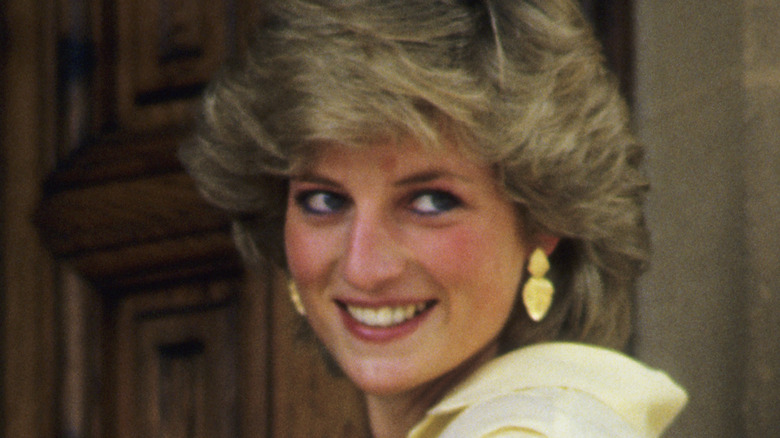 Georges De Keerle/Getty Images
In conjunction with her will, Princess Diana included a "letter of wishes" for the future of her jewelry collection. According to The Telegraph, Diana wrote, "I would like you to allocate all my jewellery to the share to be held by my sons, so that their wives may, in due course, have it or use it. I leave the exact division of the jewellery to your discretion."
Originally, Prince Harry chose his mother's sapphire engagement ring as a keepsake. Speaking in the documentary "The Diana Story," Paul Burrell, Diana's former butler, recalled Harry sharing a poignant memory of the piece saying, "I remember when I held mummy's hand when I was a small boy and that ring always hurt me because it was so big" (via Express). However, in the days before the rift between the two brothers, Harry decided to give Prince William the ring when he proposed to Kate Middleton. According to Burrell, Harry thought it appropriate his mother's sapphire would be associated with the throne. Burrell approved of Harry's thoughtfulness, saying, "That's selfless, kind, and exactly who Diana was."
In addition to her engagement ring, the Princess of Wales recently wore Diana's emerald choker as part of her green ensemble at the Earthshot Awards. As Town & Country notes, Kate also accessorizes with two different sets of sapphire earrings and a necklace as well as pearl earrings from her late mother-in-law's collection.