Twitter Has Its Proof Meghan And Harry Were Going To Tell Their Story All Along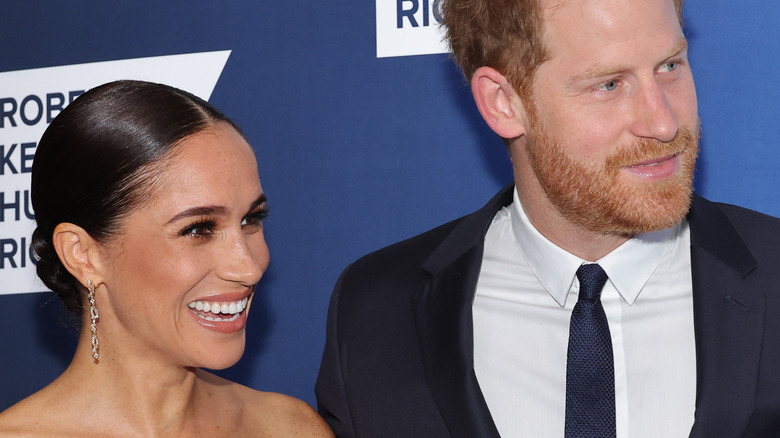 Mike Coppola/Getty Images
After months of anticipation, the wait is finally over — the first three episodes of Prince Harry and Meghan Markle's bombshell documentary "Harry & Meghan" are now available. We could practically hear the cheers from fans all around the world when Netflix released the docu-series on December 8.
With the release of the documentary and all the juicy details about royal life that Meghan and Harry revealed, many are awaiting news about how royals will react to the claims made by the Sussexes in "Harry & Meghan." Tensions between the families were already high when Harry and Meghan departed from the royal family, and things only got worse with the news of both the docu-series and Harry's memoir, "Spare," coming out in early 2023 (via The New York Times). According to Mirror, royals have apparently been having "crisis talks" in preparation for damage control since the trailer was released. If the royal family feels disrespected, King Charles III might even diss Harry and Meghan by leaving them off his coronation guest list next year.
Even though we don't have official responses from the royal family just yet, that didn't stop Twitter from reacting to "Harry & Meghan," and many have harsh critiques for the Sussexes.
Many think the Sussexes began plotting their revenge long before stepping down
According to the Netflix docu-series, Prince Harry revealed that some footage was collected before the couple departed the royal family in an attempt to capture the "misinformation" that was being spread. In the first episode, Harry says that "a friend of ours actually suggested that we document ourselves through this period of time." Throughout the documentary, there are clips of video diaries made by both Prince Harry and Meghan Markle, which document their reactions to events happening in real time; Harry called it a "sensible idea," even though they both admitted that it felt weird at first. In her first video diary, Meghan said, "One day it will make sense" for them to record much of their lives leading up to their departure.
Some users on Twitter did not take too kindly to the video diary footage. Many fans felt the Sussexes were planning this "attack" on the royal family long before they agreed to a documentary. One user tweeted, "They were filming themselves on camera from BEFORE they left the UK. Just shows how much they wanted revenge on their family from the very start." Twitter is calling their attempt to debunk misinformation "a pity party," and accusing Meghan of "horrible acting" in her video diaries. Another user called their vlogging "cringe" and called their videos "shameful soap opera bollocks."
As more emotional moments are shared from Netflix's "Harry & Meghan," we predict the divide between critics and supporters will only grow.