Can You Actually 'Mastermind' Your Next Relationship?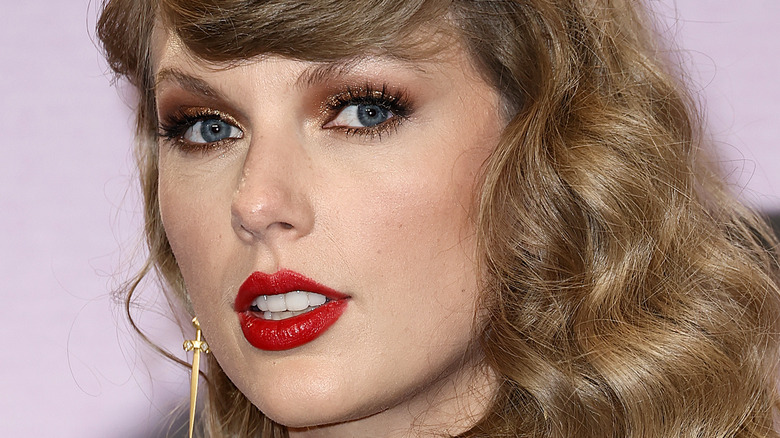 Frazer Harrison/Getty Images
Taylor Swift released her tenth studio album, "Midnights," on October 21st, 2022. Since then, the record has become untouchable, with Swift being the first artist to claim all top ten spots on the Billboard Hot 100 chart (per Music Business Worldwide).
Swift posted about the 13-track album on Instagram, writing that it features songs about "sleepless nights scattered throughout [her] life." She also dropped a "3 AM" version of the album featuring seven bonus tracks shortly after its initial release (per Variety).
Even before Midnight's debut, social media was buzzing with anticipation for the artist's first new album in two years. Now, the internet has exploded with conversations about the music and artist, with Comscore reporting over 61.6 million "Midnights"-related social media actions the week of the album's release.
TikTok is one platform where Swift-discourse has always thrived, and her newest release provided no exception (per Mashable). Videos and trends featuring tracks "Anti-Hero" and "Bejeweled" haven't lost any novelty, but the closing song "Mastermind" has also recently made sparks fly.
Taking inspiration from the singer, TikTok users, particularly women, have begun describing how they have "masterminded" their own sacred beginnings, leading some viewers to wonder whether or not they should be implementing more schemes in their own love lives.
What's the Mastermind TikTok trend about?
To explain the "Mastermind" trend, it's necessary to break down Taylor Swift's song in more depth. As explained by Bustle, "Mastermind" is about Swift's relationship with Joe Alywn, who she first met at the 2016 Met Gala.
At first, the track seems to describe how fate brought the pair together, but the true meaning of the song is revealed through the following lyrics: "What if I told you none of it was accidental? / And the first night that you saw me, nothing was gonna stop me / I laid the groundwork and then, just like clockwork / The dominoes cascading in the line / What if I told you I'm the mastermind?"
As Seventeen mentions, Swift goes on to explain how gender politics influenced her decision to take fate into her own hands, saying that all "wise women" mastermind their relationships to avoid being treated like "pawns" by men.
Running with the idea of taking fate into their own hands, TikTok users have started posting videos explaining how they, too, captured the attention of a potential significant other through their own behind-the-scenes machinations.
For example, user @pepperysoumya writes how they schemed with their friends over boba using a Google document the day before they kissed their first love, while @kimyoungclark explains that they "accidentally" left their wallet in their now-husbands car after their first date. Swift's "Mastermind" serves as a fitting soundtrack for these videos.
Can and should you mastermind your own relationship?
With TikTok users detailing the lengths they've gone to in order to "mastermind" their relationships, conversations about the effectiveness and morality of this trend have popped up. For example, @jslaymoneyy writes in their video that the "Mastermind" trend has inspired them to take more action in their love life instead of waiting for men to make the first move.
In contrast, a Refinery29 article details the problems with this trend, with the author explaining their own experiences pretending to be someone they weren't just for a relationship. Twitter replies discussing this trend expressed similar worries, with a user writing, "this seems.. unhealthy.. coming from someone who has done similarly in the past."
So, with these conflicting takes, you might wonder if you can mastermind your own relationship or if you're better off avoiding this. As Elite Daily explains, this trend can really lean both ways, with approaches varying between harmless and harmful.
Pretending to be someone you're not isn't a healthy way to start a relationship and likely guarantees that your masterminding is going to fail. Feigning interest in a show to make conversation with someone new or creating what seems like a natural opportunity to hang with them are more effective ways of masterminding the beginning of the relationship that doesn't sacrifice who you are.
Overall, there's nothing wrong with approaching love straight-on, but be sure to keep your masterminding in check.