How Christian Dior Changed The World Of Fashion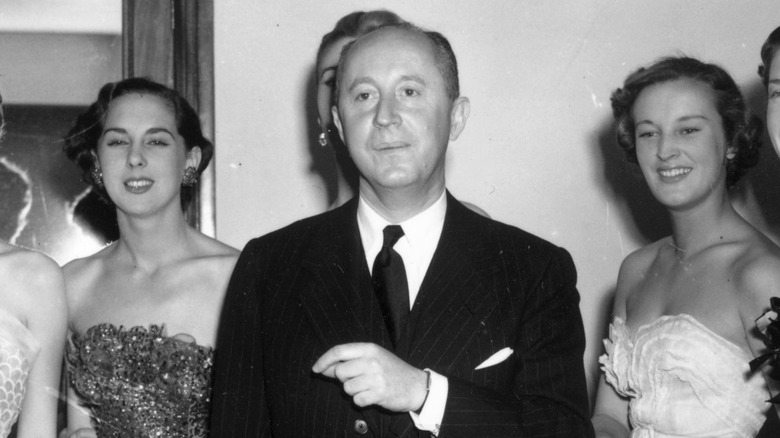 Fred Ramage/Getty Images
Christian Dior has long been revered as one of the most significant and influential fashion designers in the world, whose creations have stood the test of time. He founded his eponymous fashion house on the principles of classic and timeless fashion, with a focus on embracing femininity in a post-World War 2 world. Dior's undeniable mark on the fashion industry is responsible for ushering in what will forever be considered the "Golden Age of Couture" (via Dior).
Christian Dior not only reestablished Paris as the fashion capital of the world, but he also highlighted the importance of haute couture as one of the pillars of fashion. As a lover of architecture, Christian Dior's unique approach to designing collections has inspired countless other designers. "I wanted to be an architect," he explained. "Being a designer I have to follow the laws, the principles of architecture." The impact of Dior's work has reverberated through the houses that have followed it and has since trickled down to the rest of the fashion world, still influencing trends we see today.

Christian Dior has always had a creative eye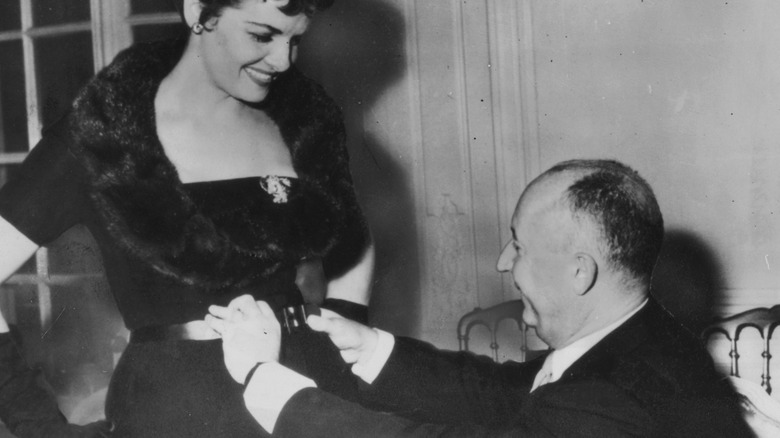 Keystone/Getty Images
Christian Dior was born to wealthy parents in the north of France. They had always hoped for their son to become a diplomat, however, Dior always had a love for art and aspired to work in something creative. He even went so far as selling his fashion sketches outside his house for 10 cents each to make some extra money. Despite his passions, he attended school for political science in order to appease his parents' wishes.
Upon graduation, Dior channeled his creativity into opening an art gallery that displayed works from artists like Pablo Picasso and Salvador Dalí (via Artsy). Although, his gallery ultimately closed a few years later during the Great Depression. It was then that Dior began to heavily pursue a career in fashion. He used his love for architecture as a way to inform the way he approached his designs. "A dress is a piece of ephemeral architecture designed to enhance the proportions of the female body," Dior once said.
He worked alongside Pierre Balmain for much of his early career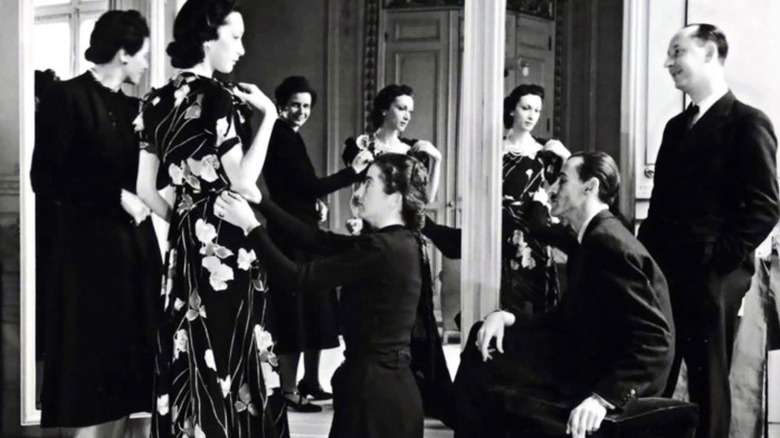 Dior
After gaining some success from selling his personal sketches, Dior managed to land a job as a design assistant for Parisian designer Robert Piguet. Dior once said that Piguet taught him the "virtues of simplicity" in order to achieve "true elegance." Under Piguet, Dior crafted the beloved Café Anglais dress (via Dior). During this time, he worked alongside none other than Pierre Balmain, who would go on to later launch a high-end fashion house of his own name. The two creative masters worked together, producing designs for multiple Piguet collections until Dior was required to step away and perform military duties in 1942.
Two years later, Dior was free from the army and back at it, finding employment with famed designer Lucien Lelong. 
Christian Dior's New Look
In 1947, World War II had come to an end, and this era marked a shift not only in politics but in the world of fashion as well. Christian Dior revealed his debut haute couture collection, launching his eponymous brand with A-line skirts, tight corsets, and structured silhouettes (via Vogue). The hourglass figures that he was creating had never been seen before and therefore influenced the trajectory of the entire fashion world moving forward. It was actually Harper's Bazaar Editor-in-Chief Carmel Snow that coined the name that eventually stuck for the collection, saying, "It's quite a revolution, dear Christian! Your dresses have such a new look!"
Following the need for rationing and rigidity experienced during the war, Dior's collection was criticized for the excessive use of fabrics. However, Dior believed his pieces represented women's liberation from dark times and the return of the distinction between wealth classes that was lacking during this time in history. Dior wanted the women wearing his designs to feel their opulence and lavishness. The New Look eventually sparked the most significant period in history for haute couture, with never before seen hem lengths and busts that are responsible for the house of Dior swiftly becoming one of the most iconic in sartorial history.
The birth of Miss Dior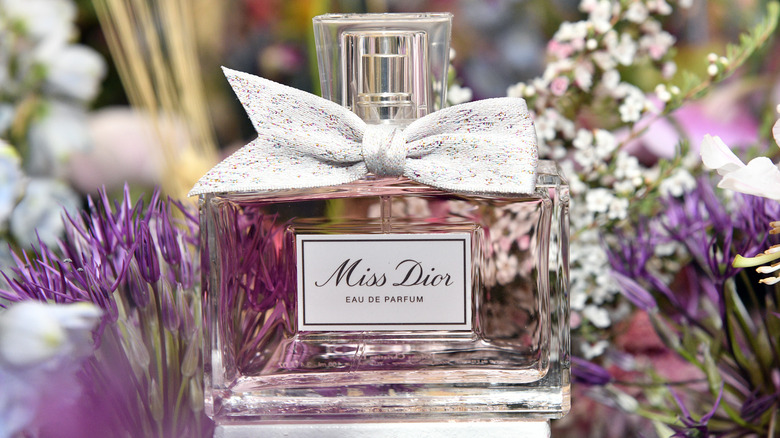 Eugene Gologursky/Getty Images
Only a mere two years after its inception, the house of Dior managed to leap to global status when it opened a store on Fifth Avenue in New York City. This was a period when Christian Dior gained worldwide recognition, and he had the honor of dressing a variety of prominent celebrities and members of the royal family, such as Ava Gardner, Marlene Dietrich, and Princess Margaret, among many others.
Christian Dior strongly believed that perfume acts as "the finishing touch on a dress." This notion inspired his decision to introduce fragrances to his collections in hopes of providing women with a completely new look, a move that revolutionized the perfumery industry. He would go on to release his famous "Miss Dior" perfume that was dedicated to his sister, Catherine Dior. The scent featured floral characteristics and introduced the idea of luxury fragrances that fall under the couture umbrella. The face of Miss Dior was eventually assumed by one of the "Dior Darlings" of our time, Natalie Portman (via British Vogue).
Dior incorporates luxury accessories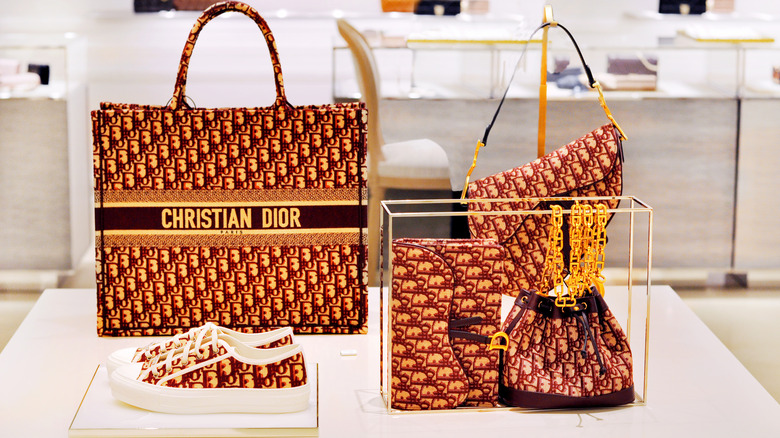 Minoli/Shutterstock
In 1949, following the success of the Miss Dior perfume and the global expansion of the revered House of Dior, the fashion boss was easily able to recognize the necessity of providing Dior consumers with access to a completed line of New Look designs and products. As such, the fashion guru decided to make the gigantic leap in licensing the Dior name for more than just clothing and began incorporating a wide variety of accessories such as shoes, gloves, and even hats into his varying collections.
The manufacturing of accessories under the Dior name created a much more accessible presence for the brand in the retail space. This was initially criticized for being seen as a way of cheapening the fashion industry. However, all major designers eventually followed suit and began offering their own designer accessories as well — a clear nod to Dior's ingenuity and business savvy.
The introduction of Yves Saint Laurent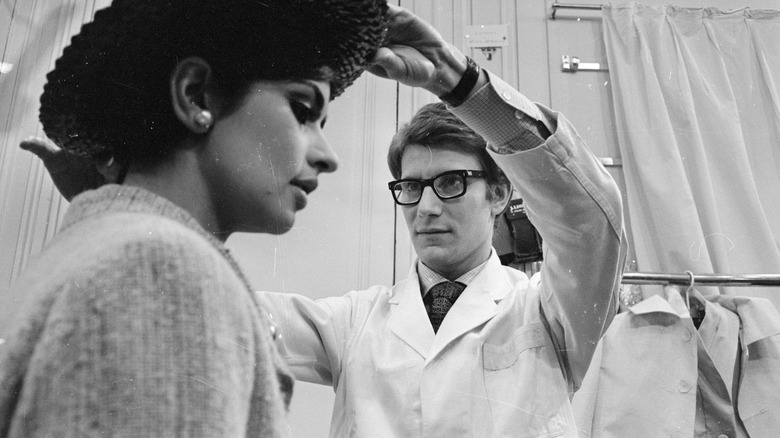 Reg Lancaster/Getty Images
In 1955, a 19-year-old joined the team as Christian Dior's assistant, and it was none other than fashion legend Yves Saint Laurent. The fresh-faced designer's sketches seemed to catch the eye of Vogue France Editor-in-Chief, Michel de Brunhoff, who introduced him to Christian Dior, leading to his being hired right on the spot (via Musée YSL Paris). Brunhoff once said he had "never met anyone more gifted" in his entire life than Saint Laurent.
Under Dior's guidance, Saint Laurent learned the ins and outs of the fashion industry and began making strides with his sartorial talents. Saint Laurent later shared his admiration of Christian Dior, sharing, "I couldn't speak in front of him. He taught me the basis of my art. Whatever was to happen next, I never forgot the years I spent at his side." When Christian Dior's unexpected death rocked the fashion world in 1957, Yves Saint Laurent was appointed to the role of artistic director only two years after beginning his relationship with the brand. Dior's mastery not only led to the global success of his own fashion house but could have singlehandedly launched YSL as well.
Christian Dior's influence on YSL's future work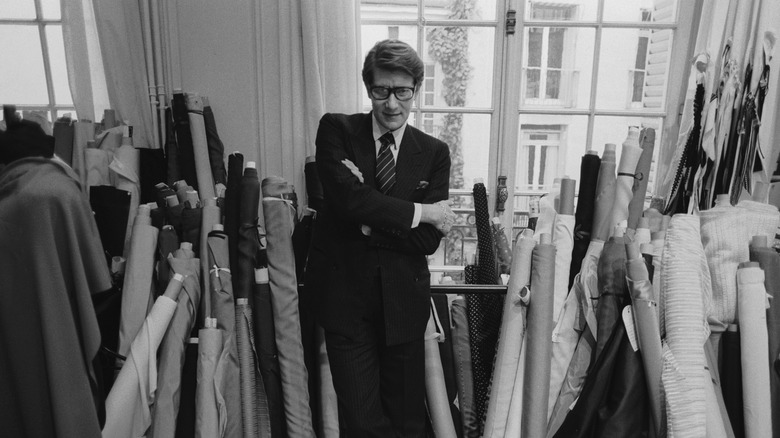 John Downing/Getty Images
Yves Saint Laurent's close relationship with the deceased fashion boss proved to be conducive to keeping with the established look of the Dior label. His debut Trapèze collection as the fashion house's artistic director remains a milestone for the brand (via The New York Times). Saint Laurent managed to maintain the Dior brand's known identity while ushering in a more soft and breathable direction for emerging fashion trends, styles that were comfortable and elegant simultaneously.
It was his inventive, breakthrough designs in the Trapèze collection that shot YSL to widespread recognition as a budding designer, earning his collection a standing ovation during its presentation (per Vogue Australia). Many believe that Saint Laurent's relaxed waistlines and simple use of fabrics were instrumental in solidifying the popularity of the A-line style for years to come. Yves Saint Laurent possessed a level of mastery that allowed him to combine art and history to evolve his work and create long-lasting trends.
Marc Bohan's Slim Look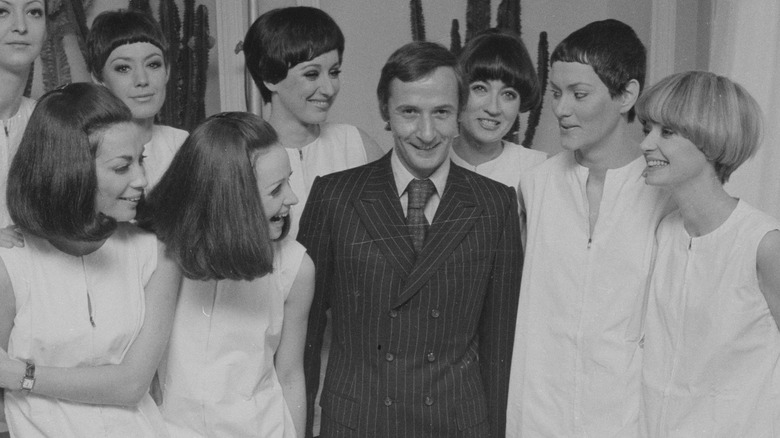 Reg Lancaster/Getty Images
In late 1960, Yves Saint Laurent was called into military service and was quickly replaced as creative director of the Dior label by French designer Marc Bohan. The following year, Bohan presented his first collection, later deemed the "Slim Look." The silhouette was described in a press release as "supple" and "slim" with natural shoulders and a relaxed waist (via Azyaamode). The collection gave a nod to the iconic New Look that came before it while streamlining the design to match the trends of the '60s with modern and sculptural features.
Marc Bohan was at the helm of the label for more than two decades, marking the longest relationship between a designer and the house of Dior. He helped the label to rise to the top of the fashion industry as an international success with the creation of Christian Dior Monsieur in 1970, the first men's ready-to-wear collection under the fashion house. He can also be credited for incorporating ready-to-wear and baby clothes, making the brand more accessible than ever before. During this time with Bohan in the driver's seat, some of Dior's most notable clients included Marilyn Monroe, Princess Grace of Monaco, Elizabeth Taylor, and Sophia Loren (via Vogue France).
Lady Dior
Christian Dior's leap to offering accessories back in the '40s opened the door for the brand to expand exponentially. In 1995, Dior debuted their first handbag, which was soon sported by none other than Princess Diana of Wales. While this title may not have stuck with her in the age of social media, Diana was once considered the most photographed person in history. She had a monumental influence on emerging fashion trends. She managed to popularize the bag that would go on to be one of Dior's signature pieces, swiftly dubbed "Lady Dior," after Lady Di herself (via Vogue France). The handbag would later symbolize elegance and status worn by stars like Paris Hilton, Mary-Kate Olsen, Jessica Simpson, and Sarah Jessica Parker, to name a few.
Galliano is arguably the most influential artistic director to have graced the team at the house of Dior (apart from its late founder,) and his handbags soon became a staple of the brand. After joining in 1996, he managed to bring Christian Dior's designs and the fashion label into the new millennium. This was a time when the label was dressing celebrities for the red carpet, like Nicole Kidman, Naomi Campbell, and Gisele Bündchen, among many others. Without the innovations of Christian Dior, this history-defining bag wouldn't have been possible, and the world may never have seen the handbags that followed.
Christian Dior's impact on couture lives on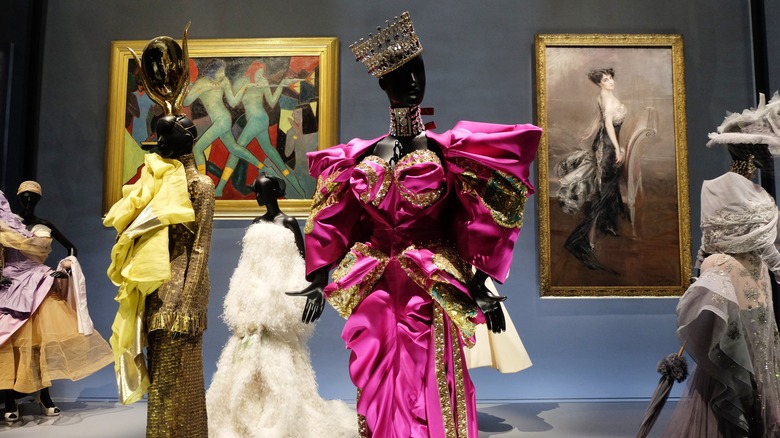 jennifer lombardo/Shutterstock
Christian Dior managed to revolutionize women's style after the Great Depression in a way that has lived on for decades while solidifying his label as one of the most influential in sartorial history. With his use of rounded shoulders, close-fitting waistlines, and full skirts, his innovations have had a long-lasting impact on women's fashion as well as the trajectory of other luxury designer brands and the industry as a whole.
Dior focused much of his energy on highlighting the importance of having more haute couture in the industry. "Many people dismiss haute couture as being something that is only for those who are very wealthy," Dior once explained, "simplicity, good taste, and grooming are the three fundamentals of good dressing, and these do not cost money." According to Business of Fashion, to qualify as an official Haute Couture house, members must "design made-to-order clothes for private clients, with more than one fitting, using an atelier that employs at least fifteen full-time staff." Some other notable haute couture members include Chanel, Givenchy, Jean Paul Gaultier, Balenciaga, Gucci, and Valentino.