Natalia Bryant's Cinnamon Brown Hair Is The Color You Need For Winter
Temperatures may be dropping outside, but there's nothing cold about the newest trending hair color: cinnamon brown. Amongst the trending colors of fall and winter, such as cashmere blonde hair and mahogany blonde hair, cinnamon brown is as cozy as it sounds. Though many hair switch-ups involve going blonde, the cinnamon trend is all about embracing brown, with threads of auburn or copper for a warm look (via Glamour).
You may be wondering if cinnamon brown hair is for you, but the good news is that this look works for almost everybody. According to hairdresser Linsey Barbuto, part of the popularity of cinnamon brown hair is that it meshes well with most skin tones (via Byrdie). She advises those with olive undertones to "go for a deeper and rich tone," whereas those with "fair skin should aim for a lighter, warmer [shade]." 
Barbuto also shared that cinnamon brown is a low-maintenance color, stating that the look "literally requires the least amount of touchups" — always a plus. If luscious, reddish-brown hair sounds like something you're into, here's how to pull it off.
The cinnamon brown trend is a great way to warm up dark hair
Cinnamon brown hair is the perfect color for colder months. Per Glamour, tradition dictates that we color our hair in opposition to the weather. As the days get cooler, our hair gets warmer to provide a natural contrast and warm up our appearance. Hair colorist Jeremy Tardo agrees with this theory, stating that "cinnamon brown hair colors feel as much like autumn as your favorite sweater or cup of warm tea."
Now that you know why cinnamon brown is picking up in popularity, you can gather some hair inspo from the many celebs who have tried out the look. Someone who gives all the fall and winter vibes is model Natalia Bryant, who revealed her stunning new hair color on Instagram in a sunlit selfie (via PopSugar). She also shared the process of dying her hair on TikTok, captioning the video "soft cinnamon" in reference to the beautiful hue she opted for. 
Bryant's hair is a rich brown color at the top with red tones at the bottom, but other celebs have sported the cinnamon hair trend in a different way.
The gorgeously rich hair color is making the rounds among celebs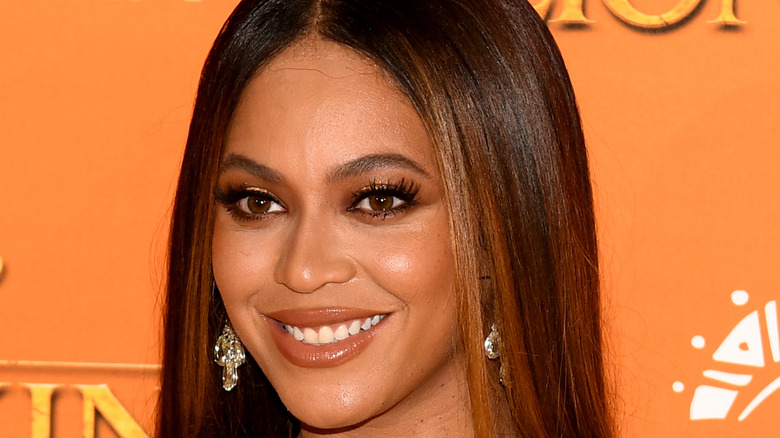 Gareth Cattermole/Getty Images
Some celebs embracing the cinnamon brown hair trend include Zendaya and Jessica Chastain, whose gorgeous auburn hair is the envy of fans, per Byrdie. Zendaya opted for an ombre effect with her cinnamon hair, whereas Chastain chose a more reddish tone to complement her natural color. 
If you want to dip your toes into the cinnamon brown trend but don't know where to start, take inspiration from Beyonce at the "The Lion King" premiere. The singer framed her face with cinnamon "money-piece" highlights for a rich and glamorous look (via Good Housekeeping). The money-piece hair trend can illuminate your face and add warmth during cooler months without being overpowering, so it's a great way to try the cinnamon look before fully committing. 
If you have blonde hair, don't feel left out — you can absolutely pull off the cinnamon hair look. Per Refinery29, your blonde will need to skew warm instead of cool to bring out the "deep, rich undertones" required for a cinnamon brown color. You could also look to redheads like Chastain and go for a strawberry cinnamon color instead of a deep cocoa cinnamon.