Here's How Much You Should Actually Pay For Your Engagement Photos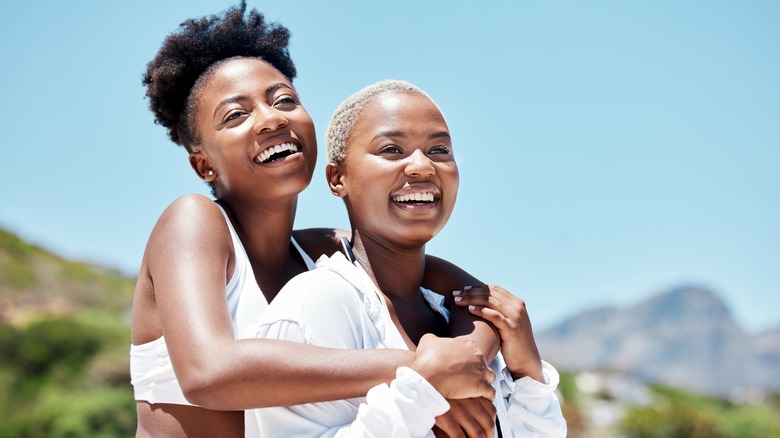 PeopleImages.com - Yuri A/Shutterstock
From scheduling caterers to picking out floral arrangements, planning a wedding is more than a little complicated — and more than a little expensive. According to one 2018 Zola survey, 40% of couples found planning for the big day "extremely stressful" (via Brides). New York-based wedding therapist Landis Bejar says the symbolic significance placed on the day and the pressure to please friends and family is what causes the most anxiety. In her words, "It's a life transition for everyone involved, and with life transitions come identity shifts and a sense of loss of who you were before. Meanwhile, all this happens while everyone's eyes are on you, you're spending loads of money, and you're expected to be the happiest you've ever been."
Pre-wedding events require lots of time, energy, and money, too. There are bridal showers, dress fittings, and – first and foremost – engagement photos. Zola recommends shipping out save-the-dates 4 to 6 months prior to the wedding, while Brides suggests up to 8 months. In other words, you'll want to schedule your engagement photo shoot up to a year before the big day if you want the pics showcased on your invites.
So, after picking out your engagement photo fashion and finding a meaningful location, how much does the average session cost?
The cost of your photoshoot will depend on location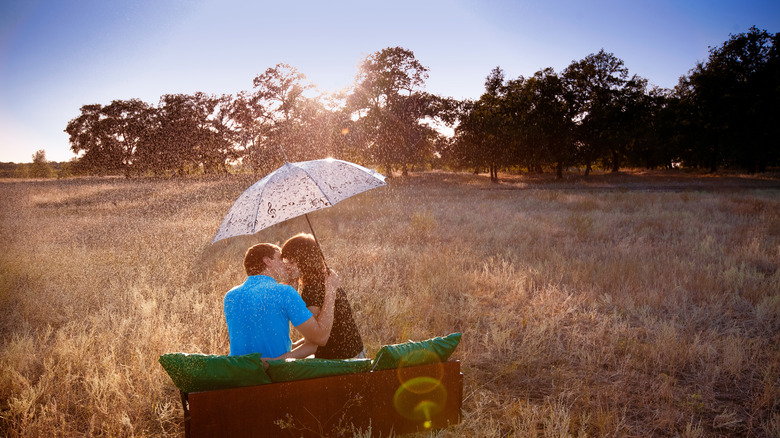 Vsurkov/Getty Images
Though the average price for an engagement photoshoot with a professional photographer is anywhere between $200 to $500, according to Shutterfly, and $300 to $600 per Brides estimate, you'll see a substantial increase depending on location. For instance, a destination shoot will total much higher than a local 90-minute session. Photographers factor in everything from travel costs to editing requests into the final price tag. So, if you ask them to climb a mountain and edit-out sweaty hikers at the top, expect to pay more than $200. Other variables like lighting, weather, and props can also increase the cost.
Some photographers offer expense-saving packages, per The Bash. For instance, they may charge less if you also use the same photographer on your wedding day. As photographer Molly King told Brides, booking the same photographer for both occasions is more than just a money-saving tactic. "It also helps you establish a relationship with your photographer, so you're comfortable with them, and vice versa. They can learn more about you before the big day," she says. Because every photographer has a different style – what Molly King calls "their brand" – it's important to talk to a few options before you sign any contracts. "I recommend checking out the photographer's about page and Instagram first. But you should also meet them," says King. 
As Shutterfly explains, getting price estimates from a few different photographers will also help you way-in financial pros and cons.
What to do with your engagement photos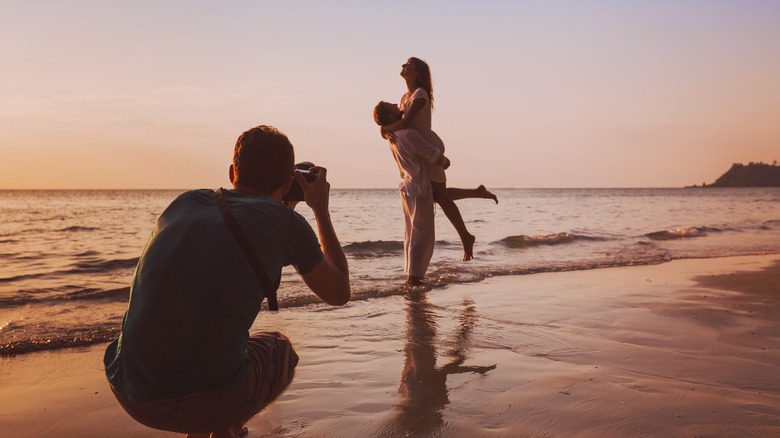 Song_about_summer/Shutterstock
Once your engagement pics are edited, you can use them for a lot more than save-the-dates. Zola recommends printing out a few of your favorite snaps and making them into a wedding guest book — a place where your friends and family can leave notes in the margins during the reception. Best of all, you can look back on their well-wishes years down the line. You can also get crafty and incorporate small print-outs into dinner table centerpieces or post-wedding thank-you cards. Keep in mind, however: "Some photographers will allow you to get printing rights and high res files, but not until you order an album," explains photographer Kathleen Kamphausen via Cosmopolitan. "Albums can cost over $1000, so beware of that if you need the files."
Alternatively, save on printing costs by creating a digital slideshow. As recommended by MFields Photography, you can play this at the rehearsal dinner or reception, backtracked by a special song. You can also include engagement snapshots on your wedding website, a location where guests can check out the venue or registry and even learn a little bit more about you as a couple before the big day. Of course, you can always get your engagement pics framed and hang them up on the walls of your home, or at the very least, post your favorites on social media!