The Beauty Trend That Transforms Your Pimples Into Beauty Marks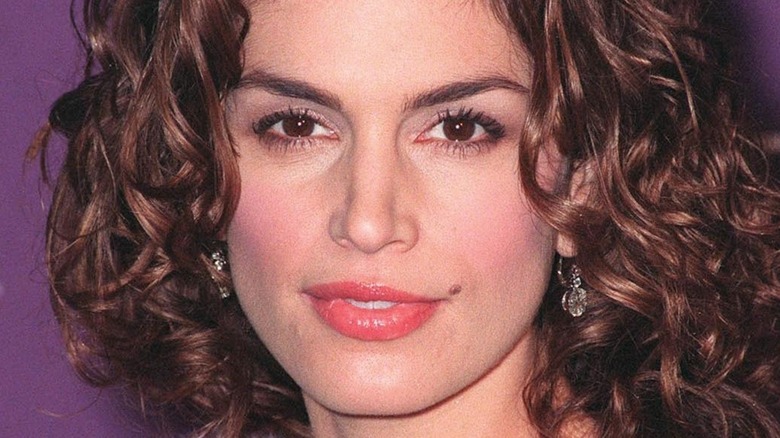 Featureflash Photo Agency/Shutterstock
What do Cindy Crawford, Marilyn Monroe, and Madonna all have in common? They're known for their trademark beauty spots. Thousands of years ago, these moles (aka "beauty marks") were used as a symbol of status and good fortune. In ancient Greece spots, specifically when located on the cheeks, indicated prosperity, per Town & Country magazine. And, in Imperial China, the color of these pigmented areas — whether red, black, or brown — was used to read faces in a practice that still exists today.
Over the centuries, and across the continents, moles evolved into a sign of demonic possession. According to Editorialist, women with beauty marks in Medieval Europe were seen to be influenced by the devil. Eventually, in the wake of smallpox scars, pasting on faux moles using materials like velvet and mouse fur became trendy, per Vogue. Marie Antoinette decorated her skin with birthmarks, and these cosmetic accessories soon came to represent status and, depending on placement, even had certain symbolic meanings.
In the modern age of movie stars, moles are a way to highlight individualism. As Marilyn Monroe once famously stated: "Imperfection is beauty, madness is genius and it's better to be absolutely ridiculous than absolutely boring" (via Medium). Rather than cover up imperfections, today's fads focus on embracing them. From tattooed freckles to pimple patches as runway accessories (via Byrdie), spots and dots are part of being a contemporary It girl. And, rather than hiding blemishes with concealer, the latest trend transforms them into beauty marks. 
Color-in pimples rather than hiding them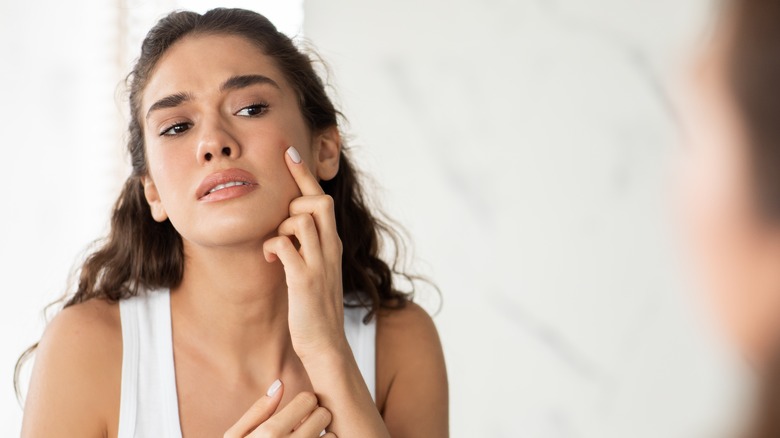 Prostock-studio/Shutterstock
Rather than concealing smallpox scars with glued-on velvet and moleskin, modern makeup artists use eyeshadow and a makeup brush to cover up pimples. To begin the process yourself, complete your usual skincare routine as normal. Moisturize, apply spot treatment over pimples, and, depending on the amount of redness you'd like to camouflage, Insider recommends green color-correcting concealer. Next, blend in your go-to foundation. 
​​"When I push the foundation onto my skin, I put it on the areas that need the most coverage," advises beauty YouTuber Desi Perkins, a pioneer of this pimple-disguising method, per Elle Australia. "Then, I'll really blend the edges [around the zit]." Next, it's time for your standard concealer. Generously apply it over your breakouts — as noted by Perkins, the foundation often comes off throughout the day, so be thorough. The concealer will make sure everything stays covered.  
"When I have those bumpier breakouts," explains the YouTuber, "I take the M.A.C. Studio Fix Powder — this stuff is really full coverage. If you have something that's sticking out, you want to push this on it and then around it." Though Insider recommends drawing on faux beauty marks with an eyeliner pen, you can also use an eyeshadow palette and a tiny brush. "I focus [on] the highest point of the breakout and lightly press on it," says Perkins. Set your glamorous new moles with powder, and you'll resemble a '50s star in no time. 
Add a pop of color with a pimple patch
If you're looking to take the beauty mark trend up a notch, you could also conceal your blemish with a brightly-colored pimple patch. As dermatologist Dr. Amy Kassouf, MD, told the Cleveland Clinic, "Pimple patches work by absorbing any drainage from the pimple and covering the wound to prevent further trauma to the site, such as picking," noting that, "They work best on open, draining, healing pustules, papules, and cysts." 
Though clear and beige patches have been around for years — healing hydrocolloid bandages popped up on shelves in the '80s, according to Vox — statement patches sold by companies like Starface and Squish are relatively new. In fact, Starface's black star patches were the first spot dots to officially hit fashion territory, decorating models at 2022's New York Fashion Week (via Byrdie). 
As noted by the company's co-founder Julie Schott, in an interview with Vox, "[Starface] de-stigmatizes and distracts and makes having a pimple fun." In other words, it plays off the aesthetics of drawing on a beauty mark while also working to heal the underlying blemish — a win-win all 'round.