You've Been Using The Wrong Color Corrector All Along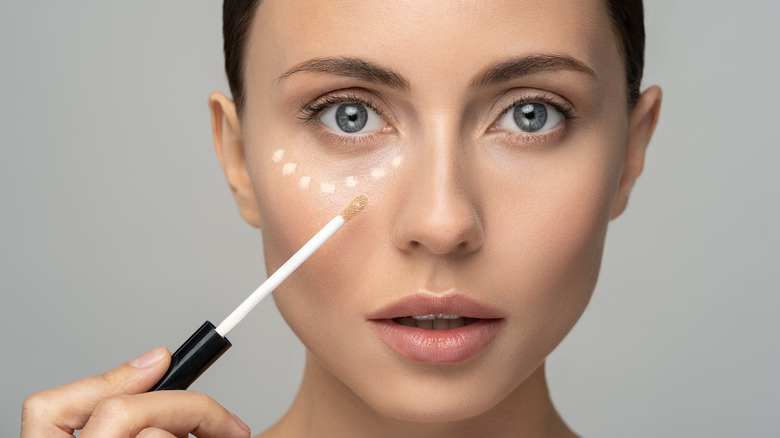 Shutterstock
As per Elle, "color correcting" is the beauty buzzword that makeup addicts and makeup artists are going crazy over right now, and it's not difficult to see why. Who knew that all it took to achieve perfect skin was a little pastel-hued concealer? 
Color correctors are colored concealers — usually pastel colored — that can be used to help correct a range of different skin concerns. Color correcting concealers are usually available in green, purple, and orange tones, and can be used to create a "more flawless base" for makeup application, offering targeted coverage for specific issues. 
While color correcting might be very on-trend right now, it's not as easy to get right as you might think. According to Elle, you have to know what you're doing when applying color correcting products to ensure you don't look like you're wearing pastel-hued face paint by the time you're done. 
Chances are you've been covering up those under eye circles, and that redness around your nose with the wrong products. Here's how to achieve flawless skin using the right color correctors for your complexion.
The first step is to analyze your skin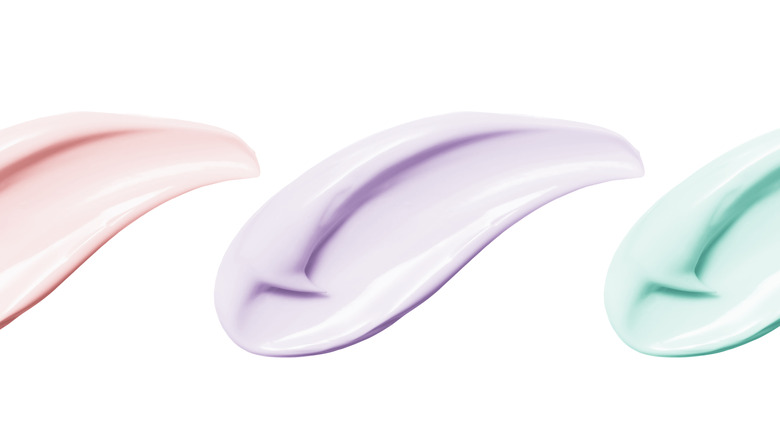 Shutterstock
As per Cosmopolitan, Sir John – Beyonce's makeup artist – suggests that when using color correcting concealer there are three things that you need to determine: where needs correction, what needs correcting, and the right shade to use to correct the issue. He recommends that when determining these things, you should stand in front of a mirror in natural light to get the best insight into what you need to correct. 
Foreo reports that the way that color correctors work is by cancelling each other out. Green-hued concealer helps to cancel out red-toned blemishes, purple-hued concealer can minimize yellow patches, while orange concealer can help to reduce the visibility or blue or purple dark circles.
Sir John suggests that it's best to apply foundation or tinted moisturizer before applying your color correcting concealer to avoid excessive product (via Cosmopolitan). Further explaining that for a proper base you should, "Apply lightly with your fingertips, and the warmth of your skin will help blend the product with your skin tone."
How to apply color correcting concealers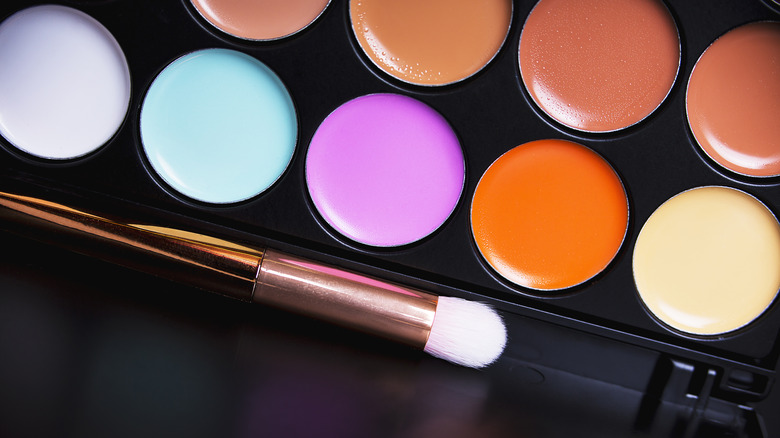 Shutterstock
When it comes to how you apply color correcting concealers, Foreo has a few useful tips for effective application.
An important tip is to find the right hues to match your skin tone, for instance, an orange-hued concealer is best for darker skin, while a lighter peach tone is better for lighter skin. Keep this as your guide: pale pink brightens under eye circles on fair skin, peach counters those same blue tones on medium skin, orange eliminates dark spots on richer skin tones, yellow covers under eye circles on olive skin, green covers redness on all skin tones, and lavender neutralizes yellow on all skin tones (via Cosmopolitan).
Agreeing with Sir John's suggestion that when it comes to base makeup, less is more, Foreo also suggests that for best results, always apply your color correcting product using thin layers, instead of applying a thick coating.
When it comes to how you apply your color correcting concealer, it's similar to how you'd apply foundation or regular concealer. Using a sponge bounced across the skin instead of rubbing or wiping can help achieve a more flawless and blended look. Makeup artist James Molloy told Elle, "I'd recommend using correctors as lightly as possible; especially the green or violet shades which can dramatically change the skin tone so a beauty blender or soft brush is best."