Batwoman's Javicia Leslie On Her Romantic Holiday Turn In Something From Tiffany's - Exclusive Interview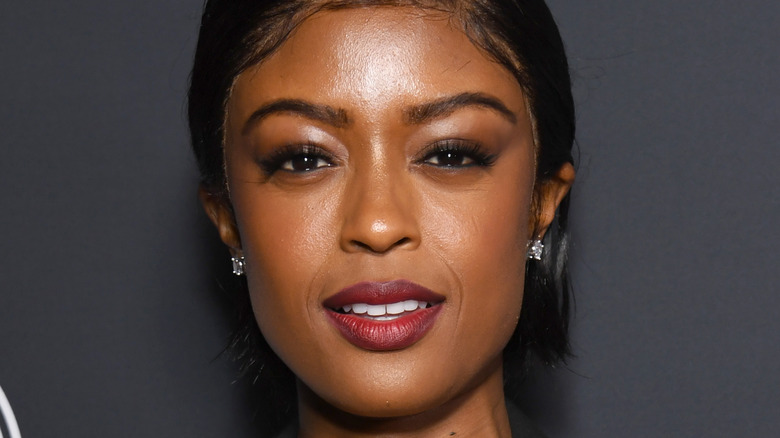 Jon Kopaloff/Getty Images
Versatility is the hallmark of a serious actor. Not many actors have the interest or skill to fully immerse themselves in a range of vastly different characters, so those who do get major respect from their fans and peers. Javicia Leslie is fast becoming one of those actors. Most recently known for playing the title role in The CW's "Batwoman," she has also had starring roles in the CBS comedy-drama "God Friended Me" (per Dove.org) as well as in the Lifetime horror thriller "Killer Coach" (per TV Guide). Leslie's efforts have not gone unnoticed, and Los Angeles magazine named her part of its "New Hollywood A-List."
And she's not resting on her laurels. In her latest performance, she switches gears once again, going from her role as a badass superhero in "Batwoman" to that of an adoring but brutally honest life partner in the Prime Video holiday romance "Something from Tiffany's." The movie — a comedy of errors in which a pair of accidentally switched Christmas gifts throw the lives of two couples into turmoil and cause two of their members to reconsider what they're looking for in life — allows Leslie to show a softer side of herself. In an exclusive interview with The List, she shared what she loved about the experience.
Being part of a female-centered story meant a lot to Javicia Leslie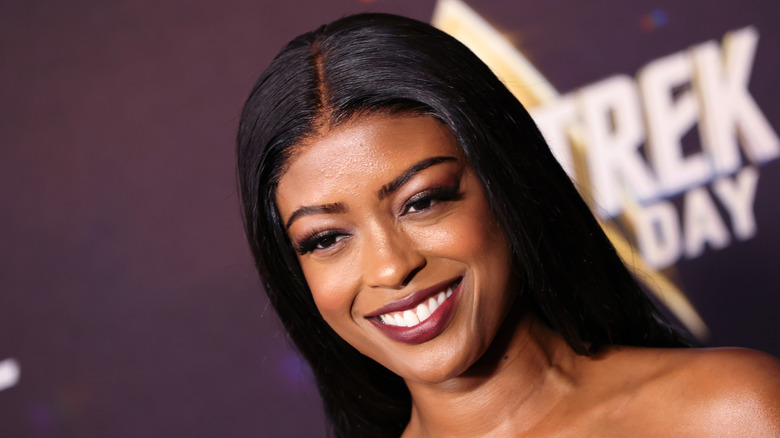 David Livingston/Getty Images
Could you tell me how you got involved with "Something from Tiffany's"?
Originally, the project came to me ... maybe October, November of last year. But I was filming "Batwoman," so I didn't know if I would be able to do it. Then it came back around in January and I'm like, "Yeah. I like this script. I loved this script the first time I read it. If there's still an opening, I'm down for it." I got to do a chemistry read with Jojo T. Gibbs, and we hit it off. When I came on, it felt seamless. It felt very meant to be, to be a part of that film.
Reese Witherspoon is one of the producers. Did you get to work with her at all?
That was another thing. One of the reasons why I really wanted to be a part of this project was my love for [Witherspoon's production company] Hello Sunshine. I love the types of projects that they're creating. As an actor, as a director, I love that they're female-led or female-directed. Hello Sunshine played a huge role in wanting to be a part of this film.
Her role in Something from Tiffany's was to be a devoted wife – and she loved it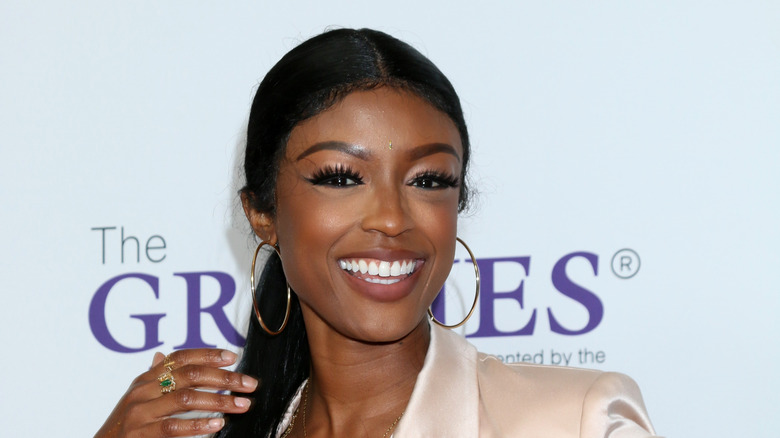 Kathy Hutchins/Shutterstock
What attracted you to the role of Sophia?
I loved her love for her wife. I love certain characters that are built around specifically that. My one job in this film is to love the heck out of her. You get to watch how authentic and also layered their love is, because you can tell Jojo's character, Terri, is a hot mess ... Sophia is very grounded. To be able to have such a grounded character like Sophia be her partner in this film, it creates this beautiful dynamic.
Related to that, "Something from Tiffany's" is a little different for a Christmas movie in that it puts non-traditional relationships, such as a lesbian marriage and an interracial romance, front and center. Can you reflect a bit on that?
Even the fact that Kendrick [Sampson]'s character is a widowed father, this is not something that we see that often in holiday films. I love the diversity in this film. It feels like this film is completely inclusive, and it normalizes everything so much that you don't even notice. It almost feels like "Okay, yeah," versus before, when you'd see gay characters or interracial relationships on screen, that might be the only thing you notice. But in this film, it's just who we are. We're all just existing.
Playing a happy character in a holiday movie was a fun change for Javicia Leslie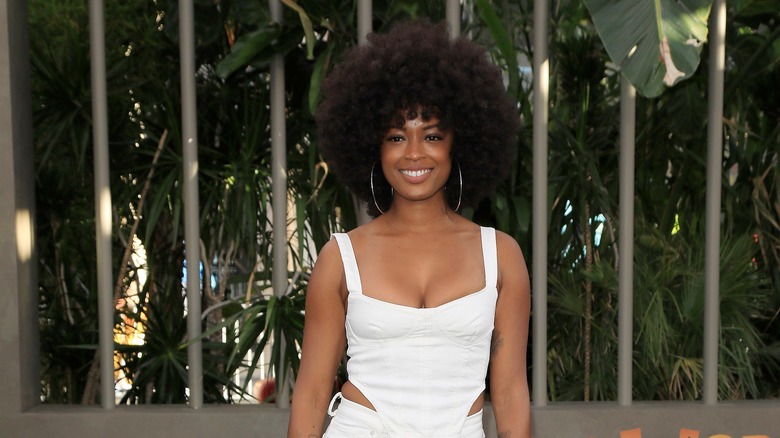 Joe Seer/Shutterstock
It was interesting how your romance contrasted with the other two couples in the film. Do you have any thoughts on that?
Our romance is very normal, and it's strong. We've been together for a while. We've been married for a while, and we have our little thing — the little tiffs — but it's that regular marriage type of tiff. It's never anything that is too explosive. We tend to be the relationship that I feel like everyone can see is a healthy relationship versus the other ones. Oh my gosh, [the others are] all over the place. It feels like they don't really know each other. They don't know who the person is. I loved being able to play a grounded character in that world.
This is quite a departure from your role in "Batwoman." What was it like getting into the mood to do a Christmas movie?
It felt like a relief. It felt like we were working so hard on our last season of "Batwoman," so coming into this film, it felt easy and fun and light. We did nothing but laugh the entire time on set, danced, made jokes, sang. It was so much fun.
"Something from Tiffany's" is now available to watch on Prime Video.
This interview has been edited for clarity.