Former Royal Chef Disagrees With Prince Harry Likening Princess Diana To Meghan Markle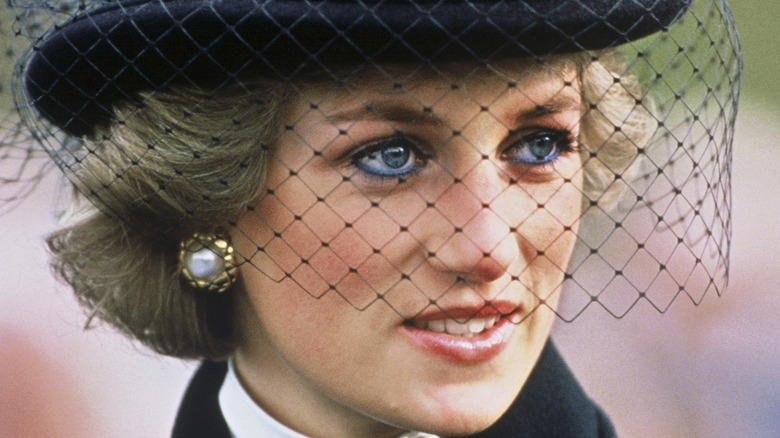 Anwar Hussein/Getty Images
Chef Darren McGrady has had a longstanding association with the royal family. Speaking to The O'Colly, he divulged that he wanted to become a palace chef after standing in the crowd to watch Prince Charles and Princess Diana's wedding.
McGrady started at the bottom — as the 20th chef and carrot peeler to Queen Elizabeth II's horses. Gradually, he worked his way up, learning all the skills to travel overseas with the monarch, per Haaretz. As noted on his website, The Royal Chef, McGrady worked for Elizabeth and her family for 15 years. After Charles and Diana separated, he prepared daily meals for Diana, Prince William, and Prince Harry. Then, after the heartbreaking death of Diana, McGrady moved to the U.S.
Besides compiling his royal recipes into a cookbook and running his own YouTube Channel, McGrady has shared numerous insights about his former employers, including private conversations with Diana. For instance, when Harry and Meghan Markle stepped back as senior royals, the Daily Mail reported that McGrady tweeted, "People saying Princess Diana would be proud don't know Princess Diana. She would have been furious that Harry had been so manipulated."
Now, in the wake of the first installment of Netflix's "Harry & Meghan" docuseries, McGrady has taken to Twitter once again to share his opinion of Harry's comments about his mother.
Chef McGrady refutes that Meghan and Diana have similar personality traits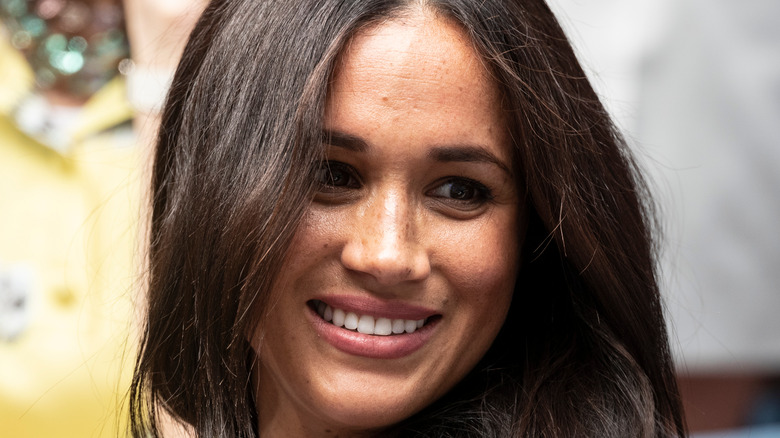 lev radin/Shutterstock
In the first episode of Netflix's docuseries "Harry & Meghan," Prince Harry and Meghan Markle, Duke and Duchess of Sussex, discussed their love connection and early romance. Harry noted the shared traits between Meghan and his mother, Princess Diana. "So much of what Meghan is, and how she is, is so similar to my mum," the prince enthused (per The New York Times). "She has the same compassion, the same empathy, she has the same confidence, she has this warmth about her."
Commenting on the program, Chef Darren McGrady contradicted Harry's opinion. "Prince Harry, with respect sir, Your wife will never be like/similar to your mother," he tweeted. "I knew Princess Diana for 15 years. Not even close."
Some users voiced their approval of the chef's words, with one noting, "[Harry] himself admits he barely remembers her. Barely knew her really, certainly not as an adult, and definitely not for 15 years."
However, some royal fans pushed back at McGrady's comments, writing, "No disrespect sir but I feel the opinion of the late Princess Diana's son is the most trusted source of who his mother was in comparison to his wife."
While he may disagree with Harry's comparison of Meghan and Diana, McGrady has drawn associations between himself and his former employer. In his website biography, McGrady notes his affiliation with charitable organizations assisting children in need — a topic that Diana championed (via Harper's Bazaar).
Harry fears for Meghan's safety after what happened to Diana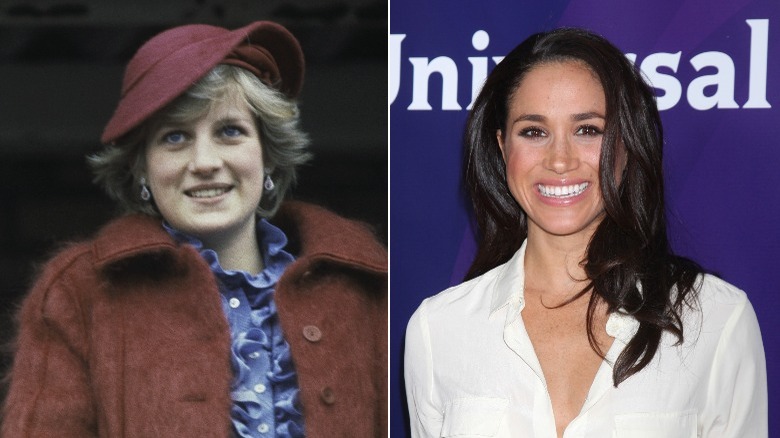 Kathy Hutchins/Shutterstock & Hulton Archive/Getty Images
Chef Darren McGrady isn't the only one who fails to see the similarities between Meghan Markle, Duchess of Sussex, and the late Princess Diana. In 2017, when Diana's two sisters and friend Julia Samuel met Meghan, they didn't make the connection, either. "No one agreed that his vulnerable mother had anything in common with his girlfriend," wrote royal author Tom Bower, per Page Six. 
Royal expert Ingrid Seward has a theory about Prince Harry's comparison. She told The Times that the prince "projected his mother onto Meghan. He couldn't look after his mother — obviously, he was a little boy — and he has projected his mother's love onto Meghan. I think he genuinely feels he wants to protect her."
In Episode 1 of "Harry & Meghan," soon after he commented on Diana and Meghan's similar personalities, the Duke of Sussex talked about the importance of his family's safety and Diana's tragic car accident. "Especially after what happened to my mom. You know, I didn't want history to repeat itself," he said (via Elle).
The duke previously spoke about these concerns in "The Me You Can't See" documentary. "My mother was chased to her death while she was in a relationship with someone that wasn't white," he said, per People. In addition, in 2019, Harry issued a statement on Sussex Royal criticizing tabloid media. "I lost my mother and now I watch my wife falling victim to the same powerful forces," he wrote.