What To Do When Highlights Dry Out Your Hair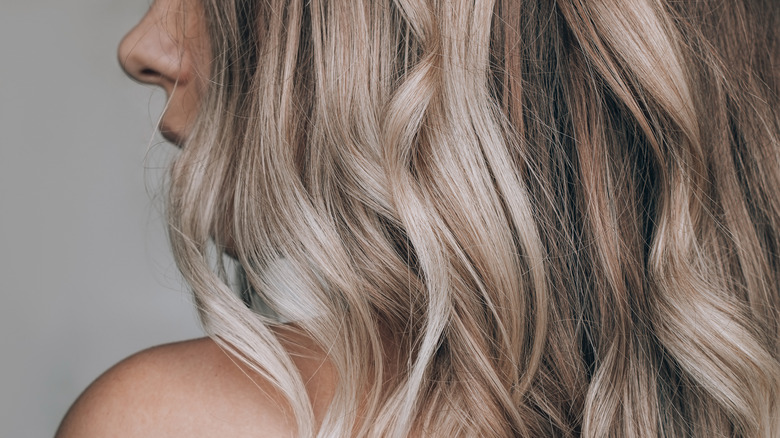 Marina Demeshko/Shutterstock
Hair color maintenance is something so many of us are familiar with. Whether your go-to is a full head of foils or you're more into the lived-in look of balayage, the upkeep of your style is something that needs to be constantly thought about. According to Redken, adding dimension to your hair through lightening treatments can lead to it feeling brittle, porous, and straight-up dry, really taking away from that Disney princess aesthetic you were going for.
In today's world of highly skilled colorists, aftercare and maintenance of your locks is something that technicians are educating their clients about during their processing appointments. As Coveteur noted, highlights require different types of maintenance based on the base color of your hair. Not all hair colors or textures react the same way to highlighting treatments, and if protecting the color, strength, and texture of your hair is important, there are a few rules everyone should be following.
Not all hair types are created equal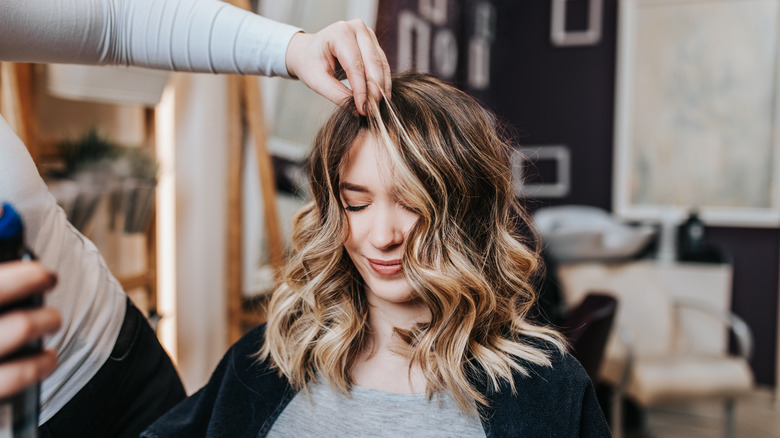 hedgehog94/Shutterstock
Your hair's color and texture — as well as the tone of your highlights — will have an impact on the way your hair is affected by color treatments. In an interview with Elite Daily, color expert Stephanie Brown notes that using chemical products to alter the color of your hair in any way, will cause some sort of damage. Your best bet in maintaining healthy hair is to understand how to properly care for your color-treated hair after the fact.
According to The Every Girl, postponing your after-highlight shampoo for 72 hours, turning down the temp in your shower when washing your hair, and using the right hair care products when styling can go a long way in preserving your hair. Highlights are of course not the only means of altering the color of your hair. All-over color also comes with a need for aftercare and maintenance. Using hair masks and allowing your hair to air dry is also helpful in negating the effects of color damage (via Loreal).
Finding a colorist you trust is very important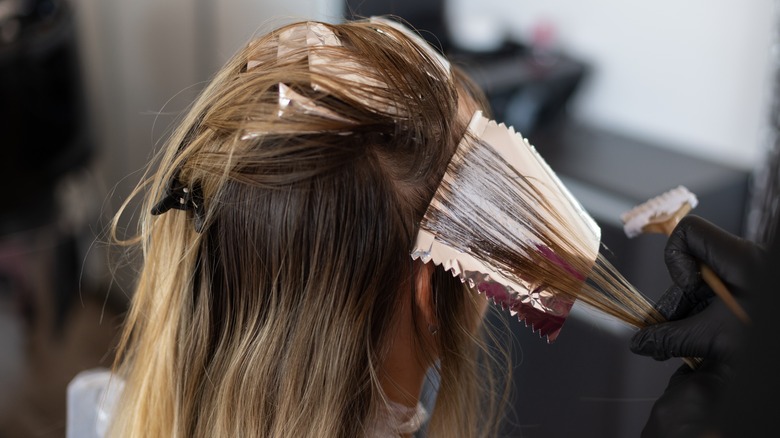 les images/Shutterstock
In addition to practicing proper aftercare and maintenance, finding a colorist who is experienced and knowledgeable in the type of treatment you're interested in is of equal importance. According to Cuddle Pill, asking a friend for a reference is an obvious step one, but in the era of social media, finding a qualified professional in your area may only be an Instagram search away.
Colorists are often highly creative people. As Hair Folk explained, a sign of a good colorist is their ability to listen to your wishes and tailor a formula to meet your needs. Our hairstyles are unique expressions of our inner selves, so we want them done properly. Discuss options of what is possible with your hair professional as there are many different types of highlights available. You may find that they suggest something you didn't realize was initially possible.