The Right Way To Style An A-Line Wedding Dress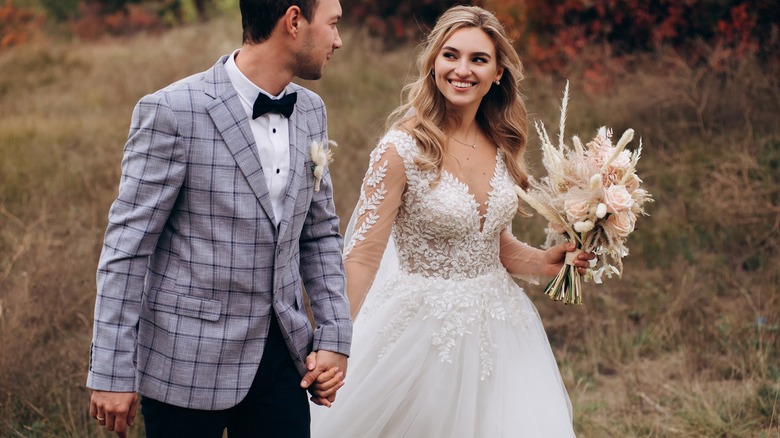 Vladee/Shutterstock
Congratulations! You have said yes to an A-line wedding dress. Now comes the fun part of styling your dress for the big day. The A-line dress gets its name from its silhouette. The skirt begins cinched at the waist or hip before flaring out, according to David's Bridal. The style is similar to a ball gown but less dramatic. So you don't have to worry about extra pounds of satin weighing you down.
A-line gowns are a popular wedding dress style. According to Brides, it suits every shape. The silhouette accentuates your curves and flatters your bust. It is a win-win. With an A-line gown, you are not limited to one length or neckline either. There are A-line dresses in various colors, with different embellishments and accessories to make them uniquely you. Even the material of this silhouette can be fit to your preference. Whether you're going for a classic lace wedding dress or modern tulle, we'll guide you on how to style your A-line dress.
Styling with straps and sleeves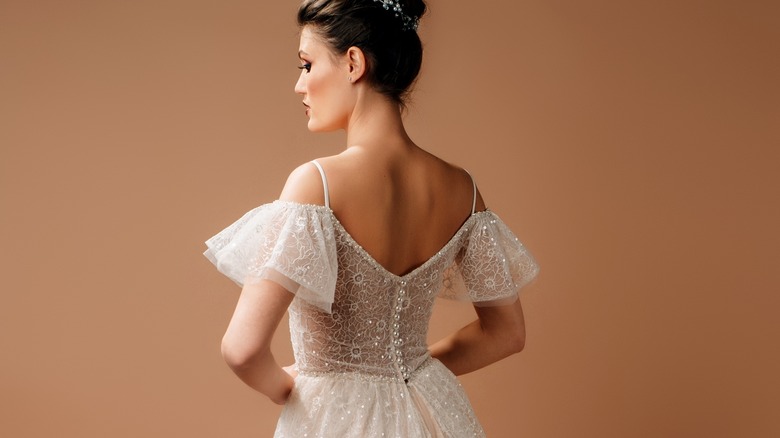 Stylish_Pics/Shutterstock
With the shape of the A-line dress set, the options to style the bust are endless. Straps and sleeves will help to draw eyes to what you want on display. There are a variety of straps and sleeves you can opt for. Zola suggests trying one-shoulder, spaghetti, banded, or thick straps. They are minimal but give a touch of sophistication. When it comes to sleeves, length and design determine the overall style. Sleeves come in quarter, half, three-quarters, and full lengths. They are also available in off-the-shoulder, flutter, and flared designs.
Both elements come in a variety of fabrics to fit your aesthetic. Wedding KnowHow recommends them to draw attention to your face and give a regal effect. Straps and sleeves offer added embellishments but also function as support and coverage. However, if you want to leave the must-try sleeve trends for another day, do so. Strapless and sleeveless gowns exist. You can always style your A-line dress with accessories.
Best accessories for A-line dresses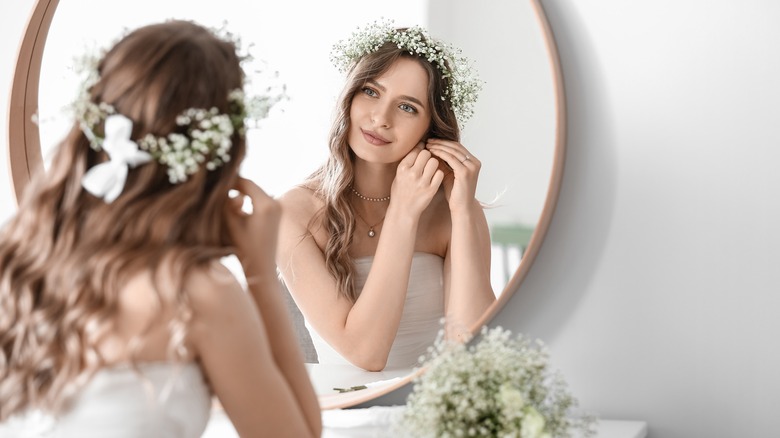 Pixel-Shot/Shutterstock
Because an A-line dress fits every body shape and is universally flattering, you can accessorize to your heart's content. You can add touches to the dress itself, according to Zola, like a waistband, overlay, beading, or broach. This style is great if you want to spice up a simple A-line gown or create a modern take on the "something borrowed" tradition.
The dress doesn't have to have all the fun either. A part of styling your A-line dress is wearing complimentary hairpieces, bracelets, necklaces, earrings, headpieces, shawls, capes, bags, gloves, and shoes. The list of bridal wear is vast. To avoid an avalanche of accessories, Brides suggest starting with jewelry, shoes, and a veil. From there, you can build on what else will complete your look. For a minimalistic approach, you only need one standout piece, like a crown or colorful pin. But if over the top is your style, don't let anyone stop you. After all, it's your big day.