How To Recreate The Holiday Sitter's Festive Christmas Morning Pancakes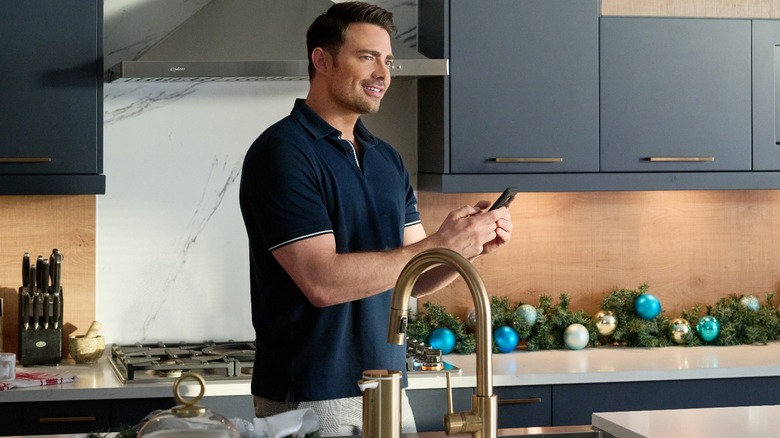 Craig Minielly/Hallmark
We may receive a commission on purchases made from links.
Jonathan Bennett — known for playing Aaron Samuels in "Mean Girls," and his memorable performances in "Cheaper By the Dozen 2," "Awkward," and a slew of Lifetime movies — stars in Hallmark's latest festive must-watch, "The Holiday Sitter," which follows Sam, a single and unattached uncle who is tasked with taking care of his niece and nephew just before Christmas. 
In his exclusive interview with The List, Jonathan Bennett shared just how much the movie meant to him and reflected on his character's personal transformation, which thankfully happens in time for the holidays. Bennett noted, "He learns what it's like to have a family and be part of a family at the holidays, and [it] changes his heart and mind."
The actor also discussed the important work the movie does for LGBTQ representation in the media — specifically, the Hallmark channel. "What's different about 'The Holiday Sitter' is that there are two men that fall in love and we make history on Hallmark Channel, because [it's] the first time there's ever been an LGBTQ+ meet cute Christmas rom-com with a leading gay storyline," he pointed out. 
The movie also boasts a queer director, Ali Liebert, who shouted out her excitement on Twitter. Sam ultimately finds babysitting help in Jason, played by George Krissa, a hunky contractor who lives next door and dreams of a family of his own. Besides being handy, Jason is also an excellent cook (via Twitter), and he whips up an impressive breakfast that had everybody eagerly demanding the recipe.
The basic recipe looks pretty simple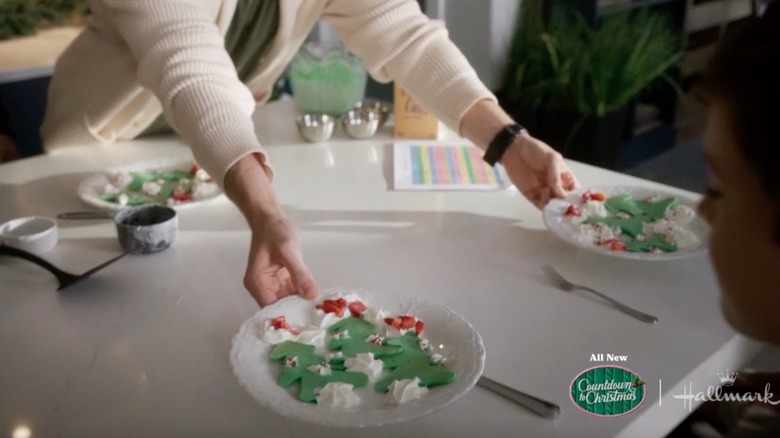 Hallmark
One Twitter user described the pancakes featured front and center in Hallmark's "The Holiday Sitter" as "Officially the world's most impressive pancakes!" and we couldn't agree more. Jonathan Bennett's protagonist, Sam, isn't planning to cook while watching his niece and nephew for a few days — he even has a full takeout schedule all ready to go. However, when Sam's plans fall through, he needs to find a breakfast for the kids fast and his dreamy neighbor Jason is the one to save the day.
Sam's niece is specifically craving vegan pancakes, so Jason whips up a batter. Whisking flour together with some unspecified dry ingredients, Jason instructs Sam to keep stirring and add another cup of flour, though he inhales some of it and has a hilarious coughing fit. Then, they add oat milk and continue mixing the concoction. With the hot griddle at the ready, there are only a few more tricks to make the pancakes both tasty and festive.
These are the magic holiday ingredients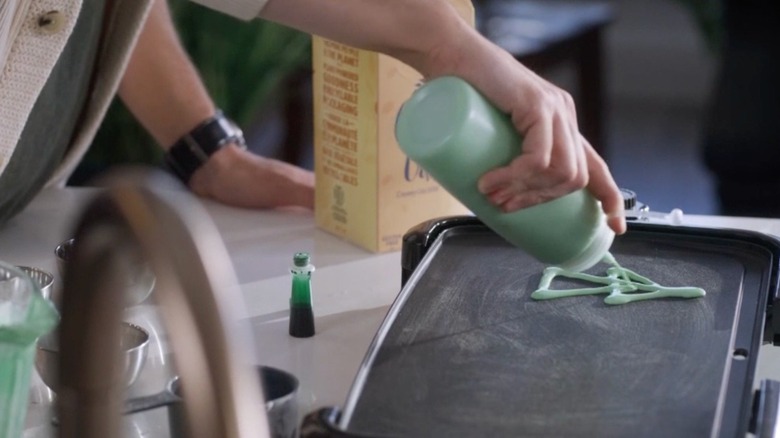 Hallmark
During the cooking scene in "The Holiday Sitter," handyman Jason makes sure to have the right tools with him, including green food dye to give his pancakes some extra Christmas flair. He also puts the batter into a squeeze bottle, which gives him free rein over his Christmas tree design. Jason even sweetly shows Sam how to replicate the tree shape, drawing one triangle beneath the other, then filling in the empty spaces. Lastly, he adds even more flourish to the recipe. 
By the time Sam and the kids receive their plates, Jason has decked the tree out with dollops of — presumably vegan — whipped cream, plus strawberries, and red and green sprinkles. The final product is an artistic dish worth framing, but definitely better for eating. All you need to recreate this recipe is to break out your go-to pancake ingredients, some festive food dye, and a squeeze bottle (pick this one up for $11.95 on Amazon). 
Before you know it, you'll be making your own festive interpretation of the movie's delicious-looking pancakes. Whether you make them in other holiday-friendly shapes or simply choose your favorite fruit, nut, and syrup toppings, you're guaranteed happy cooking!
The Holiday Sitter premiered on December 11 on Lifetime.