How To Nail Your Wedding Look When You're A Female Groomsman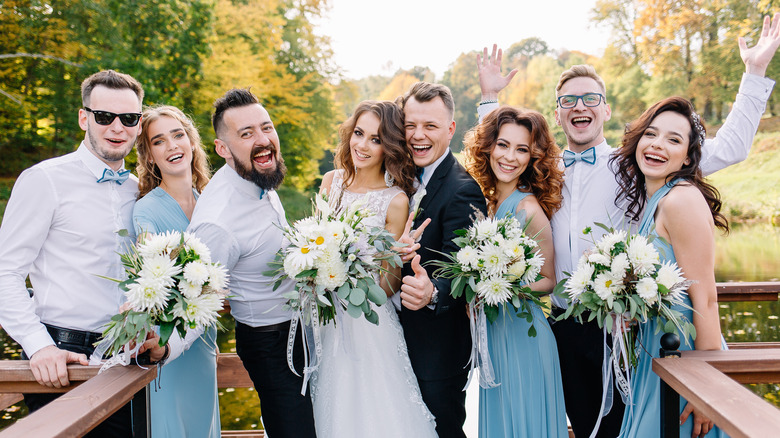 Sevastsyanau Uladzimir/Shutterstock
Weddings are all about tradition, but for many modern couples, they are also about breaking — or modifying — those traditions. Whether you are opting for a friend to officiate your ceremony rather than hiring a professional or jetting off to get married alone in the hills of Rome, your wedding should be about your wants and desires. The same is true when it comes to who is invited and who is standing next to you on your big day.
According to Wedding Wire, the idea of bridesmaids can be traced back to ancient times, with many mentions in the Bible of women being escorted by servants or "brides maids." The origin of the groom's party isn't as lovely, though. Per Mental Floss, the husband-to-be would enlist his closest friends to physically kidnap the bride from her family in order to marry her. But after those unfortunate times, the groom's party and bridal party simply acted as witnesses, something that is still the case today. 
But now, you no longer have to keep your wedding party one gender and more and more couples are including mixed-gender parties. If you are close to the groom and have been asked to be a female groomsman, here's how to do it right.
Follow the couple's lead when it comes to your wedding day attire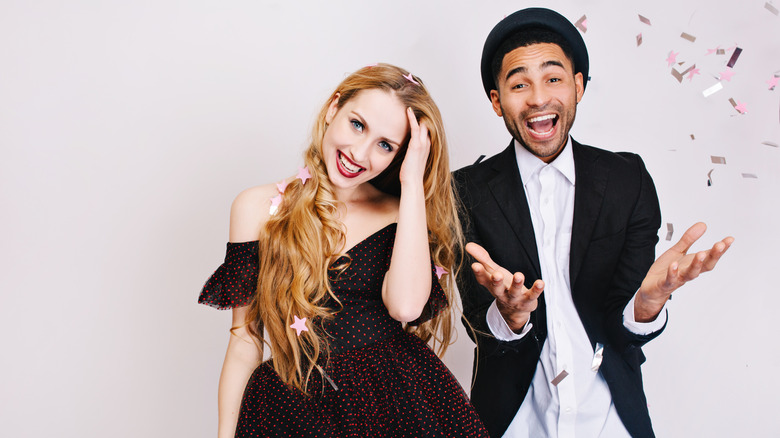 Look Studio/Shutterstock
Since the idea of female groomsman is relatively new, there aren't set rules about what to wear. According to Generation Tux, many women who stand up next to the groom during the wedding choose to rock a suit, specifically something more fitted. This allows them to blend seamlessly with male groomsmen while still looking chic. 
Women who may not want to wear a tux should consider the color palette of the wedding when choosing their dress. Brides recommends choosing a dress that matches the bridesmaids, but in a darker shade to stand out a bit more. They also recommend matching your dress to the groomsmen's suits, so if they are all wearing black tuxes, consider a black gown, regardless of the bridesmaid's dresses.
Overall, you want to feel comfortable and beautiful no matter what your title is on the big day, but you also need to respect the bride and groom. Speak with the couple to get a feel for the overall look they are hoping to achieve.
How to look and feel your best as a female groomsman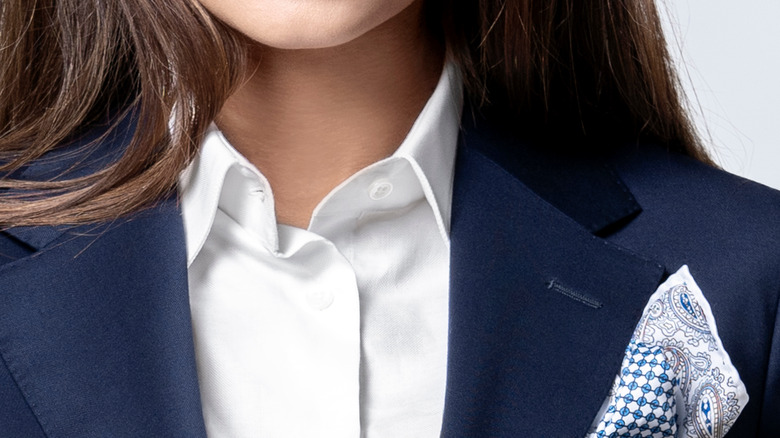 PicProductionMD/Shutterstock
While it is becoming more common to have a female groomsman or a male bridesmaid in weddings, you are likely still the first, or one of the first, to be one. This can cause some awkward moments, specifically when it comes to getting ready. Traditionally, the bridesmaids get ready with the bride and the groomsmen with the groom, so who does a female groomsman get ready with? Per Brides, the bride should ask the female groomsman if she would like to get ready with her and the bridesmaids. This can make things easier for all involved, especially if your husband's BFF wants to get her hair and makeup done. But it's also important to make sure you, as a female groomsman, are comfortable. If you would prefer to be with the other groomsmen on the morning of, voice that to the bride. To get the best of both worlds, Generation Tux recommends getting ready in the bridal suite first and then venturing over to the groom's suite to spend the rest of the morning with the groom.
At the end of the day, you were asked to be part of the wedding because you are important to the couple. Regardless of gender, they want you to feel and look your very best, so in order to ensure that happens, be open and communicate with both the bride and the groom and above all, have fun!