Here's How Much It Costs To Hire A Wedding Officiant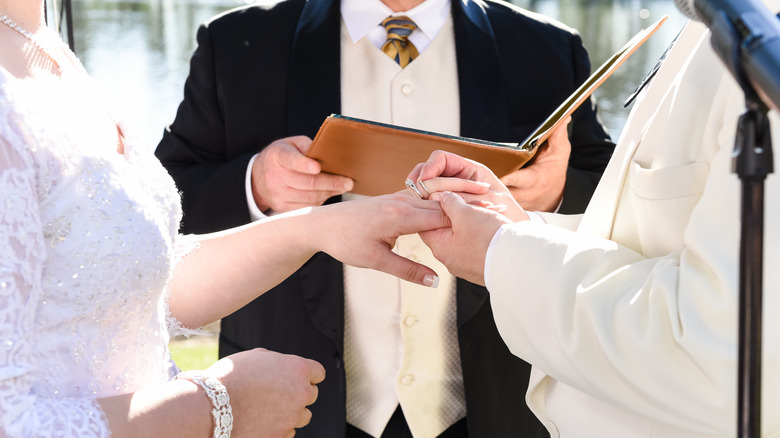 Pedro Gutierrez-Bocci/Shutterstock
Likely the most challenging part of planning a wedding is figuring out your budget. Once you have a number in mind, you'll want to sit down and write out a checklist of all your must-haves, starting with the items you can't get married without. Those items include a venue, a stunning wedding ensemble, food, and music. But one thing you may easily forget about is the legal aspect of the day. In other words, who will marry you?
The short answer: a wedding officiant. According to Brides, a wedding officiant is in charge of running the ceremony and will be the one who signs your marriage certificate to make it official. If you are hosting your wedding at a church, temple, mosque, or other religious space, you will likely be married by the religious officiant inside that space, per WeddingWire. You can also opt to have a religious officiant in a different location if your religion allows it, or you can find a secular officiant. 
Wedding costs add up fast between hiring a wedding planner, photographer, videographer, and more, so you should pick a wedding officiant early to make sure you have enough money budgeted to pay a person who will be essential on your big day. So, how much should you budget for your wedding officiant? How much you can expect to spend depends on the kind of officiant you choose.
How much a wedding officiant really costs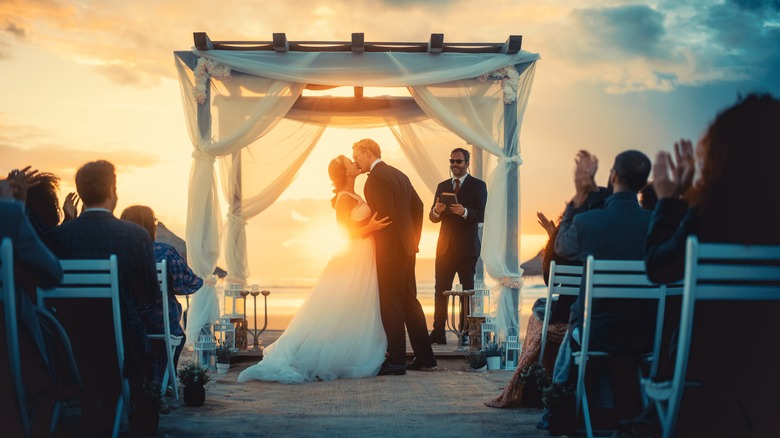 Gorodenkoff/Shutterstock
As there are a few different options when it comes to a wedding officiant, there is also a wide range of costs. According to Wedding Forward, the average cost of hiring a professional is between $400 and $800. If you choose to get married in a house of worship, you may be spending up to $1,000 in church donations or even more if you choose to become a member of the church, temple, mosque, etc. you get married in. If you're planning a wedding on a budget, though, asking a relative or friend to officiate might be your best bet as the cost could be free, although American Wedding Blog notes you should thank your loved one with a gift if you aren't paying them. 
You also need to factor in tips. As a rule of thumb, you should always save a few hundred dollars in your budget for tipping your vendors, officiant included. Wedding Forward suggests about $50 to $100 for a civil officiant, but a professional officiant may cost you a bit more.
According to Brides, you also want to consider extra fees, such as them being present at the rehearsal, which will cost you more. They recommend foregoing the officiant on the rehearsal day to save money. Also ask about potential discounts; some officiants might give a price break to military members, first responders, and medical professionals.
How to choose the right wedding officiant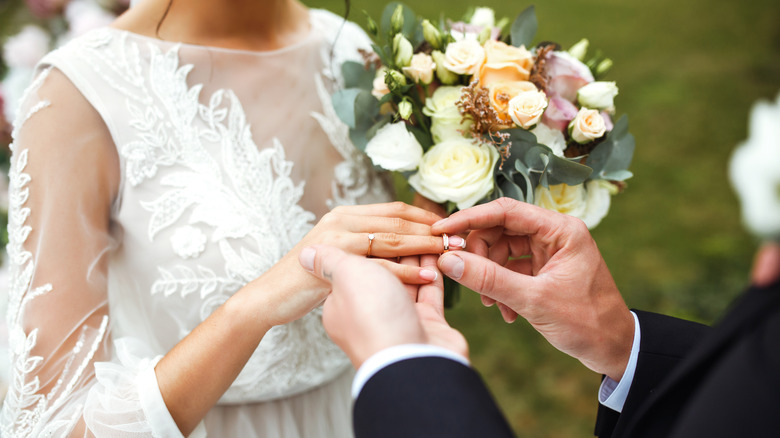 maxbelchenko/Shutterstock
There are a few steps to determining the right wedding officiant for your big day. According to Wedding Bee, the very first step is deciding what type of wedding you want. If you choose a religious wedding, you will be narrowed down to people from your religion and denomination, while if you choose to go the secular route, you have a few more options to consider. Once that is determined, you'll have to start your search — but don't take this lightly. Remember, the officiant will be standing at the front with you and your partner and be the person who pronounces you married.
If you do choose to go the secular route, there are a lot of options. The Knot recommends looking for professional officiants by searching online, asking married friends who they recommend, contacting your town or city to see if any judges or justices of the peace can perform your wedding, or asking a loved one. If you ask a loved one, make sure they know what is required of them. They will need to get ordained, plan the ceremony, and review and sign the marriage certificate, per Brides. Also, check up on local laws; Zola notes that the criteria for being allowed to officiate a wedding can differ from state to state. 
While an officiant may not be the bulk of your wedding budget, it is one of the most important decisions you can make, so choose wisely!