How Do You Do The Viral C Blush Technique?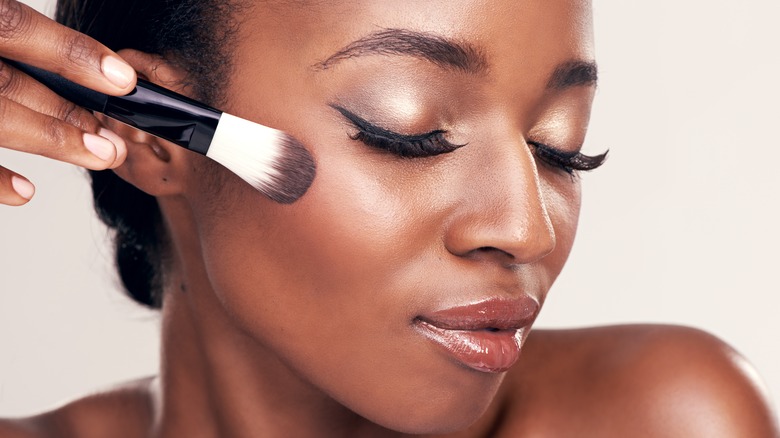 PeopleImages.com/Shutterstock
When your face turns red or pink in the summer, it usually means you are hot, sweaty, and maybe even a little bothered. But in the winter, flushed faces take on a whole new meaning. Rosy cheeks often give the illusion that you have just gone ice skating in the park or on a brisk winter walk. Not to mention, the color in your cheeks provides a nice pop of color against the drab winter whites and grays around you.
As it turns out, there's a way to recreate what people are now referring to as the "cold girl" or "I'm cold" makeup trend, which involves one essential makeup product: blush. "I think the pink flush to cheeks is always so beautiful in the colder months," makeup artist Tobi Henney shared with Vogue. "It definitely suits everyone and can look great worn with winter coats, beanies, and scarves." And when it comes to the best blush, one product stands above the rest.
Whether you are trying out the "I'm cold" trend or another look, there are several ways to apply blush to your face. Some people use this rosy product to create a W shape on their face, while others draw round circular O's in the middle of their cheeks. If you have been curious to experiment with the "C blush" technique, here's what you need to know.
You can skip contouring by using the C blush technique
TikTok user @lenkalul perfectly demonstrates how to do multiple blush techniques in a video posted to her channel, including the "C blush" approach. Using a "She Glam" product, @lenakalul applies the blush to their face, starting above the middle of their eyebrow. @Lenakalul then draws the blush outward in a curved, C-shape, finishing the stroke below the middle of their eye.
Many publications have pointed to "C blush" as one of the most popular 2022 trends, with some sites referring to it as the "draping effect." According to Faces Canada, "C blush" doubles as a way to contour your face, as well as add color to your cheeks. Rather than utilizing highlighter or bronzer, you can use blush as a way to lift your cheekbones and give your face a flattering glow. But before you become a master of the "C blush" technique, make sure this method is the right way to apply blush according to your face shape.
Your skin type, tone, and complexion are all factors to consider when purchasing blush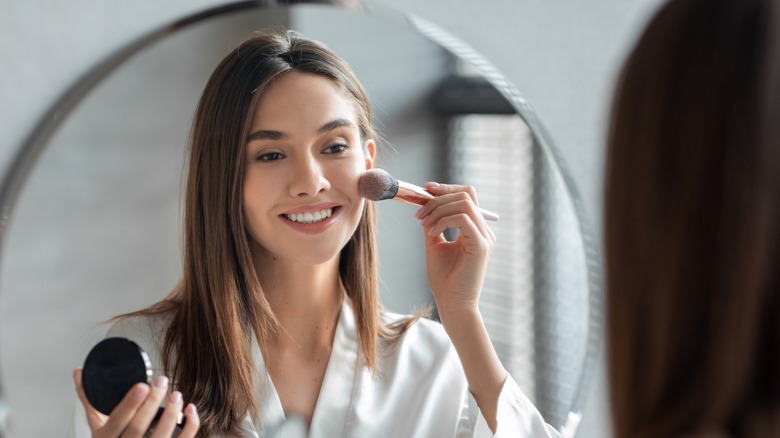 Prostock-studio/Shutterstock
When selecting the best blush for you, don't pick a color simply because it's the prettiest — although that's certainly an important factor. While different blush colors will work for different looks, you want to base your blush purchase on your skin type, tone, and complexion. The first criterion to consider is your undertones — are you warm or cool? If you struggle to make this deduction on your own, makeup artist Daniel Martin shared a neat trick with Allure to make this mystery easier to solve.
Martin recommends using your natural lip hue as your color reference. "Test it out on the apples of your cheeks to see if it 'clashes' with either your natural lip color or lipstick. If it looks off or unnatural, you should choose another shade."
When selecting your go-to blush, you also want to consider how light vs. how dark your natural complexion is. Another makeup artist Naoko Scintu told Vogue, "Use blush shades that are no more than two to three shades darker than your natural [flushed] tone; otherwise, you will find it difficult to blend."
Another major factor to consider is how dry vs. how oily your natural skin is. Makeup artist Angel Merino recommends something more "mineral or glowy" for those with dry skin, whereas those with oily skin should opt for a matte blush because their face already has that natural sheen.