For Blush, One Product Stands Above The Rest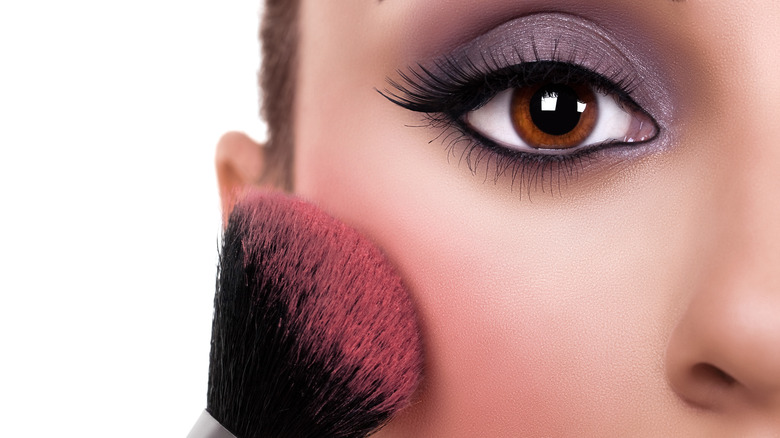 Shutterstock
We may receive a commission on purchases made from links.
Blush is one of the best parts of any every day makeup routine. It brings your face to life with warmth and definition, and blushes come in so many colors that you can warm your face in many different ways depending on your skin tone or simply how you're feeling that day. Whether you wear blush every day or only periodically, it's important to not only keep it in your makeup kit, but to also apply it correctly.
Because blush is one of the essentials when it comes to makeup, there are a number of options on the market. Still, some stand taller than the rest, having stood the test of time. A blush that meets this criteria tenfold is Milani's Baked Blush. Milani's blushes come in a number of shades that will highlight your face with rich pigmentation. They also come in both matte and shimmery shades so that you can make your face pop no matter what mood you're in.
In fact, people love it so much that one reviewer, in their Amazon review, said, "I only tried this once but can tell it's going to be a favorite. Everyone has been raving about it for years and I should have listened sooner." But why do people love this blush so much?
Milani's passion is 'real people,' and their blush shades prove it
Milani's Baked Blush gives you an "all-day glow," according to Byrdie, and there may be specific reasons it's able to achieve this. The product's Amazon page noted that this product is "sun-baked on Italian terracotta tiles" and features a blend of colors and ingredients that makes it silky, easy to blend, and show-stopping. Byrdie also explained that it fuses well with foundation and isn't bothered much by face masks, though there can be a little bit of fallout. Still, fallout is hard to avoid in makeup products.
The East Los Angeles-based company includes a brush in every blush product, and they recommend using it (in addition to your cheeks) on the bridge of your nose, along your hairline, and on your chin to add extra warmth and definition.
Moreover, in their mission statement on Amazon, Milani explained, "Our passion is real people, living real lives. Beauty is for everyone. No matter who you are or where you come from, we're here to fuel your self-expression with makeup for every shade, attitude, and ethnicity. No judgment. No exceptions." This is why Milani sells 12 different shades of their blush — an option for everyone. If you haven't given Milani's blush a try, why not try something new?
Purchase the Milani Baked Blush on Amazon for $6.39.