Real Housewives Of Miami Star Julia Lemigova On Representing The LGBTQ Community - Exclusive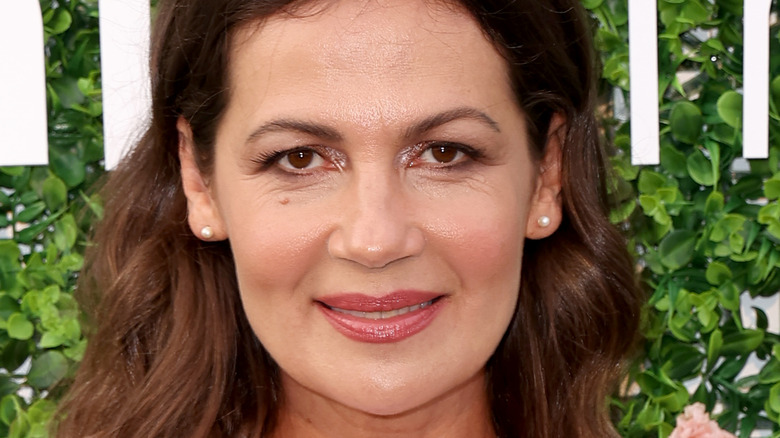 John Parra/Getty Images
Julia Lemigova has a rich life story as a former model from Russia who lived in Paris before moving to the U.S. and having two daughters. She also first met her future wife, former pro tennis player Martina Navratilova, in Paris in 2000 (per Distractify), and after meeting again at the French Open in 2008, they began dating, got engaged, and got married in 2014.
Since Julia Lemigova joined "Real Housewives of Miami" in Season 4, her story has certainly been no disappointment to fans of the franchise. In Julia Lemigova's exclusive interview with The List, she told us about some of the supportive messages she's received since joining the cast, particularly from other members of the LGBTQ community. "On Instagram, people write to me and ask me something personal," she shared. "They ask me my advice — they want to know how I lived this particular situation, which is very similar to theirs. I share it with them, and they write back to say that it helped them, which is great." 
Lemigova's role in the "Real Housewives" franchise is not only historic, it is both timely and necessary. And she had much more to say about representing the LGBTQ community and what it has meant to her family.
They're just like any other family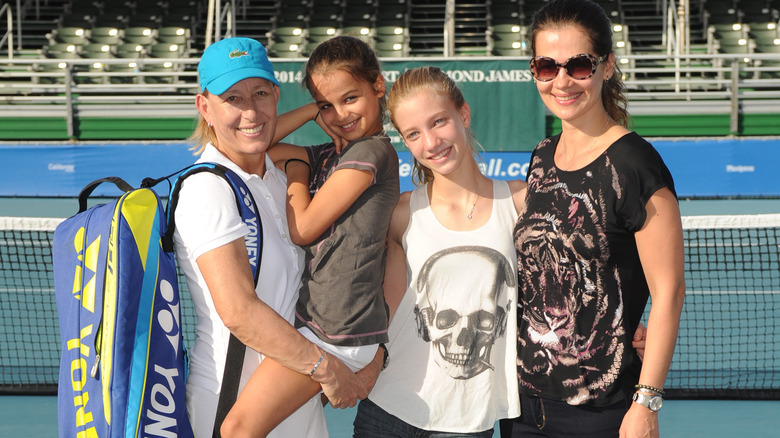 Larry Marano/Getty Images
Julia Lemigova is certainly living her best life, splitting her time between a brand-new farm full of animals and her busy life in Miami. But the couple has had to make compromises to move forward. "I'm trying to lure Martina to my farm world, doing some changes here and there, trying to make her like here more," the star disclosed. "... [We're] working on the balance. Actually, during the season of the show, we're talking about it and trying to find solutions and ways to have that balance. It's a work in progress."
She also added that her family's story is relatable. "I want to show that our family with Martina is like any other family — doesn't matter whether gay or straight," she said. "Love is love. Love has no gender." Lemigova and Martina Navratilova are raising two daughters in Miami, and the star hopes to show audiences an example of a same-sex home. "I have absolutely no taboo to show how we live," she explained. 
She continued, "For those who are still somewhere in the world [that is] not accepting, hopefully, they will change their minds eventually." Lemigova is breaking down barriers in the reality television sphere, showing how representation can effect long-term cultural change and taking this responsibility seriously.
The couple has a responsibility to their community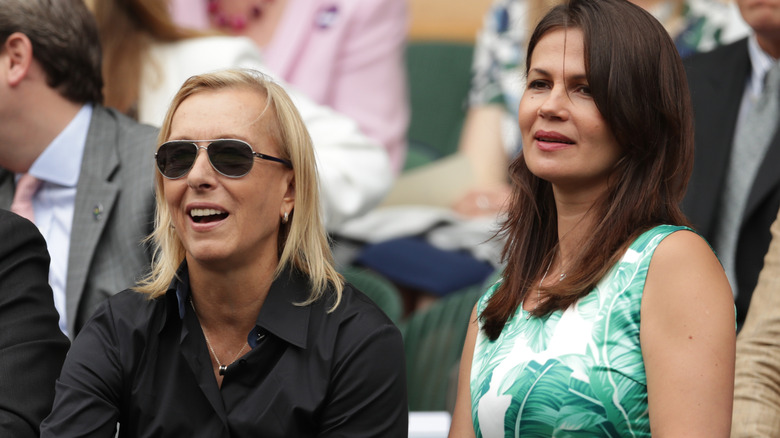 Pool/Getty Images
Julia Lemigova has had two seasons to process her role as the first member of the "Real Housewives" franchise in a same-sex marriage. When we asked if she felt additional pressure to represent the LGBTQ community, Lemigova told us, "I wouldn't say pressure, no." She explained, "It was just responsibility because I knew people will be watching [and] people will relate, and I had to make sure that I will not disappoint them. The responsibility to do my best was my biggest motivation and worry, but [it] also gave me so much joy because I have so many messages now." 
When asked if she thought Bravo would take on more cast members in same-sex relationships and marriages, Lemigova told us, "Absolutely. Bravo gave me the opportunity to show my life, and I'm sure I'm not going to be the last one." She clarified, "Maybe I was the first one, but I'm so sure that I'm not the last, because that's how [the] world is now. We are who we are — we are open, we are [our]selves." The network gave Lemigova and her family the freedom to be themselves and, hopefully, will be as affirming and supportive of families like theirs in the future.