The Hallmark Christmas Movie To Watch If You're A Fan Of The Bold And The Beautiful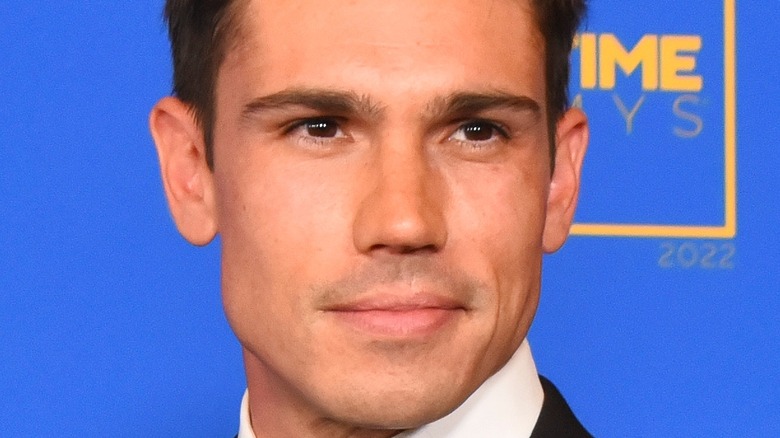 Michael Mattes/Shutterstock
Your high school class reunion is coming up fast. You have a flashback to your days as a teenager, and the goofball guy who wore a Santa hat to the big dance, then caused a disaster of epic proportions. That's the opening sequence of the Hallmark holiday movie "Christmas Class Reunion." That goofball guy is a character named Devin Shaw, and he looks vaguely familiar.
Back in the movie's present day, we see the grown-up of version of Devin, who vows he's not going to the reunion. Spoiler alert: his company is in charge of the decoration rentals, so he winds up going anyway. This version of Devin looks really familiar, too.
Devin Shaw is played by actor Tanner Novlan, and if you don't recognize him as the guy who played the "bad actor" in the Liberty Mutual commercial, you'll definitely know him from his role as Dr. John "Finn" Finnegan in the daytime drama "The Bold and the Beautiful."
Paging Dr. Finnegan
"He's a guy who wants to help," says Tanner Novlan about his character Dr. Finnegan on "The Bold and the Beautiful." Upon starting his role in 2020, he told Soaps In Depth, "He's got a big heart. Maybe too big. And I think sometimes that gets him into trouble."
And true to the genre, Novlan's character has definitely gone through some drama. "[He's] only been on "The Bold and the Beautiful" for two years, but he's lived 25!" he shared with MediaVillage. "He's been shot. He has a birth mother and an adoptive mother. A wife, a pregnancy. Had a paternity test, and he came back from the dead! When we get a script, no one knows where the characters are going, and I think that's why it's been so successful."
Another connection Novlan has to "The Bold and the Beautiful?" In real life, the star is married to actress Kayla Ewell, who once played Caitlyn Ramirez on the soap opera. The two also shot scenes together for "B&B" during the pandemic, according to Soaps. She acted as a body double for Novlan's usual romantic scene partner, Jacqueline MacInnes Wood (Steffy).
From daytime to Christmas time
While "Christmas Class Reunion" is Tanner Novlan's debut movie with Hallmark, it's not his first holiday movie. He previously starred in Showtime's "My Best Friend's Christmas," and, as he revealed to MediaVillage, he's found a genre he thinks is truly special. "This is my second Christmas-themed movie and I love them so much," he shared. "We get to deal with real issues, but at the end of the day it's Christmas and it's that magic that's around the movie at all times."
Novlan admits he's been a fan of Hallmark productions in the past. "I'm sucked into Hallmark every holiday!" he shared on the Elvis Duran Show. "It has all the lights behind everyone. There's Christmas trees everywhere. I love them." He continued, "They're feel-good. And that's what we want around this time of year, a feel-good movie."
Although Novlan skipped his own high school reunion, he says this holiday movie gave him a few regrets about that decision. "Doing this movie, I kind of wish I had," he told MediaVillage. "I still have friends from high school, and now I have a Hallmark family, too!"