Days Of Our Lives Star Melissa Reeves Melts Hearts With Adorable Videos Of Grandsons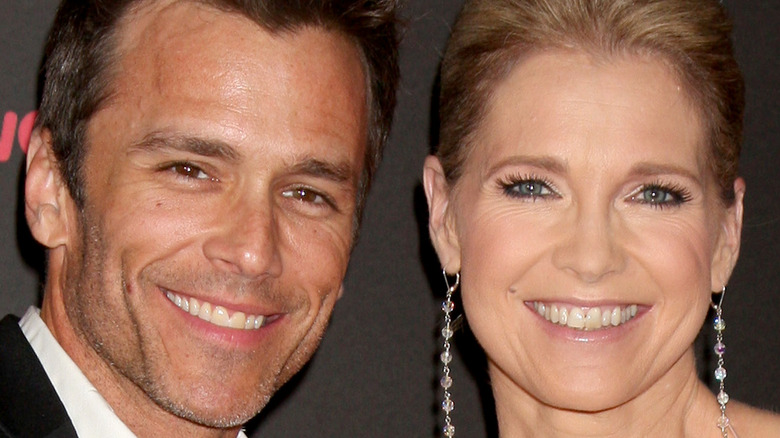 Kathy Hutchins/Shutterstock
The tale of real-life soap opera actors Scott and Melissa Reeves continues to be a happy journey. Melissa started in soaps as Jennifer Horton Deveraux on "Days of Our Lives" in 1985, playing the role until 1995, and she has come and gone from "Days" over the years. Born Melissa Brennan, she changed her last name when she married fellow soap actor Scott Reeves in 1990, according to Legit. Scott, a talented actor, singer, and musician, met Melissa on the set of "Days of Our Lives" when he played Jake Hoganson. He later played Ryan McNeil on "The Young and the Restless" and Steven Webber on "General Hospital." On the talk show "Pickler & Ben," Scott explained that he had wanted to be a farmer since his youth and was very surprised when he met Melissa, who also dreamt of living on a farm. "We're both actors in LA, and we wanted this simple farm life," said Reeves.
The couple has delighted to share news with their fans as their family has grown over the years. In February, Melissa posted a picture of her and Scott on the beach with their three grandsons on Instagram, welcoming their fourth grandchild, with the announcement, "My funny valentine @scottreevesofficial what an incredible adventure we are on being grandparents. @twoandyonder are ready for baby boy #2. 4 boys!!!!!! 4 grandsons under 2 years old." The couple continues to spread cheer with family updates.
The happy couple love spending time with their grandchildren
In the world of soap operas, couples don't stay together very long. But the real-world romance of soap stars Scott and Melissa Reeves has continued for decades, with the couple's ongoing documentation of their ever-expanding family. The charming couple revels in the delight of their four grandchildren, with Melissa posting a video on Instagram in which Scott teaches one of the toddlers named Woodsy British phrases like, "Hello, mate!" and "Top of the morning to ya!" The cute kid joyously repeats the phrases as Scott hands him candied treats, as Melissa describes, "The things Woodsy does for a chocolate-covered almond."
Melissa later posted another video on Instagram, writing, "Our second buddy grandson Law wishing you a Merry Christmas love these boys so, so much." In the video, Law is sitting in his car seat as Melissa teaches him to say, "Merry Christmas!" and "Hi, everyone!" The sweet child then pulls heartstrings as he giggles after learning the phrases. The fans warmly praised the adorable grandchildren.
The multi-talented Scott continues pursuing TV and film projects, as well as playing concerts with Port Chuck — a band formed with fellow soap stars Steve Burton, Bradford Anderson, and Brandon Barash — per Stone Cold and the Jackal. Melissa continues to make appearances on "DOOL," according to The Focus, as well as sharing her family's milestones with their loyal fans.