Soap Stars Scott And Melissa Reeves Share Happy Family News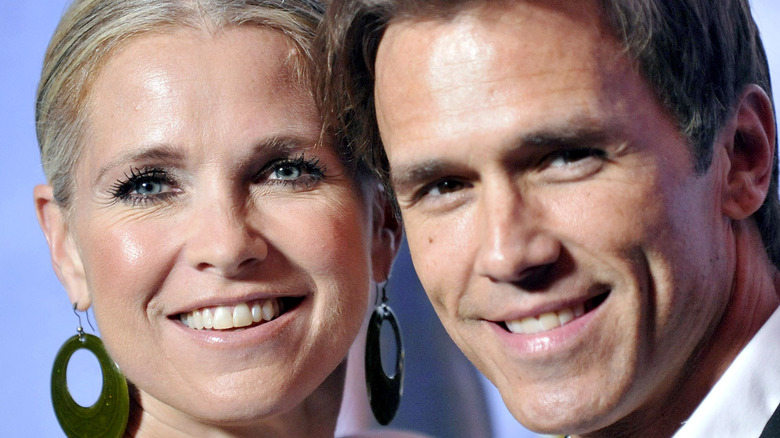 Toby Canham/Getty Images
Both Scott and Melissa Reeves were soap stars before they were a couple and after they married in 1990, the husband and wife duo managed to maintain their daytime careers while raising their growing family.
Scott Reeves made his daytime acting debut on "Days of Our Lives" in 1988 as Jake Hogansen. He went on to star as Ryan McNeil on "The Young and the Restless" from 1991 to 2001, for which he received two Daytime Emmy nominations, and later as Steven Webber on "General Hospital" from 2009 to 2013. Scott also appeared on the hit television show "Nashville" and pursues a music career in addition to acting. He is part of the duo Blue County, has written several popular country songs for artists like Toby Keith, and is part of a 1980s rock cover band called Port Chuck along with ex "GH" costars Brandon Barash, Steve Burton, and Bradford Anderson (via TVMaze).
Similarly to her husband, Melissa Reeves got her start on soaps with the classic show "Santa Barbara" from 1984 to 1985 as Jade Perkins. However, she is most well-known for her role as Jennifer Horton on "Days of Our Lives." She reprised the role off-and-on since 1985 and has spent a collective 26 years portraying the character, including being the catalyst for "DOOL's" infamous one-year time jump in 2019, and returning briefly in early 2022. The actress has also received two Daytime Emmy nominations and four Soap Opera Digest Award wins for her work on the show.
Though neither Scott nor Melissa have been seen on a soap set on a regular basis for the past few years, they have had plenty to keep them busy at their home in Tennessee — namely, running around after their grandkids!
Scott and Melissa Reeves welcome their fourth grandchild
Scott and Melissa Reeves have two children, Emily born in 1992 and Larry born in 1997, who have blessed their parents with four grandsons in the last three years. Emily and her husband Nate Smith have two sons: Woods, born in August 2020, and Wyatt, who joined the family in late 2021 (via popculture). Larry and his wife Olivia, who own and operate a photography business Two and Yonder in Tennessee, had a son named Law in September 2020 and on July 14, 2022 welcomed baby boy No. 2 (via SoapHub).
Melissa took to Instagram to share the news of the most recent little one's arrival, captioning a picture of the newborn in part, "We have been waiting for you precious buddy . . . Life is beautiful." Scott also posted a photo holding the baby, writing, "Our little man number four, Abel Theodore Reeves! We are so blessed and he is amazing! We love you with all of our heart Abel Teddy and can't wait to see what God has in store for you!"
There's no doubt that Scott, Melissa, and their family are celebrating their newest addition and will no doubt have their hands full chasing after four boys under the age of two! Congratulations to two of daytime's favorite grandparents!