The List's Exclusive Survey Uncovers The Best Drugstore Lotion Brand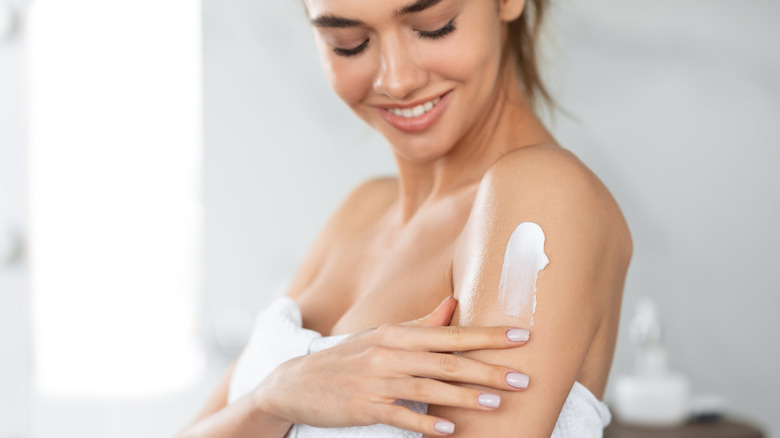 Prostock-studio/Shutterstock
We may receive a commission on purchases made from links.
Winter is coming, and you know what that means — time to stock up on bottles of lotion as the air gets drier, per In the Know. "Investing early in the health of your skin, with regular skin care, will not only better protect it from the harsh effects of winter, but also keep you looking and feeling your best throughout the year," dermatologist Steven Nwe, DO, via Northwestern Medicine.
While global inflation may have you averse to spending too much on your skincare routine, the good news is that there are plenty of moisturizing lotions available at the drugstore that come recommended by beauty editors, dermatologists, and readers alike. In fact, per Byrdie, dermatologist Hadley King, M.D., advised buying budget-friendly beauty products over higher-end labels, as they often perform similarly on the skin.
The key to finding the perfect drugstore lotion is to check the ingredient list. Well+Good recommends looking for lotions that contain humectants, which pull moisture into the skin, and emollients like ceramides, which add oil to the skin. Luckily, several drugstore lotion brands incorporate these effective skincare ingredients into their formulas.
So it should be no surprise that these drugstore lotion brands have remained popular staples among customers, including our very own readers. After surveying our readers on their favorite drugstore lotion brand, two brands stood out among the rest.
Neutrogena lotions are a fan-favorite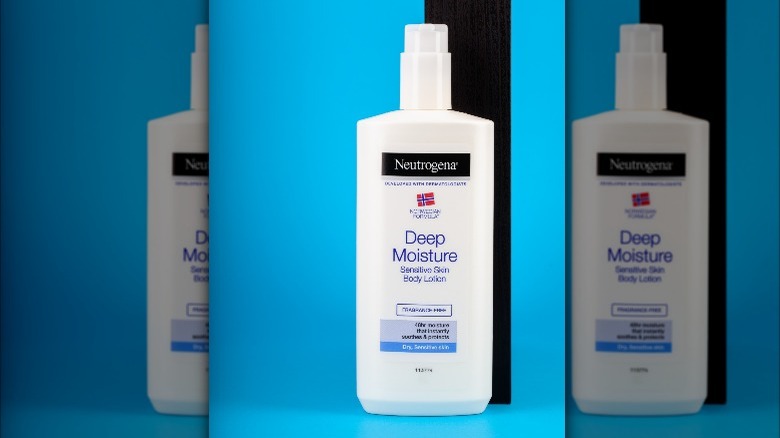 Radomir Rezny/Shutterstock
While our readers seemed divided on their favorite drugstore lotion brand, Neutrogena seemed to prevail as the favorite with 24% of 587 responses going toward the popular brand. This should be no surprise as the brand comes highly recommended by dermatologists and customers. 
Dermatologist Marisa Garshick, M.D. recommended the Neutrogena Hydro Boost Hydrating Body Gel Cream to Glamour for its calming qualities and ability to absorb into the skin. This body lotion contains hyaluronic acid and comes from the same line that includes our readers' favorite moisturizer for dry skin. Garshick said, "It's also alcohol- and fragrance-free, making it a great option for those with sensitive skin." 
If you have drier skin, then you may be looking for a richer cream like the Neutrogena Hydro Boost Whipped Body Balm. According to CVS, the highly-rated lotion is intended for people with dry to extra dry skin. One customer said, "This stuff is awesome. I have REALLY dry skin and this product does the job of eliminating my alligator skin!" 
For those who especially suffer from dry hands, the Neutrogena Norwegian Formula Hand Cream is an ultra-moisturizing hand cream that packs a punch (per Glossy). The hand cream contains 40% glycerin — a powerful humectant that helps draw moisture to the skin. One customer at Target called the hand cream a "must have," while other customers who praised the hand cream, said their dermatologists recommended the product to them. 
Aveeno lotions are another stand-out at the drugstore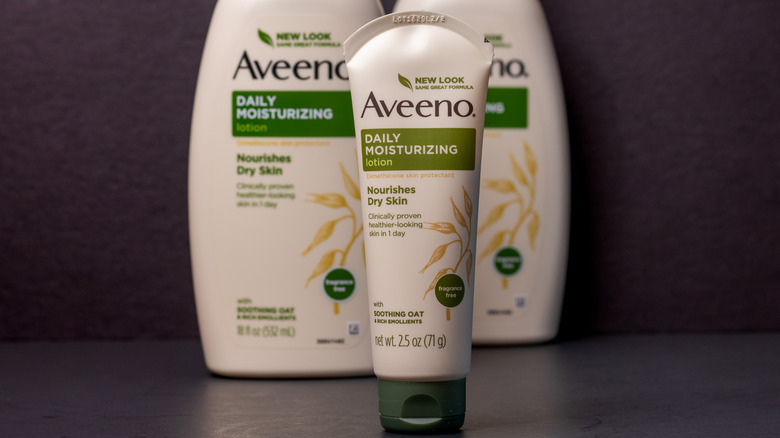 Sadie Mantell/Shutterstock
Aveeno was a close second with 23.68% of respondents choosing the brand. It's not just our readers who seem to like Aveeno. The New York Times put together a panel of testers who concluded that the Aveeno Daily Moisturizing Lotion is the best overall lotion. The testers found the lotion had the perfect texture, which made it easily spreadable and absorbed into the skin readily.
Aveeno also caters to people with eczema, who may especially struggle with the drier conditions during the winter (per Well + Good). According to Glamour, those with eczema might find relief in the Aveeno Daily Moisturizing Lotion For Dry Skin with Soothing Oats and Rich Emollients. Dr. Marisa Garshick highly recommended the lotion explaining "it contains colloidal oatmeal, which acts as a skin protectant." She added, "The [formula] helps to soothe the skin and reduce itching." Jeanie Downie, M.D., a dermatologist who has eczema herself, swears by Eczema Therapy Itch Relief Balm — a ceramide-rich formula that offers deep nourishment overnight (via Well + Good). 
Above all, The New York Times says it's important to incorporate moisturizing as a part of your daily routine, instead of waiting for your skin to become dry to use body lotion. As Benjamin Franklin once said, "An ounce of prevention is worth a pound of cure." So stock up on some of our readers' favorite body lotions this winter and you won't be feeling disappointed and your skin won't be feeling dry.