What To Ask Your Stylist If You Want Lindsay Lohan's Auburn Hair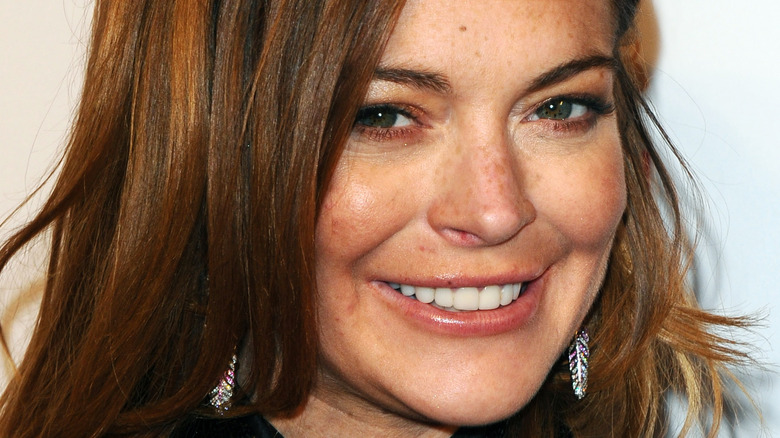 Stuart C. Wilson/Getty Images
Ever since we saw her cute little face (doubled!) in the remake of "The Parent Trap," we've been obsessed with Lindsay Lohan's red mane. While her hair is naturally based in the fiery family, her various versions of the shade over the years have been given a little boost with the help of color pros — and sometimes even a box dye or two, as she admitted to Vogue.
All of her shades of red have given us something to admire. However, if it's Lindsay's darker hues that have you dialing for a salon appointment, Wella explains that particular color is known as auburn. "Auburn is one of many red hair colors, sitting on the deeper, richer end of the spectrum, alongside mahogany and burgundy shades. What makes it unique is that it also belongs in the brown hair family," the brand explains.
Once you've secured your seat in that salon chair, here are the questions there are a few questions you need to ask your stylist or colorist to make sure you walk out of the salon with the auburn hair color of your dreams.
Is my hair ready to go auburn?
After re-watching "Mean Girls" multiple times (all in the name of research, of course), you're convinced you would look stunning with auburn hair. However, your hair may not be as ready as you are. Because hair dye contains chemicals that change the structure of your hair so that it can take on a new color, this can cause damage over time. If your hair is already unhealthy in any way, dyeing it could make things worse. Your stylist may recommend special conditioning or other treatments to ensure your new color doesn't cause more harm than good.
The natural color of your hair is also a factor. Lighter shades will more easily take on a darker hue like auburn. However, if you've colored your natural hair a darker shade, the process may be more complicated since you can't lift dark browns and shades of black with lighter ones. In this case, your stylist may have to adjust the current color of your hair before adding the red. This means the process could take longer than you anticipated, possibly even a few salon visits.
Another thing you need to consider is the work it takes to maintain your auburn hair color. "Reds have a tendency to fade or wash out rather quickly," warns celebrity color pro Michél McKrieth in Essence. "Going red is high maintenance so make sure you're all in before you commit!"
Are we on the same page about the shade of auburn?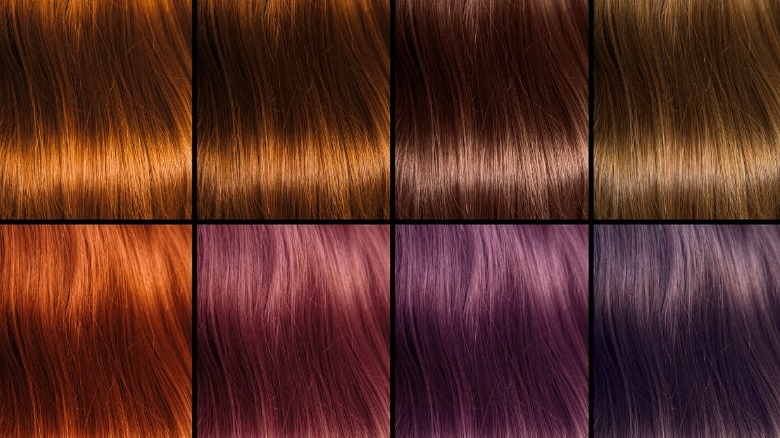 Kourdakova Alena/Shutterstock
You tell the stylist you want red hair, envisioning Lindsay Lohan. Your stylist, however, is envisioning Christina Hendrick's bright red. Or, maybe they have a bit of burgundy on the brain. You're both saying auburn, but your vision is not the same. So, how can you ensure you get the exact shade you want? Bring pictures.
"Photos are the best language," celebrity stylist Sunnie Brook tells Real Simple. "They are the bridge for creating a look that both the hairdressers and client are happy with." Find a few photos of Lindsay where you love her hair color the most, and save them to your phone to show your colorist.
After you've thoroughly discussed your shade options, you have one more option to consider: how long you want it to last. Going red can be a big commitment, especially if you've never tried the scarlet hue before. Choosing a semi-permanent option will give you roughly six weeks of color, during which time you can decide if you really like it or if it's not for you. The next time you hit the stylist's chair, you could always ask for a more permanent dye if you decide you love being Lindsay Lohan's long-lost twin.