The Two Hallmark Movies That Are Almost Entirely Identical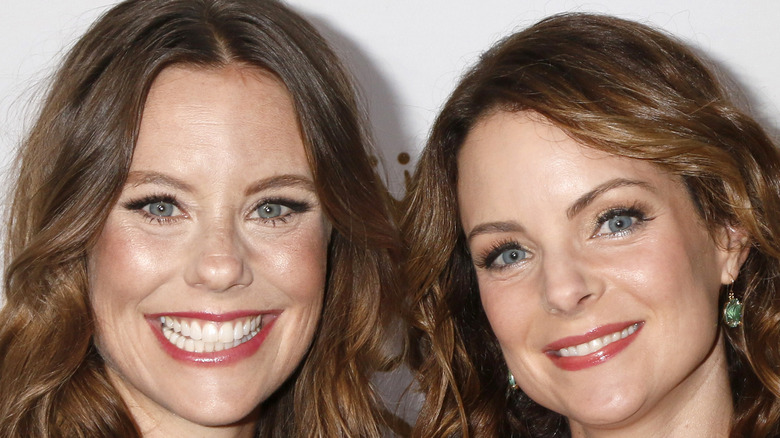 Kathy Hutchins/Shutterstock
We may receive a commission on purchases made from links.
The Christmas season has become synonymous with one thing: new Hallmark movies. Every year, the media network releases a new batch of original Christmas movies to put us in celebration mode. Hallmark actors spent the summer wearing winter coats while shooting Christmas movies so that the movies are ready for release during the "Countdown to Christmas" special schedule (via CBS).
Hallmark Christmas movies include all sorts of plot twists and characters, but they often mention romance, family dynamics, and the idea of home (per Pioneer Woman). There are some similarities between the movies, including the Hallmark stamp that makes them so recognizable, but few are almost identical. That's why the 2021 releases "Sister Swap: A Hometown Holiday" and "Sister Swap: Christmas in the City" have viewers raising eyebrows. 
The description for both movies on Amazon Prime is identical, the only difference between the movies' information is that "Sister Swap: Christmas in the City" features Keith Robinson while "Sister Swap: A Hometown Holiday" includes Mark Deklin — though both films star real-life sisters Ashley Williams and Kimberly Williams-Paisley. So, what's going on with the "Sister Swap" films?
The Sister Swap movies explained
Hallmark's "Sister Swap" movies are currently under the spotlight after writer and producer Dan Harmon made an Instagram post calling out that they are almost the exact same movie, featuring sister duo Kimberly Williams-Paisley and Ashley Williams. "They are not sequels. Both Sister Swaps are the same story, about sisters — played by real-life sisters, who have to swap . . . cities. It should be noted that the sisters AND the cities AND THE MOVIES are, so far, indistinguishable," Harmon wrote. 
He notes that while the dialogue is identical, there are minor changes in scene cuts. "In one of the movies, one of the sisters has a full flashback about her relationship with the other sister. In the other sister's movie, you don't get a different version of the same flashback. You just don't get a f***ing flashback in that one. In both of the movies, they spend 1 minute trying on hats but in ONE of the movies, they also try on glasses." 
But why would Hallmark release the same movie twice? A user commented on a possible theory on Harmon's post: "I think they are the respected perspectives of each sister. Similar to 'the last duel.'"