The Young And The Restless Star Eric Braeden Updates Fans After Knee Surgery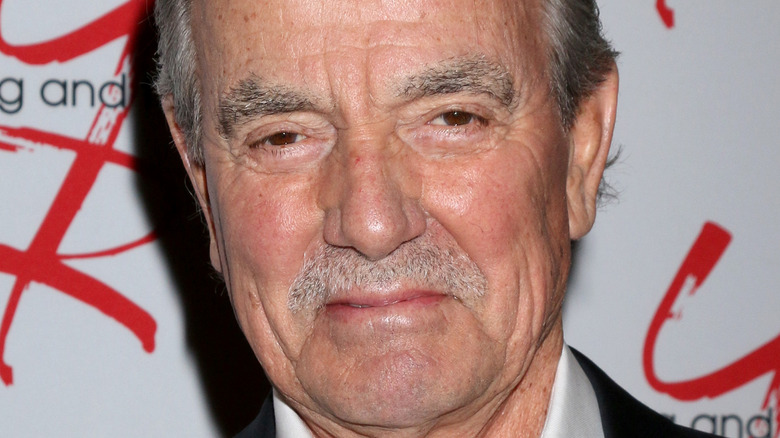 Kathy Hutchins/Shutterstock
Since 1980, Eric Braeden has dominated "The Young and the Restless" as Victor Newman, ruthlessly thwarting his enemies and stopping at nothing to protect his family. While initially a villain, the character has redeemed himself over time, becoming a fan favorite for decades, per Showbiz Cheat Sheet. The site also went on to report that Braeden considered leaving the part after a few months when he first started, but the producers deepened Victor's back story. This, along with his wife, Dale Russell, encouraged him to stay, and he's been going strong ever since.
While Soaps reported recently about rumors that the actor was leaving "Y&R," Braeden told People, "Hell no!" adding, "My life has been enriched by having been introduced to so many things." Braeden has often used social media as a platform to speak directly to his fans. He posted a retort to the rumors in October on Twitter: "Please, don't fall for someone's rumor that I have been written off! If that were the case, I'D TELL YOU MYSELF, TRUST ME!!" One loving fan responded, "I have not heard these rumors, and if I had, I would not believe them. I couldn't imagine Y&R without you."
However, a real-life complication has forced Braeden to take some time off from "Y&R."
Eric Braeden overcomes knee surgery
"The Young and the Restless" star Eric Braeden — who grew up in post-World War II Germany — recently overcame a physical hurdle in his life. On December 15, Braeden posted a photo of himself standing in the hospital after knee replacement surgery on Twitter. With one hand on a walker, he held his other fist in the air, indicating his strength, writing: "After knee replacement! Thinking of you all!" Many fans could relate to his experience, with one stating, "My brother-in-law had the surgery, and he's a new man!! He's a mover and shaker too. Be well, and try not to push yourself. Rome wasn't built in a day!" Braeden responded, "Good to know!! Yes, patience is in order! Not a virtue I'm known for!"
A concerned fan wrote, "Get well soon, Eric. I, too, need to undergo the same procedure but have been holding off. Some of my friends have had major issues with the surgery in the recovery process, while others have not. Hopefully, your physical rehabilitation goes well. Prayers." To which Braeden replied, "Yes, I have heard the same! In my case, it was really getting bad, and surgeon said years of impact had degenerated to the point of holes in the knee!"
Per Michael Fairman TV, "Y&R" is now taking its holiday break, which helps Braeden's recovery since he doesn't have to worry about shooting any scenes.
Victor Newman may be absent for a short time
Soap Opera Spy speculated that Eric Braeden's surgery might mean that we won't see Victor Newman for a few weeks on "The Young and the Restless." Prior to his Twitter announcements about his recovery, fans were concerned for the legendary actor's health after the heartbreaking death of fellow soap star John Aniston. Fans were happy to see that the former athlete's surgery wasn't life-threatening (via TV Season & Spoilers).
Braeden followed up his initial tweet with a light-hearted Twitter post on December 16, stating, "Graham crackers and apple sauce never tasted so good!" Fans continued sending him good wishes for a speedy recovery and enjoyed his uplifting mood. While comparing notes, one fan replied, "I had bone spurs removed from my knee. I got Lorna Doone shortbread cookies and apple juice." A true believer in Braeden's strength wrote, "You got this!!" The viewers commented quite a bit about the food that Braeden was eating after surgery. One related, saying, "Glad you're doing well. I have to agree with you, always loved the graham crackers during a hospital stay."
Fans truly understood that even the most basic foods can taste good after having fasted for surgery, with one amusing response stating, "After my back surgery, I was eating ice chips saying it tasted like steak and baked potato."