Fans Tell The List Which Celebrity's Beauty Routine They Would Copy - Exclusive Survey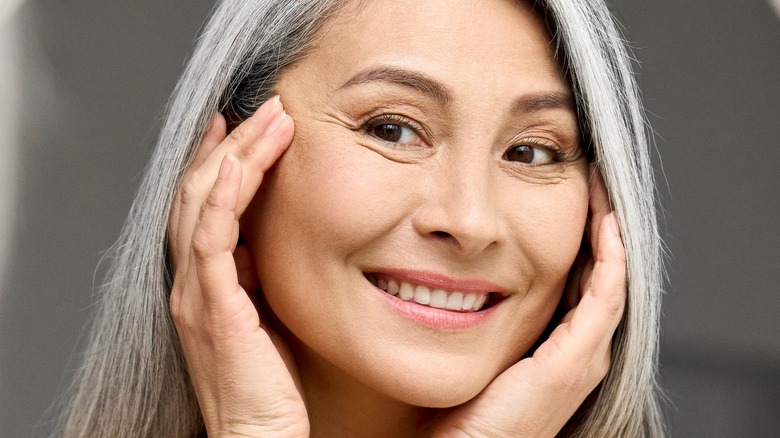 Ground Picture/Shutterstock
Back in the day, we would have to wait for women's magazines to arrive in our mailbox to read about celebrities' beauty and skincare secrets in their respective issues. Now, as technology and social media have exploded in recent years, all it takes is the click of a button to watch online series like Vogue's Beauty Secrets or Allure's 10 Minute Morning Beauty Routine. Content like this makes inside looks at celebrity skincare and beauty regimens more accessible — that is, if we have the wallet to afford their top-tier products and practices.
That being said, it's nearly guaranteed that whoever the celebrity or public figure imagined, a personal beauty routine can be located on the interwebs and emulated for our own consumption. This brought us to ask our List readers out of Beyoncé, Rihanna, Gwyneth Paltrow, Jennifer Aniston, Reese Witherspoon, and Hailey Bieber, which star's beauty routine would they copy? Well, the answers are in, and the results may surprise you.
These celebrities have beauty secrets that are easy to copy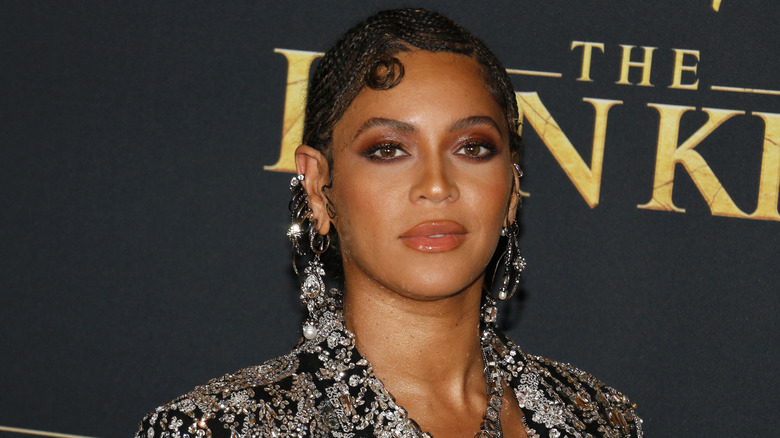 Tinseltown/Shutterstock
These days, celebrity beauty secrets and routines are ubiquitous — from Chrissy Teigen's beauty must-haves to Lizzo's go-to skincare serum, the world is our oyster to choose and mimic parts (or all) of these routines in hopes that we can achieve a glow like our favorite famous folks.
Knowing this, we surveyed The List readers inquiring about which of the following leading ladies they would like to imitate, and out of nearly 600 votes, the results are in. It's almost impossible to choose a number one slot, so let's visit the runners-up. Reese Witherspoon comes in second place with a little over 20% of the votes. Insider reported that Witherspoon, who's in her mid-40s, has a tried-and-true skincare routine under 15 minutes using products with glow-factor ingredients like vitamin C and hyaluronic acid. 
Similar to Witherspoon's routine, which is short and sweet, Beyoncé, who comes in third with nearly 15% of votes, swears by basic but effective practices. According to CheatSheet, the "CUFF IT" singer makes sure to stay hydrated throughout the day with water and keeps her skin gleaming by always taking her makeup off before bed.
As for the other women in the poll, Rihanna comes in fourth place with nearly 11% of votes, while Gwyneth Paltrow arrives at 7.5%, and Hailey Bieber is last with a little over 7% of all votes. 
Inside Jennifer Aniston's highly-sought beauty routine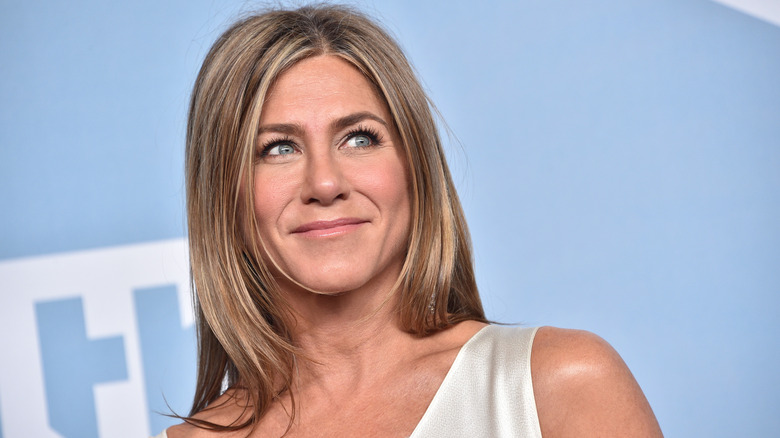 Gregg Deguire/Getty Images
Out of all those to vote for, though, fans told The List that they covet Jennifer Aniston's beauty routine. Aniston took the first place slot with 39.18% of votes. With a steadfast routine that keeps the "Friends" star's skin aging backward, her win makes sense to us.
Unlike the women who ranked below her in the poll, Aniston's go-to products are a bit pricier (via Vogue). The fashion magazine reports that the "The Morning Show" actor receives luxurious services from acclaimed Beverly Hills esthetician Shani Darden, such as facials which can include LED and vibration therapy. People who have some extra cash to spare can purchase these in-spa products for home usage, but for those who are on a budget, Aniston's collagen-boosting routine can still be emulated.
Hello! Magazine revealed some of Aniston's beauty and skincare products she swears by, including some drug store favorites like Aveeno's (the brand she's a spokesperson for) Positively Radiant Hydrating Facial Moisturizer and Neutrogena's Facial Cleansing Bar. 
When it comes to beauty, Aniston uses Clé de Peau Beauté concealer for dark circles and blemishes, giving a brightening, effortless look.