How To Pick The Right Eyelash Curler For Your Eyes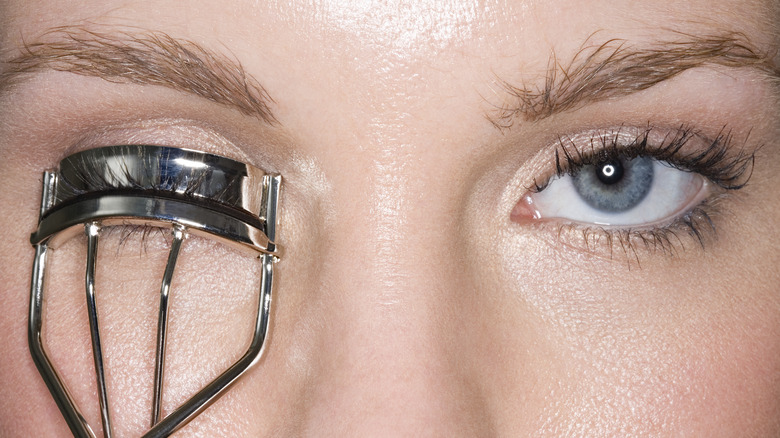 Image Source/Getty Images
Despite eyelashes being a very tiny part of the human body, people have long fussed about how they look. Eyelash extensions and false lashes are a major industry of their own, with Grand View Research noting a 2021 market value of $1.62 billion. That's a whole lot of people throwing money at products that promise to deliver fuller-looking lashes!
Both wearing falsies and getting eyelash extensions require commitment. Thankfully, if you're not ready to make an effort just yet, you always have the ever-reliable eyelash curler to rely on to improve the appearance of your lashes. Celebrity makeup artist Courtney Housner described it as a "game changer," telling Vogue that the tool works wonders in creating extra volume and length and making your eyes wider and more prominent.
With that being said, you can't simply pick up the first eyelash curler you see at the drugstore. There's so much that goes into arriving at the best eyelash curler for your individual eye shape, lid size, and lash length.
Consider your eye shape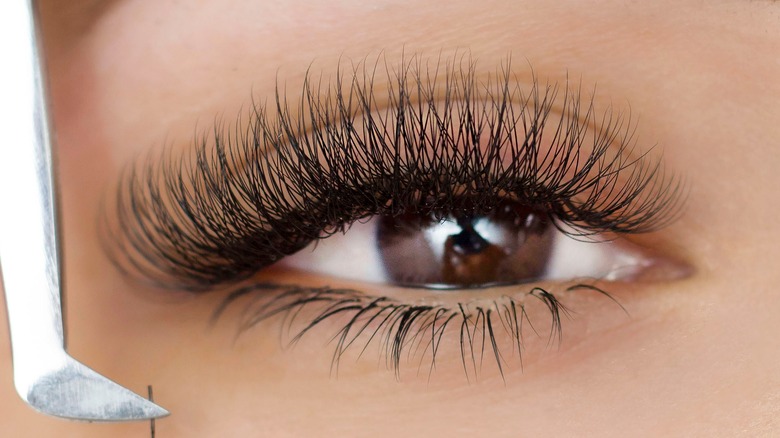 kkbs1707/Shutterstock
Even though a lot of eyelash curlers claim to cater to all eye shapes, there are certain eye shapes that have special curler needs. To make sure that you don't end up wasting money on the wrong one, it's better to go for one with a curvature that aligns with your eye shape. If you're not well-versed with curlers just yet and want to dodge any potential damage on your lids, you should also look for ones that have rubber pads since those provide elasticity and help make the curling process more seamless.
Your lash length matters, too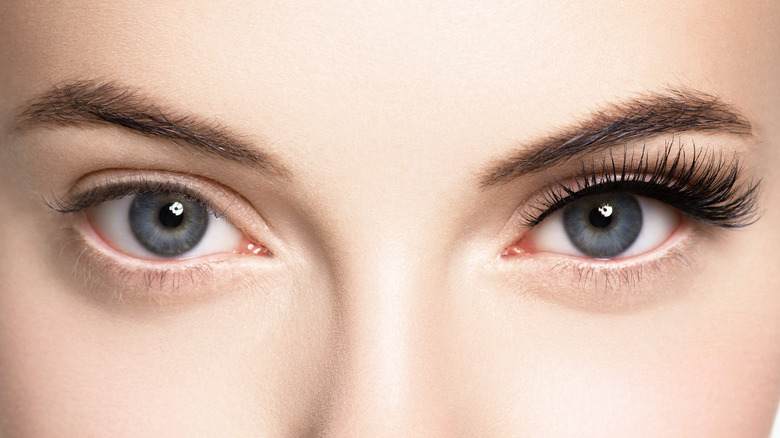 Irina Bg/Shutterstock
Long lashes are the easiest to curl, but how about those who were not as naturally blessed? If your lashes happen to be on the shorter side, you know that they can be stubborn when it comes to curling. But don't lose hope! Mini eyelash curlers work best for short and straight lashes, though you'll need to develop the proper technique to get the maximum benefits from the tool. It's all about finding the right angle. As recommended by YouTuber Cococho, you may want to try curling toward the direction of your nose and then pulling downward.
Are heated lash curlers worth trying?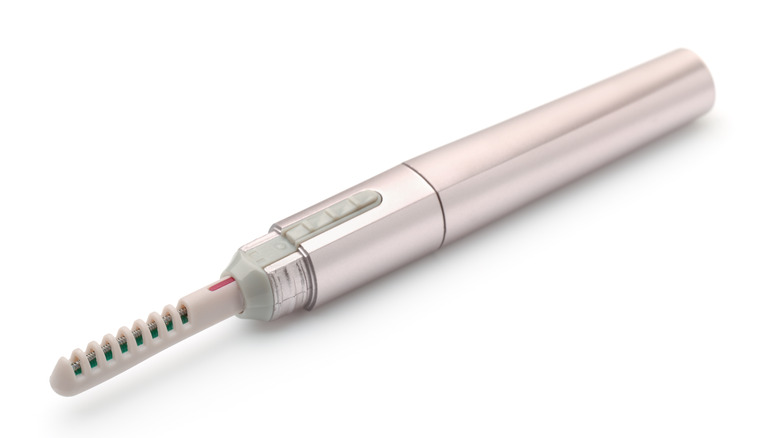 Anton Starikov/Shutterstock
Just like there are curling irons for the hair, curling irons exist for the eyelashes, too — sort of. The idea of using an electric tool so close to the eyes is downright terrifying, but they can actually be pretty effective for holding curls in comparison to regular curlers. Makeup artist Beck Wainner tells Real Simple that heated curlers are "ideal for creating a more defined lift and prolonging a curl, especially people who can't seem to hold one." Of course, since there's heat involved, you must use this tool with caution. If the electric eyelash curler is too hot to the touch, then it's too hot for your lashes and lids.
Metal vs plastic lash curlers
Phurinee Chinakathum/Shutterstock
Plastic curlers may be cheaper than their metal counterparts, but they tend to be flimsy. Plus, it's harder to get a curl in with the plastic variety and may take longer. If your budget allows, stick with metal curlers as they're less likely to break. You'll find that you can press a bit harder for a maximum curling effect without worrying about incurring damage to the curler.
That being said, plastic curlers are ideal for people with sensitive skin or those with an aversion to metal. Just make sure to swap your eyelash curler out often. The last thing you want is to work with a curler with dried, crusty mascara on it. It's unhygienic and ineffective.
Lash curler hacks to try
You may own the most expensive lash curler in the world, but that won't mean much if you don't know how to use it properly. While most curlers are designed similarly, the secret to maximizing them lies in the way you hold them. Whether you're using a metal or plastic curler, it's always best to bring it to the roots of your lashes before clamping down. Hold it for a few seconds, and then angle the curler ever so slightly upwards to lift your lashes further. Of course, do all this slowly and carefully as you don't want to pull on the hairs or pinch your lids.
And if you really want the curl to hold, TikTok has a suggestion: Use Vaseline. TikTokers claim that putting Vaseline or lip balm directly on the curler can help mimic a lash lift. When you're in the middle of curling, you're apparently supposed to hold the lashes in place and use a spoolie to brush your lashes upward before release.