The Latest Viral Highlighter Hack Promises Fuller-Looking Lips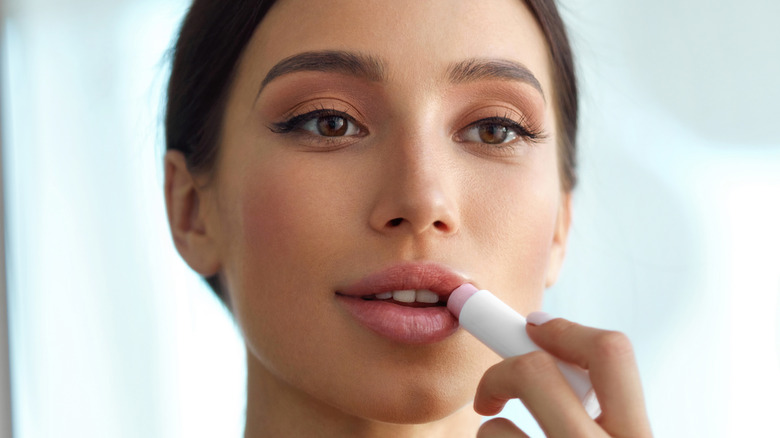 Puhhha/Getty Images
It seems like full lips never go out of style. It also seems like more and more celebs and influencers are going under the knife (or, in this case, the syringe) to get their lips artificially plumped. For plenty of us, the risks and expenses involved with lip filler are more than we're willing to commit to. Still, that doesn't mean we don't want to give our lips a little extra va-va-voom. 
From attempting dangerous trends like the "Kylie Jenner lip challenge" of a few years back to testing plumping lip glosses and learning to overline for fuller lips, many of us have tried plenty of filler-free ways to get the lips we want. Thanks to the beauty world on TikTok, though, there's a brand new hack out there that may just give you the illusion of extra plump lips you've been searching for. Most of us haven't considered this approach before, but it's actually very straightforward and only requires two common products (via Byrdie).
People are loving this TikTok hack
This latest TikTok hack is pretty simple. It basically takes a go-to tool for fuller-looking lips and replaces it with something you probably already have in your makeup bag. Instead of lip liner, you'll be using highlighter.
Per Byrdie, if you know a thing or two about the best ways to apply your highlighter, you probably know that makeup aficionados often put a dab of highlighter above their upper lip. According to TikToker, @angelaluvspho, whose viral TikTok tutorial for highlighter lips has nearly 180K likes, the trick here is actually applying highlighter onto your upper lip rather than above it. This might seem counterintuitive to folks who are used to overlining their lips with a lip-colored liner. However, in this case, instead of trying to extend the outline of your lip, you're giving the illusion of more shape.
Once you apply a super shiny gloss over your lips, the highlighter will simply add to the places where your lips reflect light, making them look plumper and more pronounced.
This viral hack is easy to achieve
There's certainly a bit of science behind why this TikTok makeup hack makes lips look so good. Luckily, you don't have to be a certified TikTok MUA to achieve the look. Huda Beauty's YouTube channel posted their own version of the tutorial that breaks the steps down. They use a thin eyeshadow brush or liner brush to line the lips with highlighter, just like you would with lip liner. They don't use any lip color, but instead apply an extra glossy plumping lip gloss over the lips. And, that's actually all it takes! What's better than a makeup trick with only two steps? Basically nothing.
This hack looks a bit more natural than overlining can at times. Though, as is true with any lip gloss-heavy look, you'll need to stay on top of reapplying throughout your day to make sure your lip look stays fresh. With just a few touch-ups of products you probably already own, we think this is a brilliant way to get bigger-looking lips.