If You've Never Watched A Veronica Lake Movie, Here's The One You Should Start With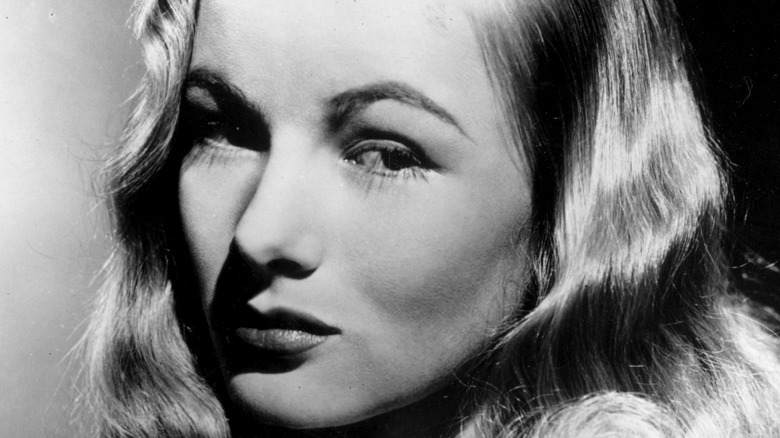 Keystone Features/Getty Images
Veronica Lake may not be a household name anymore, but she was one of the most influential actresses of Hollywood's Golden Age. She is best remembered now for her iconic hairstyle. Her long, wavy 'do broke style barriers. Her peek-a-boo bangs were not common for the era, as tight bobs were still popular hairstyles in the 1920s and 30s. However, Lake made her style her own and went down in history for it.
Her hair became a pop culture trend, so much so that when World War II broke out and women hit the factories to help the war effort, the United States Government advised her to change her hairstyle, per The Vintage News. The influence of her signature hairstyle had become a liability, with many fearful women working with heavy machinery worrying that they may get their long locks caught. As a result, she made a tutorial to help women properly pin up their hair as they worked.
However, Lake's hair was not the only influential aspect of her life. She helped pave the way for the femme fatal archetype in Hollywood.
She lived an interesting life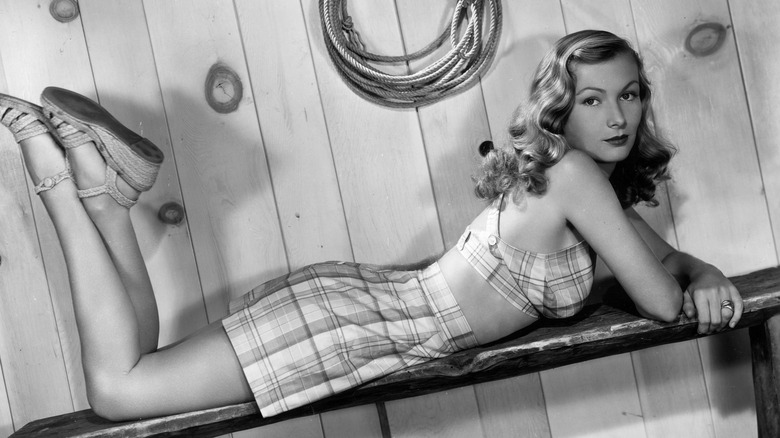 Fox Photos/Getty Images
Veronica Lake, born Constance Frances Marie Ockleman, lived on the East Coast before her mother and stepfather decided to make the move to California in hopes that her natural acting talent would help her become a famous movie star. They enrolled her in acting school and at the age of 17, she landed her first film role, albeit uncredited, in the 1939 film "Sorority House." Three other movie roles followed that year, and Lake's career skyrocketed from there.
While Lake would star in more than 30 movies in as many years, she became best known for her appearances as a femme fatal in film noirs of the 1940s. She worked closely alongside Alan Ladd, perfectly paired on-screen with him in "The Blue Dahlia," "This Gun For Hire," and "The Glass Key."
Lake's film noir roles were highly rated, but so were her comedic skills. She shined in films like "I Married a Witch" and "The Sainted Sisters," proving she was more than just a bombshell. Her beauty and natural talent made her a captivating film star.
Here's which Veronica Lake movie you should watch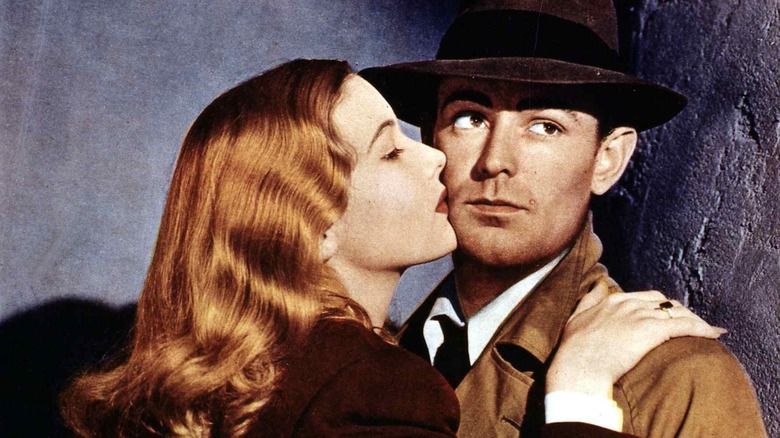 United Archives/Getty Images
Veronica Lake was an incredibly talented actress, but her life was complicated. Over the years, she struggled with relationship issues, mental illness, alcoholism, and family trouble, per Entertainment Weekly. And while her talent was undeniable, the behind-the-scenes drama of her life often overshadows her career. As Time Magazine wrote (via EW): "Lake brought to the screen an air of mystery, contained sensuality and quiet wit that lit up the screen. But, as she herself said, she just wasn't cut out to be a movie star — at least not as Hollywood in the Forties envisioned that role."
While she may have been a less-than-conventional Hollywood starlet of the era, Lake made some of the most successful film noir pictures of the 1940s. If you're going to tune into any Lake movie, "The Blue Dahlia" is a good place to start.
"The Blue Dahlia" pairs Lake with one of her favorite co-stars, Alan Ladd. In the movie, a veteran pilot scrambles to prove that he did not kill his cheating wife. Of course, that's easier said than done, especially after he meets the estranged wife of his own wife's lover. It's the perfect dark mystery and Lake plays her best femme fatale in this movie. It is a must-watch if you love modern-day crime thrillers!