General Hospital Star Alley Mills Digs Into What Makes Heather Webber So Deliciously Bad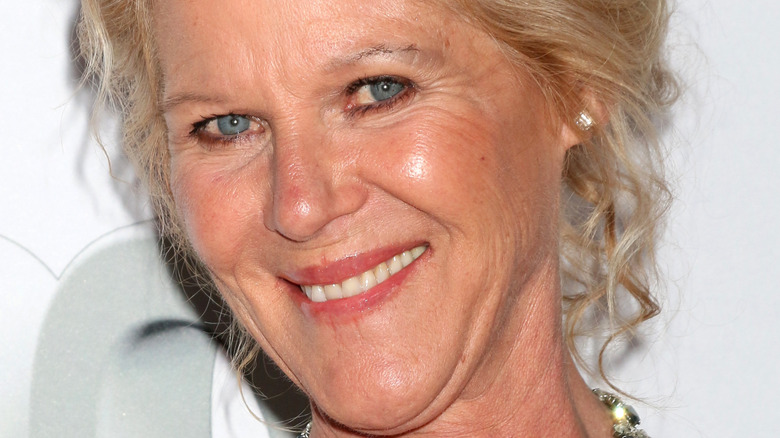 Kathy Hutchins/Shutterstock
Prankster Pamela Douglas on "The Bold and the Beautiful" has been played by acclaimed actress Alley Mills since 2006, per Soaps. Her tomfoolery started out as mostly harmless pranks that became more deadly as time went on until it was revealed that a brain tumor caused her bad behavior. 
Having no trouble playing such a devious character, Mills has recently also taken on the role of Heather Webber on "General Hospital," a recast for fan favorite Robin Mattsson. Although seemingly impossible, Heather's evil deeds have surpassed Pam's. Heather's excuse is that she accidentally ingested LSD that was meant for someone else, and she went insane as a result (via Soap Hub). 
The bane of Port Charles, Heather has terrorized its citizens for years, including Olivia Falconeri (Lisa LoCicero), whom she also injected with her weapon of choice, LSD, per YouTube. When an incarcerated Heather showed up at General Hospital recently in the form of Alley Mills, Olivia reacted with sheer panic. 
At the Spring Ridge minimum-security facility, Heather has managed to sneak out of her room and visit another inmate — serial killer Ryan Chamberlain (Jon Lindstrom). It was quickly revealed that Ryan and Heather had met years prior and created a daughter who has grown up to become the evil Esme Prince (Avery Pohl), per Soaps.
Fans are cheering for Heather and Ryan as Esme's parents, and Mills recently talked about taking on the role of Heather.
Heather is more vicious than Pam
Recently, Alley Mills talked to TV Insider about playing Heather Webber on "General Hospital." Mills described Heather as highly intelligent and always plotting her next move while simultaneously targeting people's weaknesses. In comparing Heather to Pamela Douglas on "The Bold and the Beautiful," she explained that, because Pam was too young to do anything when her father abused her sister, Stephanie Forrester (Susan Flannery), it endears her to viewers. 
"She was helpless. That's the key to Pam," she stated. Mills went on to describe Heather as dangerous, adding, "Pam was never vicious. She was a denier. Heather is really darker. It's a weird line, though. I'm trying to keep her fun." In her research watching Robin Mattsson's portrayal of Heather, Mills learned a lot, she said. "Heather said the great thing about being crazy is you can say whatever you want! [Heather] is on the side of everybody who's ever felt wronged." 
"The greatest thing for me about working on General Hospital is I feel like I'm a kid on stage," she continued. Mills also stated that executive producer Frank Valentini "makes me feel like I'm a kid and I'm in the theater. It's a wonderful thing." Celeb Dirty Laundry has reported that Mills is currently taking a break from Heather Webber to be in the "B&B" Christmas episode.
Mills' Heather will be back on "GH" soon, and we can't wait to see what diabolical shenanigans she's got planned.