What You Need To Know About The 2000s Wedge Shoe Trend That's Come Back Around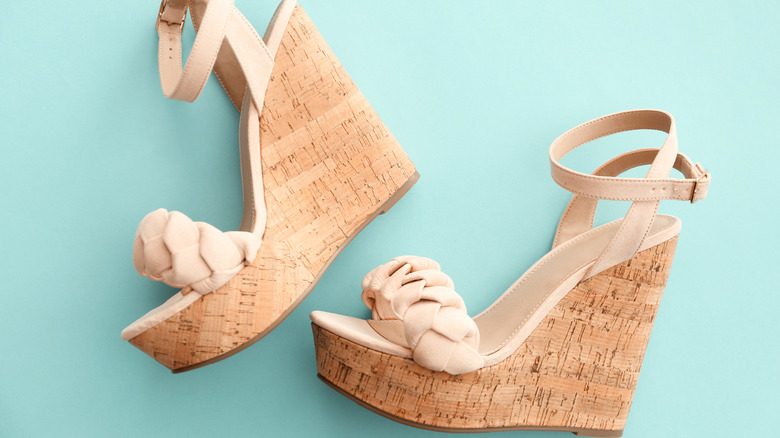 Africa Studio/Shutterstock
We may receive a commission on purchases made from links.
We've all heard the saying that history tends to repeat itself, but what we don't hear about as much is the fact that fashion trends tend to repeat themselves, too. Lately, early 2000s fashion trends have made their way back to the forefront with the return of clothing items like polo tops, low rise pants, and most recently, wedges.
How can one really say no to a wonderful wedge shoe? They're comfortable, they look trendy with just about anything, and it's pretty easy to find a pair to work with anyone's budget. Those who grew up wearing wedges might think they're too old for them now, but that's quite literally the point of wedges coming out of their grave: to be revived by people of all ages.
Of course, this returning trend isn't always going to be identical to every single wedge worn in the past. There will be some with a bit of a modern twist, yet still some that are a complete blast from the past. But nonetheless, the return of this '00s shoe trend is here to stay, so here's what you need to know.
Where to buy trendy wedges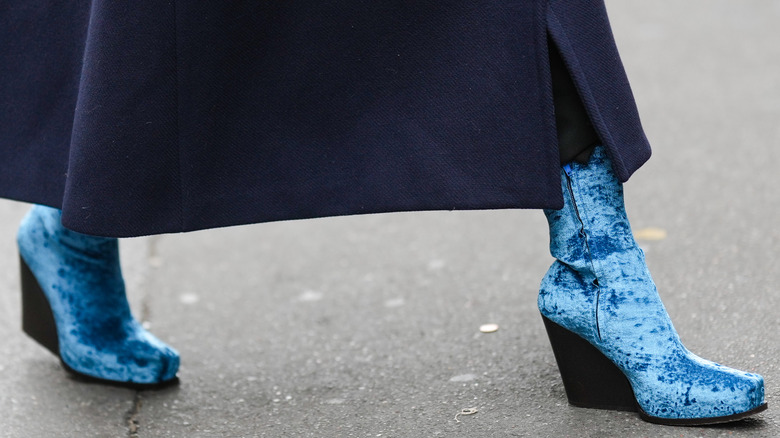 Edward Berthelot/Getty Images
As any and all wedge-wearing queens surely already know, there are many different types of wedge sandals that one can buy. From espadrilles to the basic, backless wedges, you really can't go wrong with whatever you decide on. However, the question isn't what, it's where.
Where a person buys their shoes depends on a multitude of factors: where they live, what their style is, and what their budget is. Some common websites to shop from for an enormous selection of affordable wedges to add to your wardrobe are Amazon and Zappos. If you're looking to spend a little bit more, check out Revolve or Lulus.
Most department stores and shoes stores will likely always have a selection of wedges. And considering the buzz surrounding the return of this 2000s shoe trend, stores will surely be filling up with new collections of wedges in no time.
How to style wedges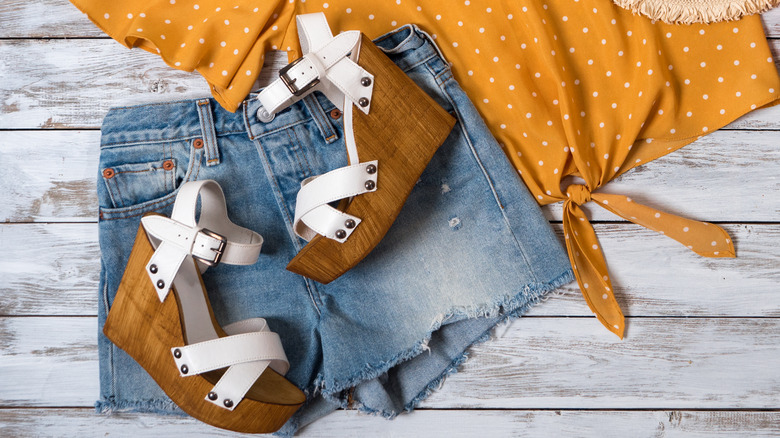 Lena Platonova/Shutterstock
Now, the type of wedge you buy is really just based on preference, and of course, what you plan on wearing with them. There are so many outfits you can pair with wedge sandals, whether you're going out to a casual dinner with friends, meeting your partner for a fancy date, or anything in between.
In the early 2000s, wedges were worn with pretty much everything. With the other 2000s trend of low rise pants coming back, you could slay the streets by rocking a pair of wedges and your favorite low rise pants. Whether you're dressing up or dressing down, wedges can still be worn with just about everything. A nice pair of classic, backless wedges could look bold and fun with a mini skirt and an oversized blazer. Or picture your perfect date night in your favorite little black dress. Grab a new pair of colorful wedges to add a pop of something new to your wardrobe. There are so many different ways to style wedges, but the truth is, there isn't really a wrong way to do it.
The last thing we'll say is whatever outfit you wear and whatever wedges you decide on, please, for the love of all things fashion, just make sure you can actually walk in them. After all, fashion should be three things: comfortable, trendy, and affordable.