What You Need To Know About The 2000s Polo Shirt Fashion Trend That's Come Back Around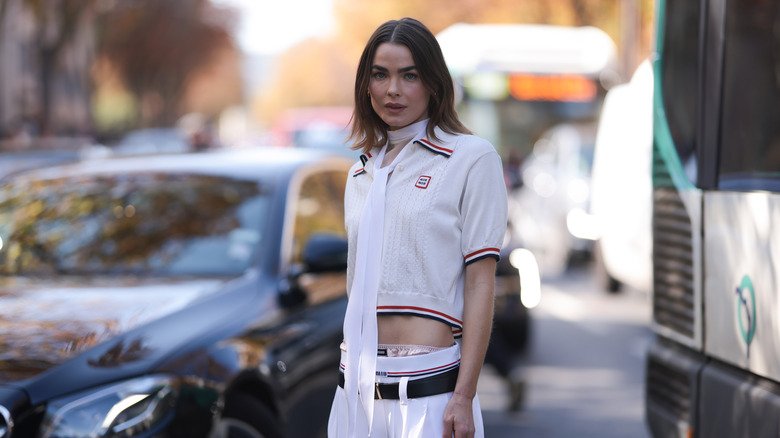 Jeremy Moeller/Getty Images
Nothing reminds us more of our grade school days than the look of a school uniform. From the plaid skirts to knee-high socks, this preppy look was a classic. While the school days may have passed, it looks like the preppy era has returned to fashion. One vital aspect of getting this preppy look is the polo shirt. Although today's polo shirts look different than the ones you remember from the 2000s, they remain one of the best ways to achieve this look. In recent years, polo shirts have become a staple for the country club, tenniscore look. According to Lacoste, this link between tennis and polo shirts is due to the history of the shirt. Lacoste explains that the polo top was created by tennis player and creator René Lacoste.
Even though the polo tops we are wearing today are nothing like the ones Lacoste created in his time, they are more versatile and flexible to match your style. No matter what your style is, a polo top can easily fit in your wardrobe.
Everything you have to know about the polo shirt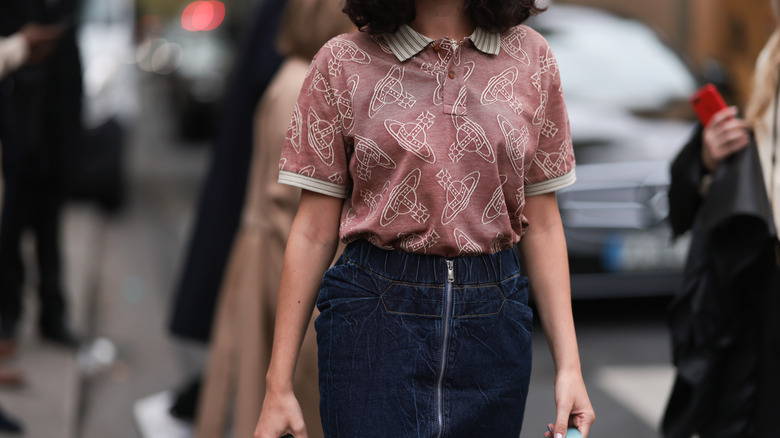 Jeremy Moeller/Getty Images
One reason you need to have a polo shirt in your closet is that it is so versatile that you can use it in various ways.
Depending on which design or fabric of polo shirt you get, you can get an entirely different look. One of the biggest names in polo shirts, Ralph Lauren, is known for their classic cotton ribbed polo shirts with the trademarked logo in the corner. This style is a classic and elegant way to get the tennis, country club fashion the brand is known for having. If you want to achieve a look similar to that of the 1950s-era fashion, this style of polo shirt is your ideal option.
If you wanted to update the polo shirt to best serve modern times more, you should go for an oversized or graphic option. Miu Miu has perfected the polo shirt to fit a street-style fashion. From oversized to crop tops, Miu Miu's polo shirts are the perfect way to remix this classic piece in a way that is less dressed up and best suited for a casual look.
How to wear your polo shirt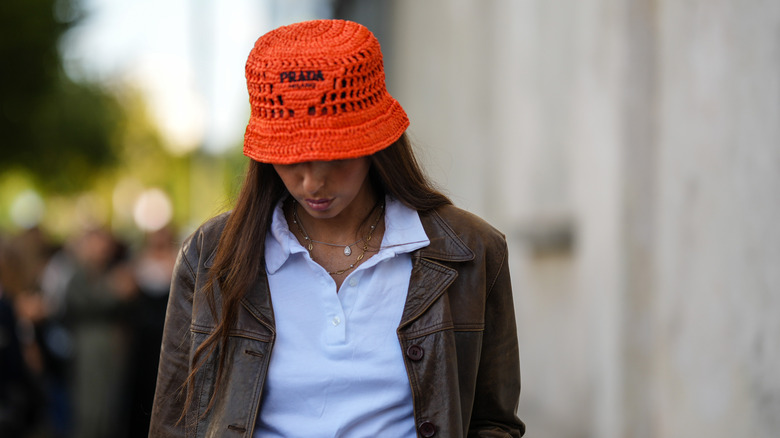 Edward Berthelot/Getty Images
Just because a polo shirt is a classic preppy piece, doesn't mean there's only one way to style it. Thankfully, styling can change up the entire look you are going for, just with the help of a few extra pieces. 
Content creator Mara Lafontan paired her ribbed, oversized polo top with a sleek, edgy black leather mini skirt. Lafontan's mixture of soft texture with a harder fabric makes for a perfect balance between feminine and masculine. Try adding an edgier texture or color to your look to create a balanced look that isn't too preppy.
On the other hand, Paola Ambre embraced the preppiness of the polo shirt by styling it with a classic tennis skirt. With a tennis skirt, Ambre went for a classic style that flows very well with the polo shirt. This polo shirt was in a rugby style, making it less stiff and more casual. Using both of these preppy but modern pieces is the ideal way to bring the look into a new era. 
No matter how you style your polo top, it will bring you back to the 2000s in the most fashionable way.