Channel Your Inner Cinderella In 2023 With The Clear-Heel Shoe Trend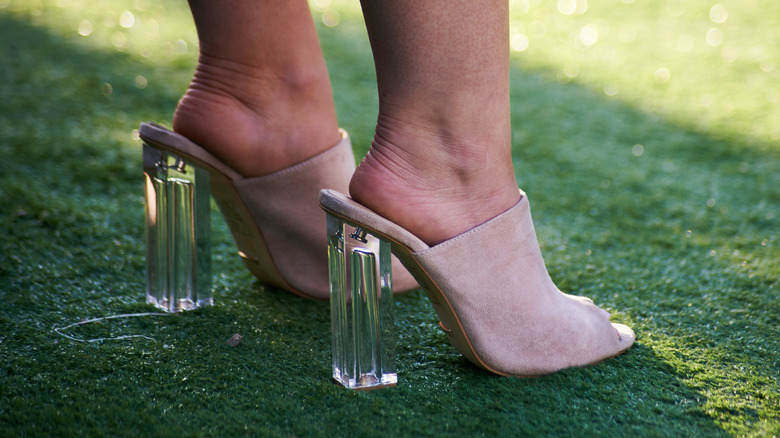 sairamacleod/Shutterstock
There are no two ways about it: Y2K fashion is in, and it's not going anywhere. As we try to put our best foot forward for 2023, we're going to see some early aughts-inspired footwear trends emerging that will change the way we think about our shoes and give us some major nostalgia at the same time. If you know anything about footwear from the early 2000s, it'll come as no surprise that clear-heeled shoes are making a big comeback in 2023, per The Chic Pick. 
If you're feeling daunted by the mere suggestion of an outfit built around clear heels, you're definitely not alone. The line between making this trend look chic and fresh and it feeling tacky and outdated is a thin one. That said, fear of not being able to pull it off isn't a reason to avoid the trend. There are plenty of ways to make clear heels work and still leave you feeling cool. To start 2023 off on the right foot, you'll need the perfect shoe with a heel you can see through.
Why clear heels are made for walkin'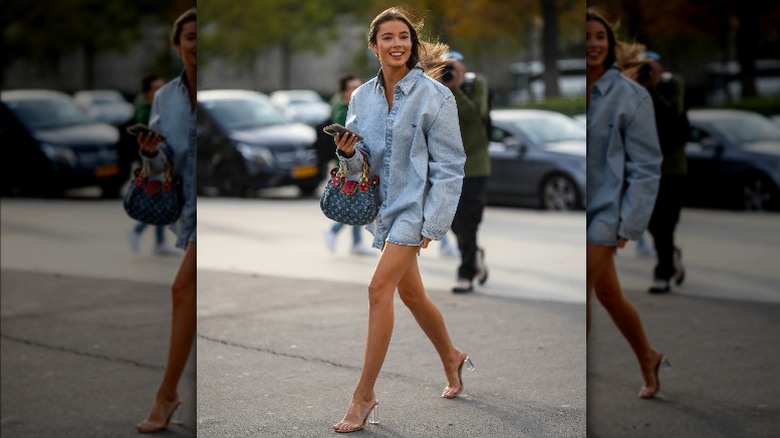 Edward Berthelot/Getty Images
Obviously, we don't need to embrace every trend that 2023 will inevitably throw at us. But when it comes to the clear-heel shoe trend, we reckon this is a fashion bandwagon worth jumping on. Over the past few years, these shoes have slowly but surely been making a comeback. Celebs from Drew Barrymore to Kendall Jenner have all been spotted wearing clear heels, as noted by Footwear News. 
Although they're technically a Y2K throwback, clear-heel shoes have a modern, almost futuristic feel to them, which can help elevate any look you pair with them (via Hello! magazine). It's rare, though, that a shoe style makes such a fashion statement while still going with pretty much everything. But, when you think about it, see-through is pretty much the mother of all neutral colors. Besides, clear-heel shoes give you some height while still allowing you to look light on your feet. 
The least clunky-looking heel you can usually wear is a stiletto. Yet, according to NPR, in a post-COVID-lockdown world, many of us are overwhelmingly prioritizing comfort when it comes to our shoes. For the non-Carrie Bradshaws of the world, that means stilettos are a pretty firm no-go. If you hate the generally clunky look of chunkier heels, though, clear heels mean you can opt for shoes that are as wide, short, and comfy as you like without your feet feeling or looking heavy.
Get one step closer to a clear heel-inspired look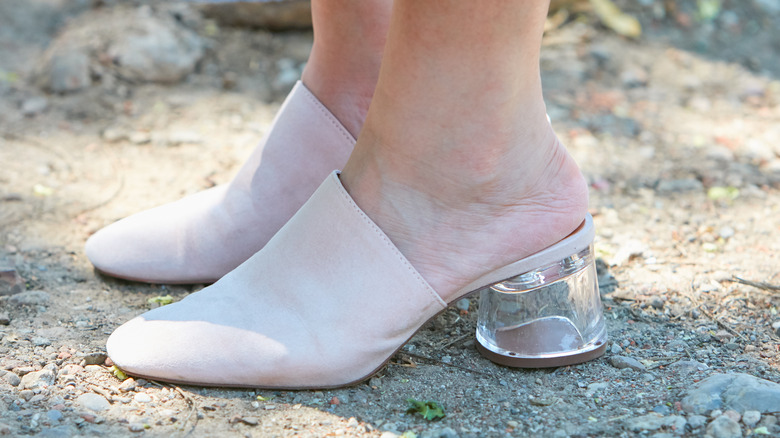 andersphoto/Shutterstock
Since clear heels tend to be neutral (unless, of course, you have a clear heel attached to a hot pink pump or something similar) they go with plenty of colors and patterns. To make sure your shoes look chic and funky, rather than cheap and tacky, pair them with a more classic outfit instead of looks that are trend-heavy. 
Shoe Tease suggests pairing clear heels with your favorite pair of jeans, which can give you an elevated yet understated look. However, per Ego Shoes, don't be afraid to use your clear heel shoes to anchor a statement outfit either. From monochrome, matching sets to glitzy, dramatic mini dresses, clear heels are a great way to wear a shoe that lets the rest of your outfit shine and be the center of attention. 
Likewise, try experimenting by pairing clear heels with more casual outfits that you wouldn't normally wear with dressy shoes. You'll be surprised by just how well clear heels take your look to the next level.