Waterline Eyeliner Is Having A Moment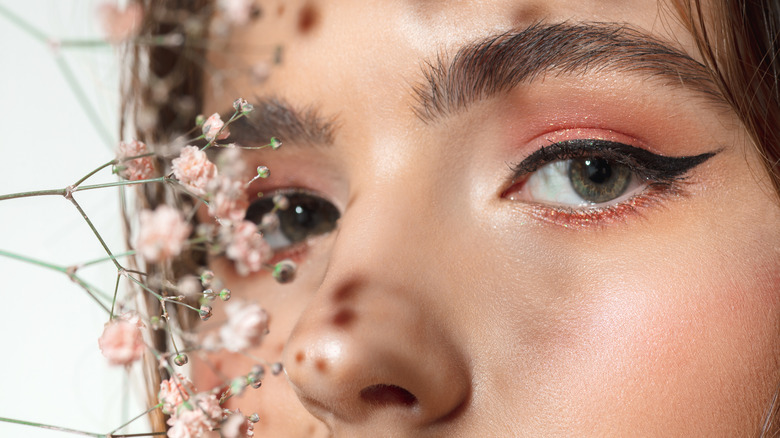 Master1305/Getty Images
Eyeliner is one of the most powerful makeup products. With a simple line, you can completely change your gaze and enhance your eyes. For example, siren eyes were one of the viral eyeliner techniques on #beautytok this year and proved the power of eyeliner. The look combines an elongated cat eye with a pointy inner eye line creating a fierce look suitable for most eye shapes (via Elite Daily). This is just one of the many makeup trends that promise to take over 2023.
The beauty community is turning its attention to waterline eyeliner and we think you should too. While you are probably using eyeliner on your upper lash line, lining your waterline can do wonders too. From making you look more awake to creating a seductive look, waterline eyeliner can elevate your makeup look in seconds. One thing to keep in mind is that using waterline eyeliner can cause eye dryness but with the right products and usage, you should be good to go (via Marie Claire). Here are some waterline eyeliner application techniques, colors, and brands to add to your makeup repertoire.
Be careful with what eyeliner formula you use
Makeup artist Ehlie Luna recommends using waterproof eyeliners that have a creamy texture (via Marie Claire). Avoid any liquid formulas as they can get into your eyes and cause irritation. However, it all depends on the user's needs. Celebrity makeup artist Jamie Dorman told IPSY that some waterproof eyeliner might not be suitable for people who wear contacts because they can smear on the lenses.
Luna recommends the MAC Technakohl Eyeliner, which is "ophthalmologist-tested and specifically states it's safe for the waterline and contact lens wearers." Another option to consider is kajal or kohl, a type of eyeliner especially made for the waterline. Byrdie recommends the Kulfi Underlined Kajal Clean Waterproof Long-Wear Eyeliner which comes in multiple matte and shimmer colors and has a creamy texture perfect for waterline application. Applying a black or dark shade of eyeliner to the waterline can add volume to lower lashes and enhance the shape of your eyes.
Look fresh and awake with these eyeliner colors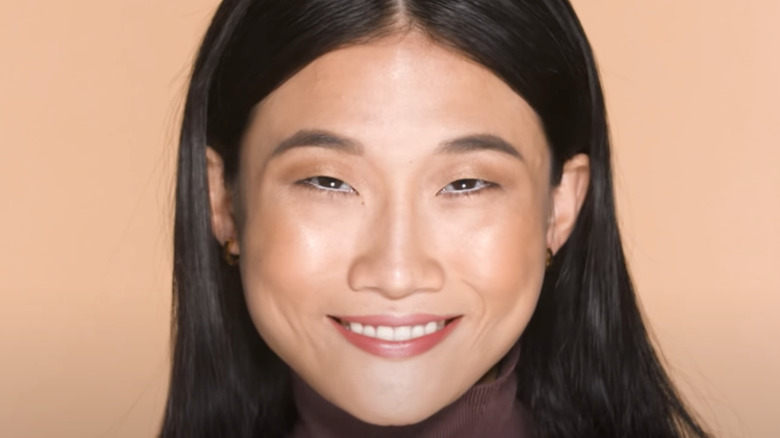 Refinery29/YouTube
While coffee can do wonders to keep us awake, it can't always make us look awake. That's where light eyeliners come to your rescue. Applying white eyeliner on the waterline is one the easiest ways to look fresh in no time. "I love using it in the waterline, on the inner corner, blended under the brow, or as a classic wing liner," Urban Decay Global Makeup Artist Steve Kassajikian told Harper's Bazaar. "It instantly brightens the eyes and makes your eyeballs look whiter."
If white seems too strong for you, consider a nude tone. Victoria Beckham is a huge fan of nude waterline eyeliners, as revealed by Vogue. "The neutral shade balances any redness along my waterline and brightens the whites of my eyes. I almost consider it part of my skin-care routine. If I am skipping makeup, you can trust that I am not skipping my Instant Brightening Waterline Pencil. I like to call this the magic moment of my routine," Beckham said.