General Hospital Fans Wonder Whether Heather Webber Could Be The Hook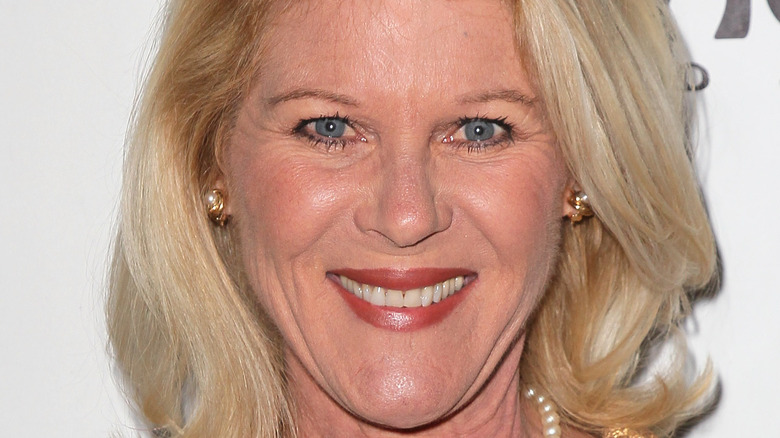 David Livingston/Getty Images
The revelation that notorious serial killer Ryan Chamberlain (Jon Lindstrom) and the psychotic Heather Webber (Alley Mills) are the parents of the evil Esme Prince (Avery Pohl) has sent shockwaves through the "General Hospital" fandom. Though not a huge surprise, the notion has fans cheering for the sinister parents to have a killer team-up. Esme knows that Ryan is her father but is unaware of who her mother is, per Soap Dirt. While Ryan has been faking locked-in syndrome — only able to communicate by blinking — Heather seems to go wherever she wants at the Spring Ridge minimum security prison.
Meanwhile, a mysterious murderer who uses a poison-laced hook is still on the loose in Port Charles. While Esme is the prime suspect, she's been secretly imprisoned by Nikolas Casadine (Marcus Coloma) via Celeb Dirty Laundry. Nikolas' son, Spencer Cassadine (Nicholas Chavez), has been working to make amends with Trina Robinson (Tabyana Ali) over a lie he told. After the death of Trina's boyfriend, officer Rory Cabrera (Michael Blake Kruse), at the hands of "The Hook," Spencer paid her a visit to console her. Considering that most of the victims have had some connection to Trina and as the pair are unaware that Esme is not actually at large, the two are concocting a dangerous scheme to draw out the killer (per Soaps Spoilers).
Mills previously told TV Insider that she finds playing Heather is "deliciously bad," giving quite a bit of credence to fan speculation that she might be revealed as the killer.
The slippery Heather Webber is now a major fan suspect
On "General Hospital," the police took an earring found on Rory's body to Ryan Chamberlain at Spring Ridge since it connected to one of his first victims. Heather Webber was there, and the police made her translate Ryan's blinks, but they didn't get any answers, per Soap Central.
The show recently posted a teaser video on Twitter, with the caption quoting Spencer, who says, "It ends when we find Esme." In the video, Trina also speculates, "What if we have this wrong? What if it's someone we never even suspected." The video ends with characters at a party counting down on New Year's Eve, as candles are blown out, and The Hook swings their deadly weapon again.
Most fan theories were aimed at Heather, with one speculating that since Heather freely roams around the prison, "it's possible that it's either her sneaking in and out to do it, or Ryan dressed in disguise." Another fan posted a side-by-side screenshot of Heather and the hooded killer. They noted not only the similarity in the lower face and also the fact that Heather ended up in the hospital with a "flesh-eating disease usually found in the tropics," which could be related to the snake poison killer uses on their weapon.
Viewers will have to stay tuned to find out if their number one suspect, Heather Webber, is actually revealed to be The Hook.