Are Save The Date Cards Truly Necessary?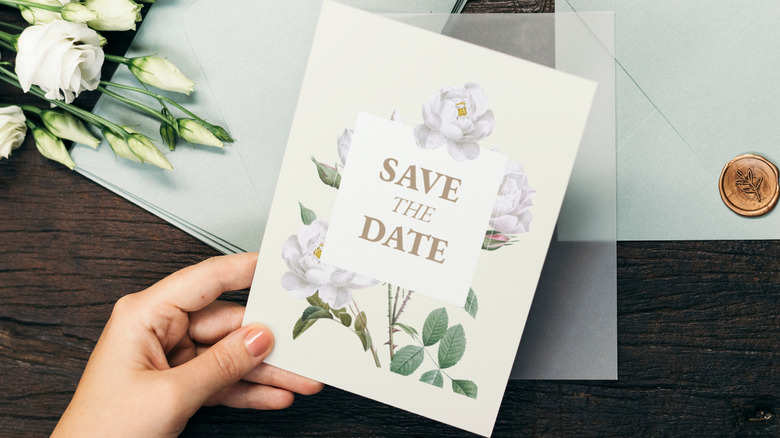 Rawpixel.com/Shutterstock
If you are creating your to-do list for your wedding day, it's likely a few pages long. So if you get the chance to cross something off your list, it's a big win. Save the date cards are one of those items that you may be scratching your head about wondering if you really need to send them. According to Destinations Found, save the dates are the first official notice informing guests of your wedding date. Since, per Brides, regular invitations shouldn't be sent out until about four to eight weeks before your wedding date, many people choose to send save the dates to make sure their loved ones don't make plans on the big day.
But if you aren't concerned with guests saying no due to prior engagements, or if you have already told the majority of your guest list the date via text messages or seeing them in person, do you still need to send them?
Save the date cards may not be necessary, depending on your wedding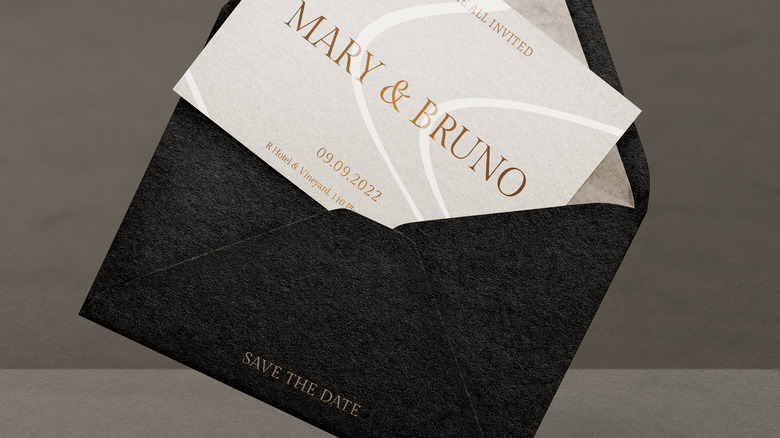 Rawpixel.com/Shutterstock
If you were really hoping to cross an item off your wedding to-do list, you're in luck. According to Wedding Wire, save-the-date cards are not actually required, or necessary, for your wedding. In fact, according to The Knot, save-the-date cards became so popular because people began to plan wedding weekends and destination weddings, requiring guests to know the date very far in advance. But if you are planning a local wedding, it's probably an expense you don't need to budget for.
According to Brides, save-the-date cards that are physically mailed can cost up to a few hundred dollars, not to mention the time commitment it takes. This is in addition to your actual wedding invitations, which can cost more than you may think. Plus, if you do choose to send save the dates, that means your guest list has to be finalized very far in advance. This can cause issues with plus ones and friends you are unsure of because once that save the date is mailed, you must invite that person to the wedding. But even with the cost, time, and rush to finalize your guest list, there are certain couples who should be using save the dates.
Why some weddings require a save the date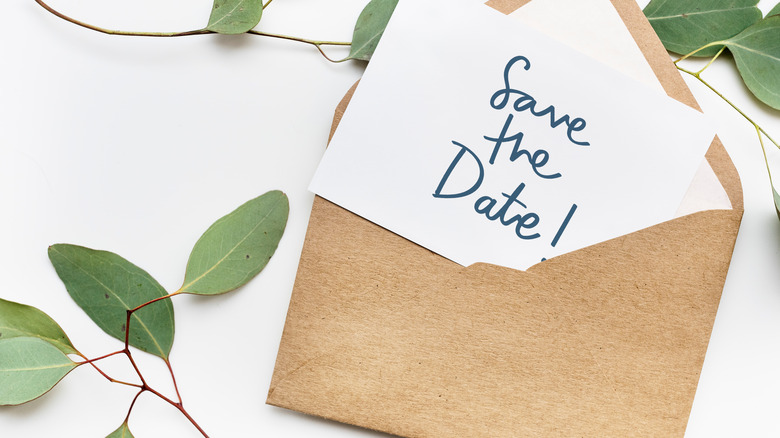 Rawpixel.com/Shutterstock
Before you cross save-the-dates off your list in black Sharpie, you first need to consider a few reasons why you should be sending save-the-dates. According to Paperless Post, those who are having a destination wedding should send these out as soon as possible, as your guests will need to do more than just buy a dress –- they will need to book travel, and hotels, not to mention they often must plan for more than one day of time off from work or other obligations. Beyond the logistical complications, save the dates also give couples a great opportunity to introduce their wedding to their guests, use their engagement photos, and test-drive their styles or themes.
If you do choose to send save the dates, The Knot recommends sending them about six months before the big day or eight to ten months if you are planning a destination wedding. With such advance notice, you may not have every detail figured out yet. So instead of stressing about including preferred attire and specific times, just be sure to include your names and the location of the wedding. If you have it already, include your wedding website as well so guests can refer back to it for more information.